Guillermo del Toro's Pinocchio Movies and Shakers December 9, 2022
Guillermo del Toro puts his personal stamp with exquisite cinematography capturing intricate stop-action his very musical version of the classic tale. He combines Carlo Collodi's 1880 novel, "The Adventures of Pinocchio," with a touch of Mary Shelley's Frankenstein to tell the story of a puppet thrown cluelessly into the real world. 
The Academy Award winning director brings the famous piece of wood to life this time in rich, vibrant deep hues and his own wondrous, yet darker, re-imagining of the tale. It's kept family friendly, but del Toro updates the story to be more complicated for today's sophisticated young audience. Although PG, it may be a little too dark for the youngest viewers.
It took 10 years to bring Pinocchio up to del Toro's liking. Here the director reverts back to his unique style of filmmaking from his previous works including Pan's Labyrinth and The Shape of Water, co-directing with Mark Gustafson. This is a much more imaginative and better produced Pinocchio than Disney's recent streaming live-action attempt to resurrect their 1940 animated tale with Tom Hanks as Geppetto.  
With an ambitious script, written by del Toro and Patrick McHale, they take aspects of the original tale by Collodi, adding tangential issues and even historical figures and events. He incorporates fascism and Italian dictator, Mussolini, chief among them along with family, love and death. There are even equal parts of whimsy, tragedy, comedy, action, love and compassion throughout. 
Cinematographer, Frank Passingham clearly captures the detail of the puppets and the sets. Academy Award winning composer, Alexandre Desplat (The Shape of Water and so many films) composed the film's score as well as original songs for the film.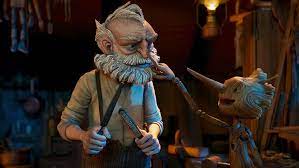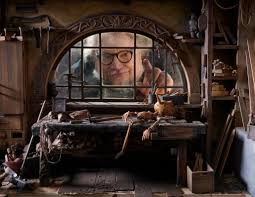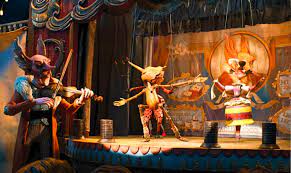 The animated characters that come to life on camera  began as hand-carved puppets. They were painstakingly moved and shot 24 times to produce each second on film. Del Toro had 60 soundstages shooting characters on different sets simultaneously at a studio in Portland, Oregon, sometimes only creating a few seconds on film each day. 
Pinocchio (voiced by Gregory Mann) still yearns to be a real boy and has an intelligent moral advisor in the talking insect, Sebastian J. Cricket, who becomes the narrator of the film, as well as Pinocchio's conscience. Ewan McGregor is the voice of reason as the new Jiminy Cricket character, charged with looking after the puppet when he suddenly comes to life. This cricket is an author and writer who isn't keen on taking on this important responsibility. McGregor does well injecting his multi-handed, buggy character with wit, humor, singing some musical numbers. 
At the outset, during WWI, beloved wood carver Geppetto (voiced by David Bradley) in a little Italian village is about to complete his masterpiece of a huge crucifix for the church. With the help of his cherished son, Carlo (nice nod to the original author, Carlo Collodi) they're ready to head home when a bomb is thoughtlessly dropped. It rips into the church, killing Gepetto's beloved son. The father is unconsolable, mourning for years on end.
One night, in a drunken rage, he chops down the pine tree he planted at Carlo's grave, not knowing there's a cricket (McGregor) living inside. He fashions the puppet from that tree and, lo and behold, Pinocchio emerges as the walking, talking  boy magically brought to life by a magical Wood Sprite (Tilda Swinton). Her smoky voice is intimidating as she floats around the room giving him life. 
Easily swayed by whoever he meets, Pinocchio seems to be the opposite of the mild, intelligent, obedient, loving Carlo. Pinocchio is challenging, contentious and impetuous. Geppetto gets annoyed and angered by the wooden boy's penchant for getting into trouble and the townspeople are not eager to embrace him either.
But there are opportunists just waiting for the chance to use the little puppet.  Podesta (Ron Perlman) is a government officer who wants to turn him into a fascist soldier, but not before circus ringmaster Volpe (Christoph Waltz) sees a fortune in having the living puppet as his headliner. Pinocchio's songs and dances highlight del Toro's animation artistry. 
Volpe's annoying evil sidekick, Spazzatura, has surprise casting. Cate Blanchette asked del Toro if she could play the pesky monkey after working with the director on Nightmare Alley. She actually studied shrieks and voices of chimps to come up with her own characterization.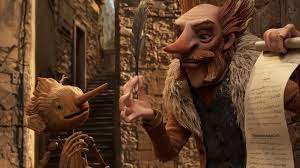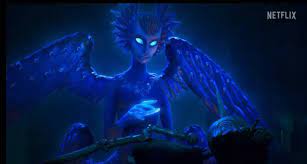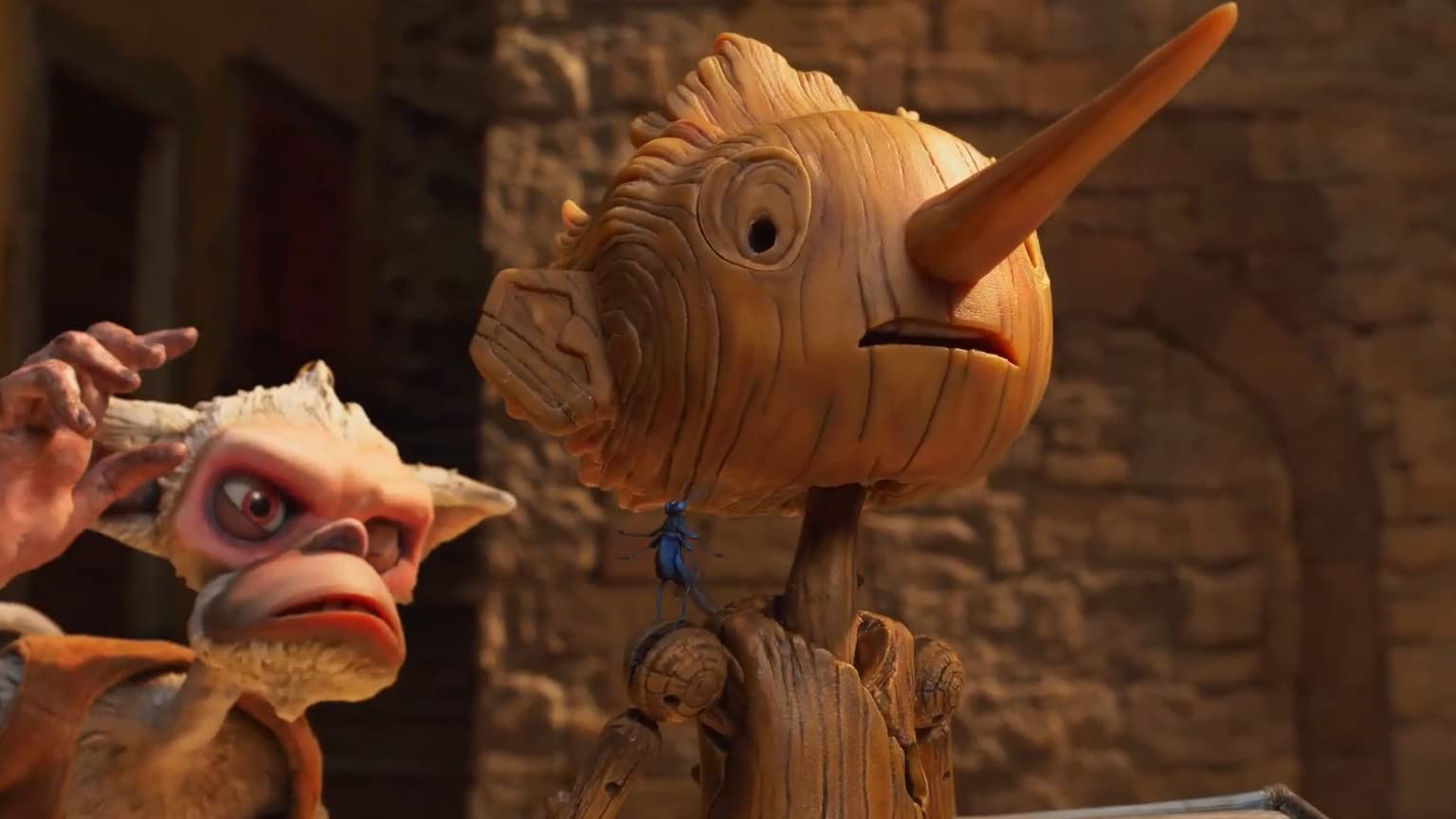 Del Toro takes a clear political stand at the same time he's entertaining us. Pinocchio performs a song and dance in a command performance for "Il Duce" Benito Mussolini. The wooden boy literally throws it in the dictator's face, dancing with a piece of wooden poop to make fun of the despot. Strange how art imitates life. Del Toro places his story in 1930's fascist Italy with a powerful, populist leader in Mussolini. How often are we seeing the word fascist in today's national and international headlines?
The major lesson of Carlo Collodi's original novel remains. Pinocchio's nose grows with each lie he tells. The nose doesn't just grow longer, del Toro does it in his own way, with sprouting branches and leaves as the boy's proboscis transforms with each falsehood. 
Del Toro's dark, bizarre visions are in evidence. As a piece of wood imbued with life, Pinocchio cannot die. That leads to another interesting plot line where Pinocchio repeatedly visits the afterlife where a group of Black Rabbits (voiced with gusto by Tim Blake Nelson) and the Wood Sprite's twin sister, Death (also Swinton) hold court. 
Del Toro's mother gave him Pinocchio dolls growing up and this film was what he wanted to do for her as well as for himself. Unfortunately, she died a month before the film's release, but del Toro still felt her with him at the premiere. 
There are some very dark moments, especially in the sequence with the enormous, maniacally lethal fish, so it is not quite as family friendly, as other versions. But the stop-action animation of these hand-crafted puppets on sets with such detail produce extraordinary storytelling. It took a decade to put this piece of  filmmaking artistry together, and who better to come up with such difficult challenges to make his dream come true, than Guillermo del Toro. 
Netflix.       1 hour 57 minutes.      PG 
Streaming on Netflix
The post Guillermo del Toro's Pinocchio first appeared on Movies and Shakers.
from Movies and Shakers https://ift.tt/g4QC9HR