The Whale Movies and Shakers December 8, 2022
Brendan Fraser delivers a searingly sad, soulful performance in Director Darren Aronofsky's gripping drama about a 600 pound man whose vulnerability is so transparent, yet so moving. He wants to die, but has a mission. He desperately wants to re-connect with the now teen daughter, Ellie (Sadie Sink – Stranger Things) he abandoned as a young child. Fraser's gut-wrenching performance has already earned him multiple lengthy standing ovations.
The film about self-identity, addiction, guilt and regret is based on the acclaimed stage play by Samuel D. Hunter. It was a surprising collaboration for Hunter, being asked to adapt it for film after the director first saw the play Off-Broadway 10 years ago. Hunter is a prolific playwright (he's written 17 plays), but this is his first screenplay. We interviewed Aronofsky and Hunter about meeting and making the film at Austin Film Festival.
Even though the story unfolds mainly in one room, it is spellbinding to watch Charlie (Fraser) in his own little world, teaching English composition on Zoom, never turning his camera on to reveal what he looks like. He is so morbidly obese, you wonder how this man with such a sweet face and beautiful blue eyes, came to this state and what keeps him going.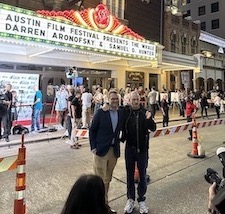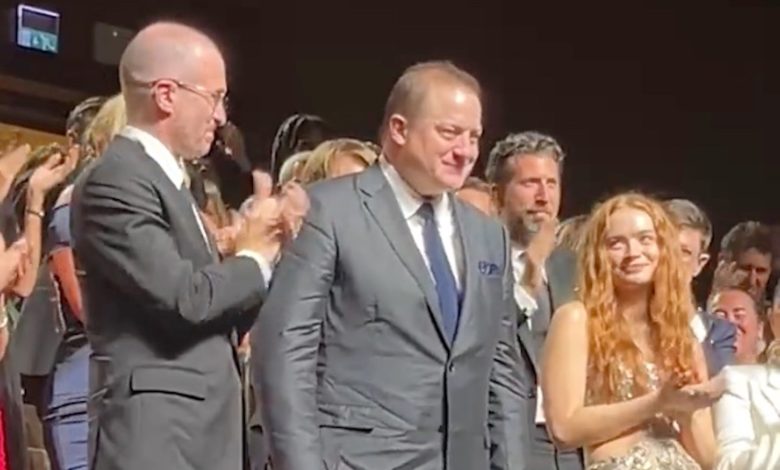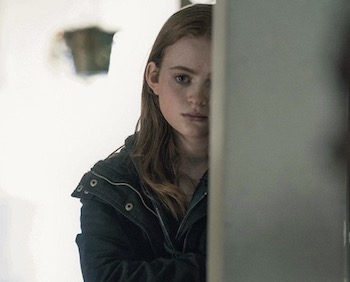 Fraser researched through the Obesity Action Coalition to get what it feels like to carry that much extra weight around. Seeing him in this role, he obviously became sensitive, with a newfound respect for the challenges of being that heavy and plays the role moving around with great trepidation and difficulty. It's hard to watch, but, at the same time, his face is showing how painful it is for Charlie, even though he's self destructive.
Aronofsky went to great lengths to get the makeup right. Fraser who played an action hero in George of the Jungle and The Mummy series is a tall, large man. But he is nowhere close to 600 pounds. The director went to Canada to find Adrien Morot, who created a 300 pound fat suit for Fraser to wear. Aronofsky wanted it made out of a new kind of material that would look more like real skin, and it does. It took 6 hours in preparation to put it together each day. Fraser said it gave him new respect for how hard it can be for people who are obese to move around.
Director Aronofsky and Cinematographer Matthew Libatique chose a more square, confining aspect ratio to frame the closeups so tight in order to draw you in to the characters' faces. Shot during Covid, Aronofsky told us they had to rig the camera robotically so the operator could get the intimate shots while in another room, creating a different perspective.
Throughout the film, Charlie's visitors come and go akin to actors walking on and off stage. Charlie is the eye of the hurricane. Thomas, (Ty Simpkins) a religious missionary horrified but curious when he sees Charlie and thinks he can save him through the Good Word. Liz (Hong Chau) almost steals the show. She's the nurse and best friend who shows sharp attitude. She's the sarcastic, emotional truth teller. Charlie is out of control and she knows it. Still, she's the enabler. Every time she's on the scene, you learn more about how they are tied together and how much she really understands him.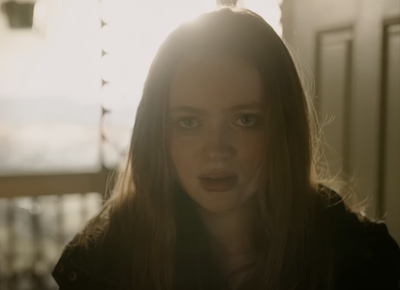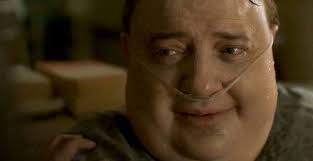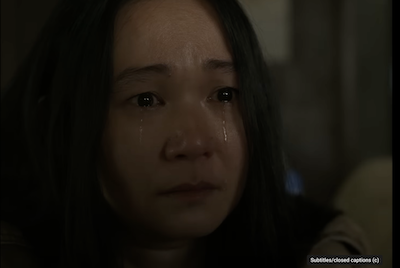 He's trying to kill himself through food, but not until he can make amends with his estranged daughter. Ellie hates him for leaving she and her mother (Samantha Morton). All he wants to do is help her with her school work so he can be close to her. Sink is a firestorm. She rails at him with Hunter's hateful dialogue at lightning speed. But he takes it, with those sad, ashamed eyes, because she's there, with him. Ellie constantly tries to take down those around her, but Charlie refuses to see anything but good in his daughter. He asks, "Do you ever get the feeling, people are incapable of not caring?…People are amazing."
Samantha Morton, not happy he's trying to make amends with Ellie, is even more furious. As angry as she is, Hunter and Aronofsky allow her to show regret for losing what they once had as a family.
The title,The Whale, has a sly double meaning that is central to the narrative. It's not just alluding of Charlie's size or to his love of literature. Aronofsky's small ensemble cast are each given powerful scenes that put their talent on display. As agonizing as it is to watch, you can't take your eyes off Fraser in this impossibly sweet, stirring role.
A24. 1 hour 57 minutes. R
In theaters
The post The Whale first appeared on Movies and Shakers.
from Movies and Shakers https://ift.tt/BrY6bRd