White Noise Movies and Shakers December 4, 2022
This apocalyptic tale of the absurd may have you thinking seriously about life during COVID and climate change. However, this is also a comedy following a blended family as they run around in circles trying to figure out what to do when "The Airborne Toxic event" from a rail car explosion fills the air.
Based on Don De Lillo's 1985 book (considered one of his best), it has also been considered a book that could never be made into a movie. Writer/Director Noah Baumbach (Marriage Story, Frances Ha, The Squid and the Whale) has succeeded in adapting the book starring Adam Driver, his favorite leading lady Greta Gerwig, and Don Cheadle.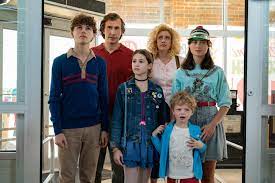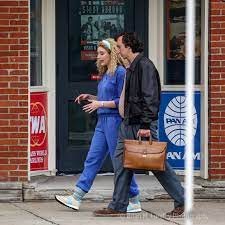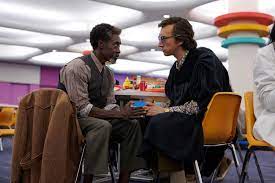 Driver, with a strange hairdo, plays Community College professor, Jack, who created a course in Hitler Studies. It's strange, ironic and coincidental that Hitler is politically charged fodder for news media at the moment, 3 decades later. Jack is married to Babette (Gerwig), a lifeskill teacher for seniors. It's their 4th marriage. Both have kids from previous marriages and one of their own (Raffey Cassidy, Sam Nivola, May Nivola). Their household is in constant chaos as they try to deal with a potentially lethal disaster, escaping the area and still maintaining some sort of everyday life and relationships trying to keep it together and survive. 
They decide not to evacuate until they are told to evacuate and that where the journey becomes more and more nonsensical as they try to comprehend and react to what's going on. Driver has this weird Lord Fauntleroy hairdo and his reactions to the chaos around him seem quizzical. When the kids, who seem more capable than their parents, give them advice, the parents come up with some weird reasons for their own behavior. 
Add Don Cheadle as Murray Siskind, Jack's colleague at the college, for incongruous discussions strangely comparing Hitler and Elvis. That is another part of this film that is often slightly off and often inconsistent. Sometimes it's funny and other times it's annoying distraction without any relevance to what this family is supposed to be dealing with at the moment to stay safe in a scary, unsafe world.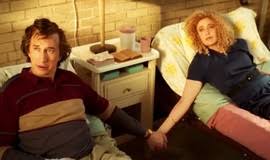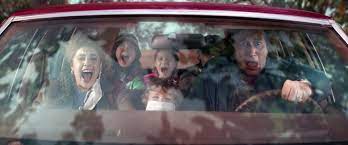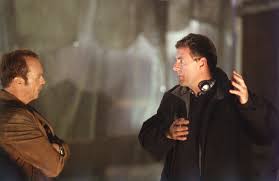 One of the most engaging scenes is with the family in the A&P (a grocery chain that no longer exists) where the kids are all over the place. Jack and Murray are having a serious discussion as the camera follows all of them and shoppers using high shots as they walk the aisles. And watch for Baumbach's creative choreography of the checkout lines in the store as entertaining background for the credits. 
Panic is contagious and as calm as they try to be, they start to panic, too. The scene where Jack has the whole family in the car and the camera pans by his lost expression tells it all. They have no clue what to do, which leads to several accidents in addition to their other fears. 
Babette has such a fear of death, that she finds doctor who has pills to deal with it. Jack finds out and it becomes another crazy marital situation. Again, it's supposed to be funny, but it's not. Jack and Babette also have a bizarre discussion with German Nun, Soeur Hermann, (Barbara Sukowa) about the importance of believing in heaven and hell, which is another serious discussion that's supposed that comedic overtones. 
Baumbach keeps Driver and Gerwig stylistically deadpan throughout. His approach to so many issues kept us interested but confused. This mish-mash of a film is mess-merizing.
Netflix.     2 hours 16 minutes.       R
The post White Noise first appeared on Movies and Shakers.
from Movies and Shakers https://ift.tt/cOQHnoC