The Fabelmans Movies and Shakers November 28, 2022
Although it was a train wreck on the big screen that first inspired Steven Spielberg become a filmmaker, this film isn't a train wreck but lacks some Spielberg Magic. He and Pulitzer prize winning co-writer Tony Kushner recreate the young Spielberg's determination and the support received from his family, particularly from his incredibly artistically talented mother. Set in the 50's and 60's, Production Designer captures the era well, especially all those shiny vintage cars. And, as you would expect, Spielberg's cinematographer, Janusz Kaminski, (Schindler's List, Saving Private Ryan, West Side Story,) once again creates memorable images.
Michelle Williams and Paul Dano hold this film together. Williams, as Mitzi, is a joy to watch. Her smile lights up the screen. She should have been a concert pianist, but was afraid to follow her dream. Dano, as Dad, Burt, gives an understated, but charmingly nuanced performance. He's the mild-mannered, practical Dad who doesn't get as much attention, but his role is every bit as essential as Williams'. Seth Rogan as Bennie, Burt's best friend and employee, is part of the family. This is not the Seth Rogan you expect. Here he's clean shaven with short hair and doesn't play for a laugh. He does a fine job playing a serious, dramatic role.
In this film, Sammy's parents are loving opposites. Burt is a tech genius working on the earliest computers. He wants his son to go to school to do something he can always fall back on. But Mitzi is exhuberant, always encouraging Sammy to follow his dreams.
When the parents take young Sammy (Mateo Zoryan) to see his first movie, "The Greatest Show on Earth," the young boy goes nuts seeing the massive destruction of the circus train. He's hell-bent on recreating it at home. He borrows Dad's camera and using the Lionel train set he got as a Hanukkah present, captures it on film, watching it over and over again. That was it. He was bit.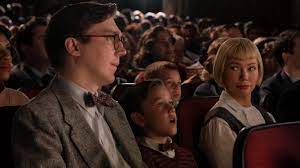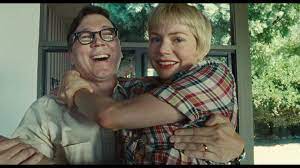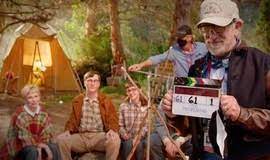 The film proceeds to paint Sammy and his adorable sisters as the fun bunch to star in his first home made films. They are close knit siblings who bond making Sammy's first filmmaking efforts. He graduates to using his Boy Scout troop for his first Western and War action flicks. Funny line, one of his sisters says, "When are you going to put girls in the lead?
Michelle Williams is the embodiment of a Jewish pollyanna, always looking for the bright side. One of her sayings is that guilt is a wasted emotion.
Spielberg likens her to Peter Pan. She really looks the part in the scene where the family is out camping and she dances in a white nightgown in front of their car's headlights. She is graceful and joyous reveling expressing herself so freely. It's a provocative, but beautiful scene.
With Burt's promotions, the film follows the family from New Jersey, to Arizona to California. Teen Sammy (Gabriel LaBelle) is bullied at school for being Jewish. LaBelle's wide-eyed innocent look is in contrast to his inner drive and turmoil about filmmaking. Spielberg graphically shows the rampant antisemitism he experienced that was normalized where he was in California. It's very disturbing, especially in light of same happening today.
Spielberg introduces a sparkly-eyed Shiksa (Yiddish for non Jewish girl) from school, Monica (Chloe East) who charms Sammy. She idolizes Jesus more than anything and wants to bring him into Sammy's life, too. Her scenes are among the most entertaining in the movie, especially how Sammy reacts to her efforts at converting him. East is a beguiling young actress.
When Mitzi's mother dies, burley Uncle Boris (Judd Hirsch with a Yiddish accent) shows up with his boisterous, outrageous stories of his life in the circus as a lion tamer. He implores Sammy to follow his own dream to make art as Boris had wished Mitzi could have done. This sparks Sammy's desire to to become a storyteller through film.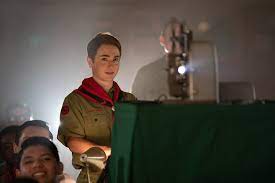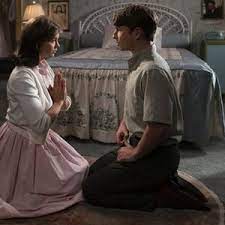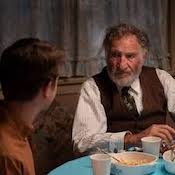 The family dynamic gets complicated when relationships change at home and at school. It leads to a pivotal scene at the Prom where he shows being commissioned to make a film documenting Ditch Day for Seniors. This is a powerful moment showing Sammy's emergence as a real filmmaker. The reaction to his film makes him understand the power, positively or negatively, of storytelling and how it can move people.
In Spielberg's recreations of the films he made growing up, he now gets to use all of the fancy equipment and technology he never had as a kid. These are the films he envisioned making as a kid and he admits he couldn't help using some those new techniques here to polish up the look of his first efforts here. Spielberg puffs up his persona and maturity, not only for his first films, but in judging the relationships around him. This is more than you'd normally expect from a 16-year-old.
Spielberg packs this film with many threads not always well connected. They include family, parenting, relationships, death, religion, education, marriage and his passion for filmmaking. Like his career, this film is long and cinematically detailed, showing what Spielberg wants you to know about his path to get on track as the consummate filmmaker. It's no coincidence that a man devoted to storytelling, became a Fable-Man.
Universal Pictures. 2 hours 31 minutes. PG-13
The post The Fabelmans first appeared on Movies and Shakers.
from Movies and Shakers https://ift.tt/BOFu3xj