The Inspection Movies and Shakers November 25, 2022
This powerful film is even more so because it's the true story of Writer/Director Elegance Bratton. His monumental challenge was to take back his life after years of rejection by his mother for being gay. Even harder, he was Black, becoming hungry and homeless for 6 years until he, literally, pulled himself up, by his boot straps. In the film, he names his alter ego Ellis French, played by Jeremy Pope (One Night in Miami). 
Bratton starts the film with French going to tell his strident mother (Gabrielle Union) he's going to join the Marines to make her proud, but she brutally rejects him and throws him out again. He was just looking for her to be positive about what he's decided to do with his life, but she lets him know just how little faith she has that he can make anything of himself. Pope and Union go head-to-head almost too painfully, making him feel even more worthless. She's brutally sarcastic. You can tell Bratton has been here before and Pope realistically makes the scene so emotional, and heartbreaking. 
We spoke with the charming and articulate Bratton and theater-trained Raùl Castillo (Cha Cha Real Smooth) at the Austin Film Festival. We also participated in a virtual Variety press conference with Bratton Jeremy Pope. They relayed how hard it was to shoot during COVID, having to cut production down from 23 to 19 days shooting in 117 degree heat and humidity in Mississippi.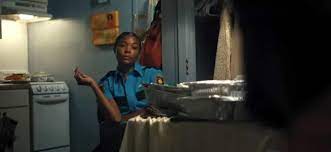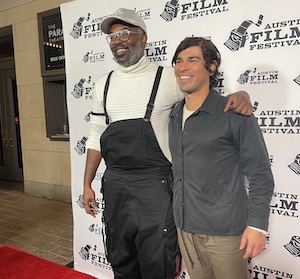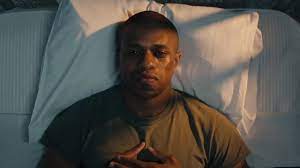 Bratton put Pope through plenty getting ready for the Boot Camp scenes in the film. He actually hired a couple of his former Marine instructors. Pope had to get up at 3 am, expected on set at 3:30. It was a rude awakening when one of Bratton's former female instructors yelled, "You're late!" Bratton knows actors like to sleep, but that was not going to happen here.  He wanted it to be just as it was when he went through Boot Camp himself. Pope sweats profusely executing the rigors of training, but said he really went for it, so he wouldn't have to do too many takes in that heat. That sweat you see is the real deal.
Bratton's script builds on the consistent mental as well as physical rejection and pain, still showing immense sensitivity. When French is outed by his fellow cadets, seeing them ostracize him and make him feel uncomfortable for being gay, will make you feel uncomfortable as well. Pope shows how French is constantly fighting hard to be the Marine he wants to be. The mission, shouted over and over, is to always protect the Marine on your left and your right, no matter who they are. "Semper Fi." Bratton shows his pain when they constantly shun him. 
French's superiors in the film are well cast. Bokeem Woodbine as Laws has a gravely voice and a commanding presence. He sounds a lot like Dave Chappell, only instead of telling jokes, he tears down the new recruits to mold them into the kind of Marine he needs them to be. Castillo as Sgt. Rosales is also strident and tough, but when he sees what Bratton is up against, he starts to soften, even trying to help by giving French some advice.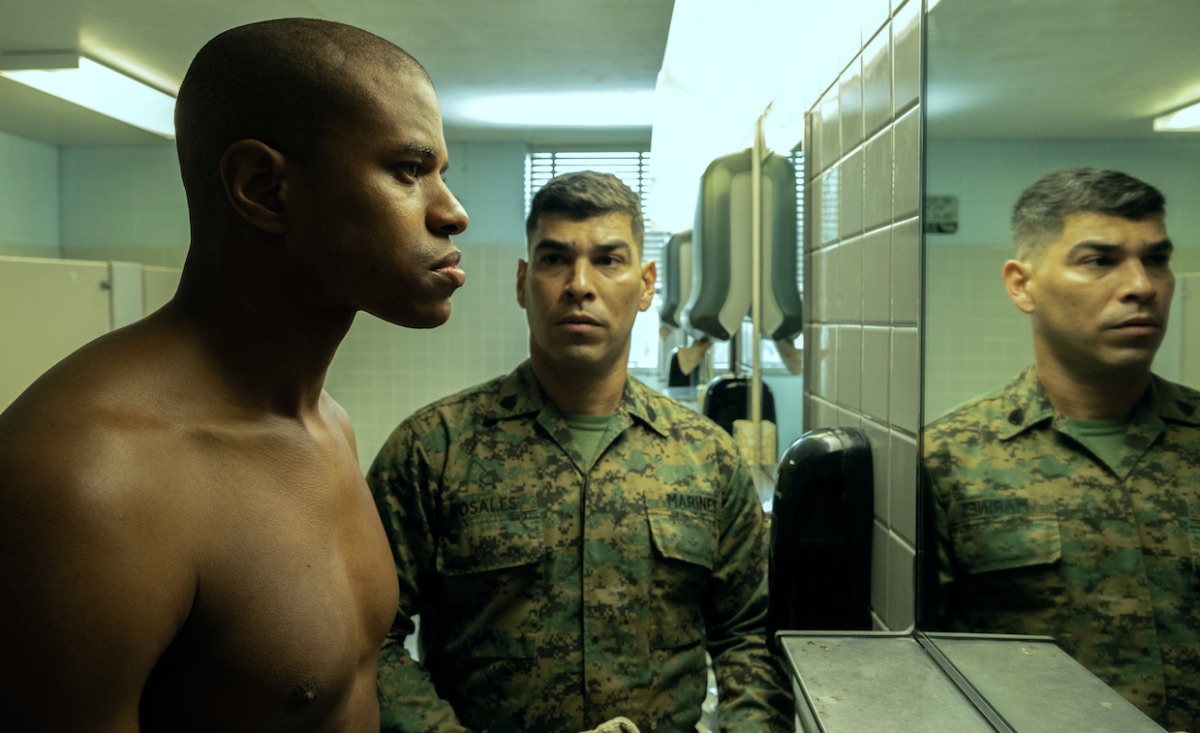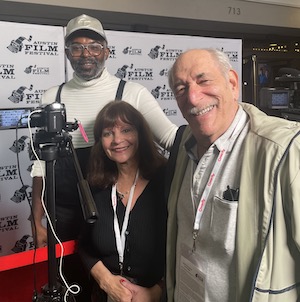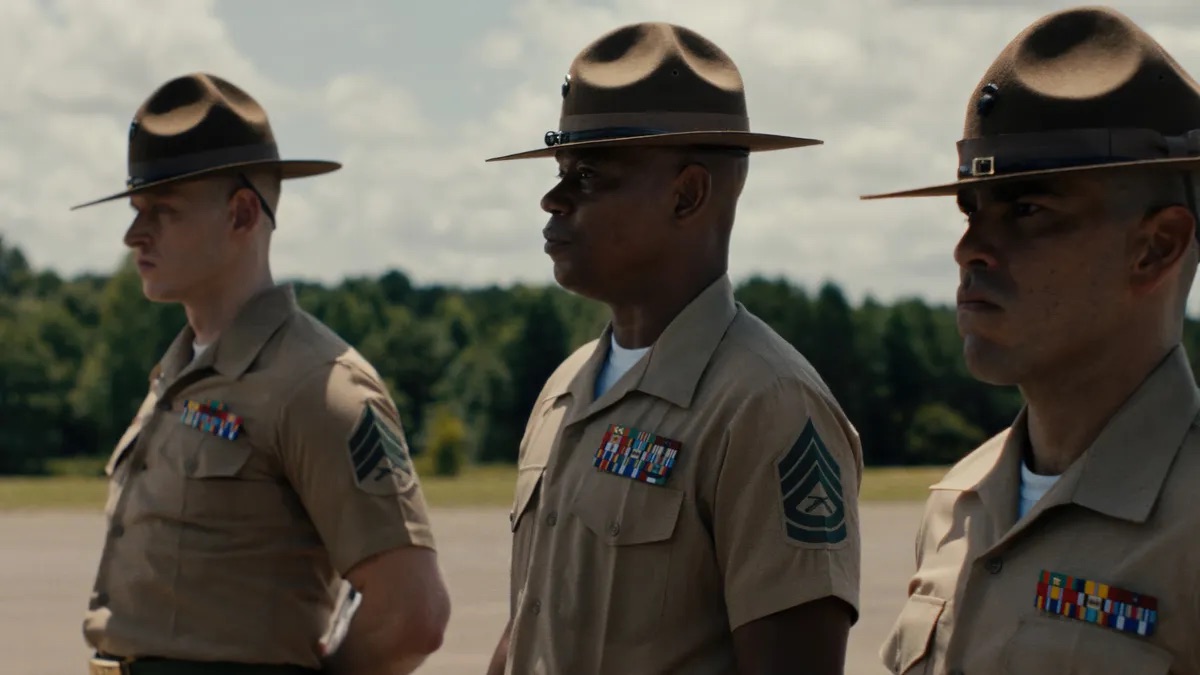 Bratton puts a lot of texture and shade to his script so you can feel what French is feeling as he goes through the rigors of boot camp. He made sure that while filming, the recruits had nothing to do with the trainers. He didn't want them to become too familiar so they'd strike the right tough as nails attitude. They even stayed on different floors of the hotel, and away from each other on set, so there was no fraternization. After Bratton made it through Boot Camp and graduated, he was assigned to make films for the Marines which obviously gave him the tools and experience, to undertake this project. 
It's a tough film to watch, but well acted and well paced. Unfortunately, the talented Bratton's mother died before the project was green lit. There's no doubt that this is a cathartic exercise for the talented Bratton. He put his life on the line to get on the path to be able to tackle this project, and it definitely deserves your inspection.
A24    1hour 34 minutes   R
In theaters now
The post The Inspection first appeared on Movies and Shakers.
from Movies and Shakers https://ift.tt/8QIrhtn