Glass Onion: A Knives Out Mystery Movies and Shakers November 22, 2022
It's all right in front of you. Director Rian Johnson took 2 years during COVID to mastermind his latest mirth filled murder mystery. Benoit Blanc (Daniel Craig) is back on the case to figure out the clever, complicated clues presented by this cast of charismatic characters. Just don't let your guard down or you'll miss some of the signs and the fun. We enjoyed it even more the second time. Know that we are going to hold back spoilers so it will be just as surprising for you as it was for us. 
Daniel Craig went from James Bond to the brilliant detective with the Louisiana drawl, Benoit Blanc, without losing a beat. He's better than ever, but had to work with a voice coach to get back his iconic drawl. Craig's got a poker face. While his face is a blank, Blanc's wheels are always turning.  
The first thing Blanc has to figure out is why he's on the guest list with all of these outrageously celebrated characters. They all get the same invitation and it's a doozy. The seemingly impenetrable box with buttons and many moving parts is sent from snarky self-centered billionaire tech mogul Miles Bron (Edward Norton) to each of his circle of close friends. 
There's Tech/Science whiz, Lionel Toussant (Leslie Odom, Jr.), self-centered clueless, former model/actress, Birdie Jay (Kate Hudson) with her assistant Peg (Jessica Henwick). Insensitive podcaster Duke Cody (Dave Bautista) brought his sexy assistant, Whiskey ((Madelyn Cline), too, Seemingly progressive Connecticut Governor, Claire Debella (Kathryn Hahn) joins the group, along with, most surprisingly, Miles' ex-partner/love and tech brain, Andi Brand (Janelle Monàe).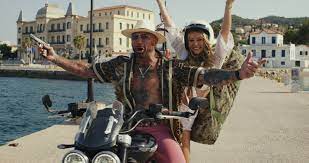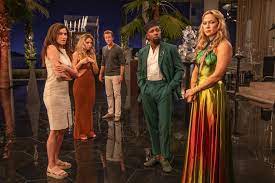 Each of these friend/participants have their own special tie to Miles. They all know too much about each other, what is truth and what isn't and he knows how to use it against them. When he says jump, they just ask how high. And when summoned, they come. 
All of these characters are summoned annually by Miles to show up at some outrageously extravagant location for a posh weekend to play a game. This time it's to Miles' private Greek Island mansion with every amenity, crowned that is topped with a giant crystal spheroid called the Glass Onion. The name also refers to the Beatles' song from the White Album. The place is filled with priceless art, mainly glass sculptures and one of the world's most famous paintings. Cinematographer Steve Yedlin captures the essence of this location and of each character He has worked with Johnson in many of his films, including the Knives Out original. 
But wait!  Why is Benoit Blanc there? Even he doesn't know. Neither does Miles and that sets this game in motion. Miles has a plan to gain even greater money and power. Blanc gets even more confused until someone shows up dead. Aha! Now Blanc has a real case, not just a game. 
Bautista has a new comedic touch in this role with his deadpan takes and low breathy and sly speech pattern. Kathryn Hahn is a terrific actress, but here her role as a disheveled doesn't let her break out as much. Kate Hudson is adorable, unlikable, loud and ostentatious, without any filter. Janell Monae is beautiful playing mysterious well getting a lot of screen time. Jenny Eagan does a fabulous job suiting up this group, but particularly the rainbow dress on Hudson and the fitted outfits worn by Monae.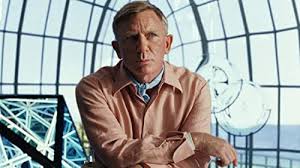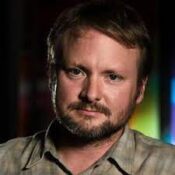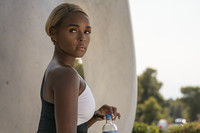 It gets witty and funny and makes some sly commentary on greed, acting only in one's self interest, friendship and social media along the way. Each character has their own reasons for staying loyal to Miles and it's up to Blanc to flush it out. Twists and misdirection are the hallmarks of this genre, and Johnson pulls it off without a hitch. It looks like the actors had as much fun making this film as the audience sitting in front of the screen watching it. 
Netflix' big investment in Rian Johnson and this franchise is paying off big-time. This a second installment of a franchise that doesn't succumb to "The Sophmore Jinx." This film is just as fresh and inventive as the original. Even though, long, it flies by. Even if you don't like Clue or puzzles, Johnson's carefully laid out plot and cast of kooky characters keep you captivated. He knows how to make murder and mayhem fun, unless you're the victim. 
Netflix.           2 hours 19 minutes.      PG-13
The post Glass Onion: A Knives Out Mystery first appeared on Movies and Shakers.
from Movies and Shakers https://ift.tt/cD1aFrL