Nanny Movies and Shakers November 21, 2022
Writer/Director Nikyatu Jusu creates haunting images in this horror tinged, supernatural flavored story. Anna Diop (Titans) is a captivating presence on screen. She shows a range of emotions of a woman from West Africa  missing her son and having to learn American ways. The film follows Aisha, who becomes the nanny for an upscale NYC couple's 5-year old daughter. She's an immigrant from Senegal trying to make enough money to bring her son to the States for his upcoming birthday. 
This is Jusu's directorial debut, and drew from her own Mother's experience as an immigrant. She skillfully handles the storytelling focusing on the attitudes of the people Aisha works for, and the way Aisha befriend's their adorable little girl, Rose (Rose Decker). Diop handles being a Nanny in the film drawing from her own life experience watching her real mother who was a Nanny for 24 years.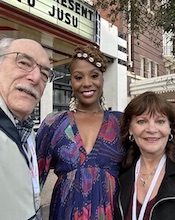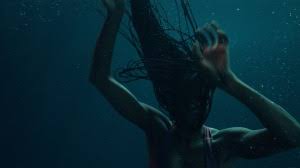 Jusu revealed that she cast Diop, because she was already on her radar from her work onTitans telling us that the actress was also one of the few who was willing to audition for the role. Diop channels Aisha's journey completely. Watch our interviews Diop at The Chicago International Film Festival and with Jusu at Austin Film Festival. 
It doesn't help that the family Aisha is working for is not a happy family and they continue to avoid paying her salary. It's the money she desperately needs to bring her son to New York. Michelle Monaghan is exasperating playing the frazzled professional trying to be the perfect Mom while paying more attention to climbing the corporate ladder. It doesn't help that her husband, (Morgan Spector) is often out of town and has other things on his mind, besides putting his wife and daughter first. 
Throughout the film, Aisha has mystical nightmares that roust her agitated out of a sound sleep. Jusu and cinematographer (Rina Yang) use ethereal lighting to create disturbing images seen in her emotional, demonic dreams. Jusu's noteworthy visions of water from underwater create an haunting perspective. It is an ongoing theme which is also prevalent in Western African supernatural culture. Diop told us about several beliefs about the power of water in her family.
Aisha is prompted to see a mystic to interpret her disturbing dreams. It is good to see legendary Leslie Uggams in the role of Kathleen. She tries to offer advice to Aisha to get a handle on her situation.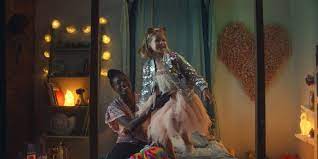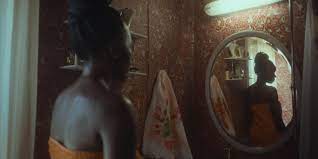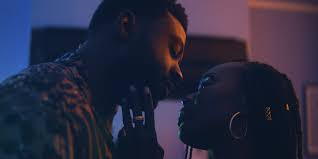 Jusu deftly works in the themes of classism and racism in the relationships Aisha has with her employers and interaction with other nannyies she encounters. One of the brightest parts of her life is the playful relationship she has with Rose, introducing foods to her from her own native land. The other bright light is Malik (Sinqua Walls) who befriends her and takes an interest in her well being. Walls establishes a delightful relationship with Diop as he plays Malik, the only one who can make Aisha happy when she has been so worried about her job and her son. By the end, will her nightmares end or become her new reality? 
It's no wonder Director Jusu won the Grand Jury Prize at Sundance for her work. Jusu is an established writer and confident director who wisely chose Diop to deliver her directorial debut. This film does not overplay the horror, yet Jusu's social commentary and scary images are indelibly hard to forget. This Nanny takes care of both. 
Amazon Studios         1 Hour 37 Minutes           R 
In select theaters November 23rd.  Streaming on December 16th.
The post Nanny first appeared on Movies and Shakers.
from Movies and Shakers https://ift.tt/kxFI64t