Black Panther: Wakanda Forever Movies and Shakers November 11, 2022
The wait is over. This Black Panther film is not one we think will leave its mark forever, but it admirably pays tribute to the memory of Chadwick Boseman. His passing, his spirit and presence permeate throughout, not allowing the story to take full flight. Writer/Director Ryan Coogler, paying so much screen time in tribute to the memory of the original Black Panther, creates and affects the heavy-hearted tenor of this film from beginning to end.
Coogler decided not to go down the well-worn path of simply replacing his hero as has been done in franchises as Superman, Batman, and even the long running, James Bond. This results in the search for a new hero. Who will take up the mantel?
Opening scenes take us to the moment T'Challa dies from a fatal disease with Shuri trying to use her toolbox of technology and science trying so hard to save him. It's her big regret. In the original film, Shuri (Letitia Wright) was a delightful sprite, full of good humor, intelligence, and wit. She is a technological wiz and a dedicated compatriot to T'Challa. But her brother's death affected her so much, the loss of joy is reflected in her demeanor.
The elaborate staging of the funeral sets the tone for the remainder of the film. The production design, wardrobe, and makeup are striking. Oscar winning Ruth E. Carter does it again, creating new iconic costumes and dramatic accessories for the film. The elaborate funeral ceremony is led by elegant Queen Ramonda (Angela Bassett) exquisite in white. The scene is palpably emotional and cathartic for the audience as well as for the actors in the film. T'challa's presence is evident to the very end of this installment.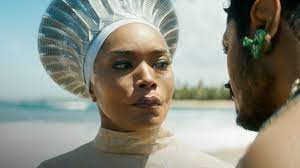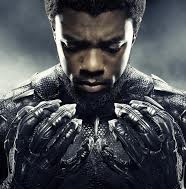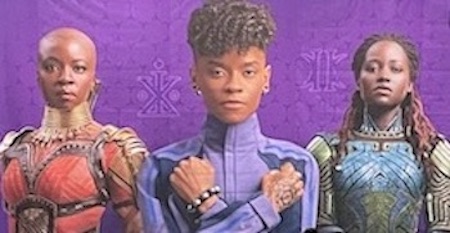 Bassett is stong as the Queen. She is an imposing figure trying to keep Wakanda protected. By refusing to share Wakanda's monopoly of Vibranium, she is unwavering guarding the blue glowing substance that gives Wakanda it's immense power and technological superiority. Speaking at the UN, she silences critics by producing evidence of a supposed ally trying to acquire Vibranium for themselves.
An even greater threat to Wakanda comes from the depths of the ocean, the Talokan. It is an entire kingdom under the Atlantic inhabited by the descendants of Indigenous people related to the ancient Mayans that live underwater. Their leader is Namor (Mexican actor Tenoch Huerta Mejia), a mutant figure and fierce warrior with winged feet and a perpetual scowl. Coogler shows Namor and his people as resentful because of how they were subjugated centuries ago by the colonists in the surface world. Coogler adds this thread reflecting slavery and racism.
There is plenty of fighting but the special effects are not as dynamic as they were in the original film. The big difference is what is seen underwater, which is beautiful, but many of the waterlogged chases and battles start to look a little repetitive and the special effects more primitive. Underwater scenes appear less luminous whereas the visuals on the surface paint Wakanda through a more lush and vibrant lens.
One of the best action sequences is early on, when the Talokans attack a U.S. off-shore drilling site. The operation is destroyed with dynamic explosions and surging water. The scenes of the attack on the rig and from the monitors inside it's control center give us the first glimpse of the blue-skinned, murderous invaders from the deep. They will come to dominate Wakandan's fears as well.
But it doesn't let up there. Coogler tries to thread too many story lines through the film which runs 2 hours 41 minutes. It gets weighed down with a series of slow expositions involving returning characters Okoye (Danai Guria) of the Dora Milaje female soldiers, M'Baku (Winston Duke) exuding attitude and brute force. Martin Freeman is the one good-guy in the CIA, Everett Ross. Freeman basically provides some underused comedy relief interacting with his annoying ex-wife and boss, played by Julia Louise Dreyfus. We needed more lighter moments to provide texture to the film.
Nakia, (Lupita Nyong'o) appears later in the film. She has left Wakanda to process the loss of her love, T'Challa. But she solemnly comes back at a pivotal point. Her character is essential in this franchise.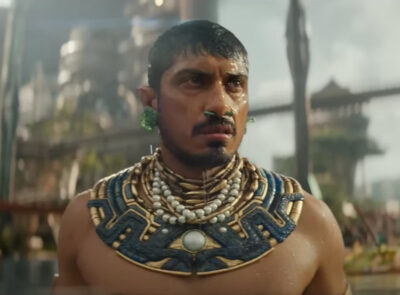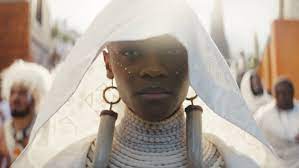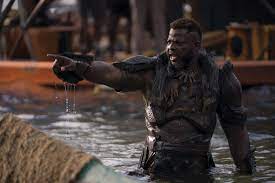 Okoye, (Dana Guria), is the best constructed character of the lot. She is given ample screen time to see her feel anguish and pain with stoic acceptance. This film is basically carried by smart, strong females.
She and Shuri seek out Riri ( Dominique Thorne), another smart, young woman. Her talent is is as a genius technological designer who has created a device the Wakandans need to protect their Vibranium. She built a special suit very reminiscent of another Marvel hero. These women get to inject a bit of much needed humor interacting with Shuri. We found it refreshing since Wright's character is so very serious. There isn't a whole lot of fun in this iteration of Wakanda.
Coogler closely recreates some of the spectacular scenes of the Wakandan gatherings seen in the original film. Colorful as they are, they don't seem to be as awe inspiring as the first time around.
Letitia Wright as Shuri makes a brave attempt to portray a strong leader, like her brother. Will audiences be moved be moved to react with cheers, gasps or tears amid all the mourning for T'Challa? Coogler is right to honor Chadwick Boseman for his owning the role. His spirit is missed, but it's evident, with this Black Panther, that Coogler has found a way to honor T'Challa…forever.
Walt Disney Studios Motion Pictures. 2 hours and 41 minutes PG-13
The post Black Panther: Wakanda Forever first appeared on Movies and Shakers.
from Movies and Shakers https://ift.tt/Z5JXuri