Austin Film Festival, October 27-November 3rd, 2022 Movies and Shakers November 9, 2022
The Whale – Opening Night with Director Darren Aronofsky and Writer Samuel D. Hunter on the Red Carpet telling us about their collaboration bringing Hunter's play to the big screen during COVID. Shot mainly in one room, this film is emotional and compelling. Aronofsky's choice of Brendan Fraser's Charlie, transforming him into a self-destructive, 600 pound man only wanting to have a meaningful relationship with his estranged daughter. The ensemble cast of Sadie Sink, Hong Chau, Ty Sinpkins and Samantha Morton create indelible characters, all trying to save Charlie or themselves in this piece. Watch our interviews with Director Aronofsky and Writer Samuel D. Hunter explaining how they worked together and how the closeups had to be shot.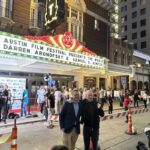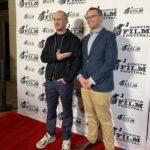 Nanny – Writer/Director Nikyatu Jusu uses lighting to create remarkable images in this supernatural flavored story following the new nanny of a rich couple in New York City taking care of their little 5-year-old daughter, Rose (Rose Decker).  Anna Diop in a striking performance as the Nanny who longs to bring her own son from Senegal  on his birthday. She has extremely emotional, demonic dreams, masterfully visualized by Jusu. It doesn't help that the family she is working for is dysfunctional and continues to forget to pay her the money owed for taking care of their child that she needs desperately for her son's passage to New York. Michelle Monaghan plays well the frazzled professional trying to be the perfect Mom whose husband is often out of town and has other things on his mind. Jusu fully develops the character of Diop as Aisha as a captivating presence on screen showing a range of emotions in this story of an immigrant female missing her son while struggling to learn American ways. Sinqua Walls as Malik is the compassionate man who takes an interest trying to help Aisha through. Watch for our interview with Nikyatu Jusu on how she found Anna Diop and more.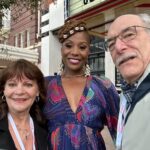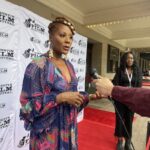 The Inspection – Writer/Director Elegance Bratton tells us how his own autobiographical story bringing him from rejection from his mother for being young, Black and gay. He spiraled into being hungry and homeless for 6 years until making a drastic change. Bratton finally signed up to be a Marine to try to make his mother proud.  The film shows the trials he went through with his Mom (Gabrielle Union), but also the rigorous training amidst fellow recruits who ostracized him for being gay. We also talked with Raúl Castillo (Cha Cha Real Smooth). He plays a training instructor who suspects but tries to be fair. Watch for our interview with Bratton and Castillo about working together on the film and where Bratton is now.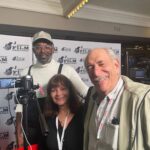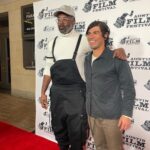 Sam and Kate – Writer/Director Darren Le Gallo cast Dustin Hoffman, his son, Jake Hoffman, Sissy Spacek and her daughter, Schuyler Fisk, in this dramedy about love and loss. Dustin Hoffman plays crusty widower, Bill, whose son, Sam, still lives at home, trying to take care of his disagreeable Dad. When Bill and Sam encounter Kate (Fisk) and her mother Tina (Sissy Spacek) with their broken down car in the church parking lot, sparks fly and romance, reluctant and not, take off. The whole cast of this film was in attendance at this World Premiere. The film exposes comedy on growing old, being a hoarder, as well as unrequited love and loss. Watch our interviews with Darren LeGallo working with families, Jake and Schuyler who loved the chance working with their parents and some fun that took place on the set.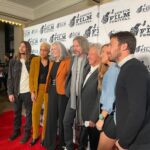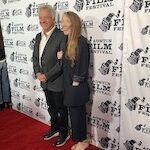 What Remains – Writer/Director Nathan Scoggins' film is about forgiveness and redemption. Cress Williams stars as a Pastor in a small Texas town whose wife was murdered by a local young man, Troy, (Kellan Lutz)  now released from prison. The pastor's son (Marcus Gladney, Jr.) is outraged when the Pastor hires Troy to help at the church. Ann Heche, in her last performance,  plays the local town detective investigating another brutal murder that may be related which puts all on edge. There are religious overtones in this film, and it moves very slowly, but the performances are earnest. Watch our interview with Scoggins, Williams and Lutz about working on the film and  with Ann Heche.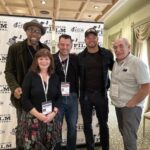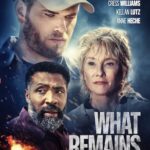 Armageddon Time – Writer/Director James Gray's autobiographical film covers his childhood, warts and all, growing up in New York City. Anne Hathaway plays his mother who loves her son but gives him mixed messages when he gets in trouble. Anthony Hopkins plays his doting grandfather with a bit of a halting British/Yiddish accent. Banks Repeta plays the rebellious, but somewhat creative son who is pretty unlikable. His schoolmate, Johnny, played by Jaylin Webb, is the actor with the most expression. Gray was even frank and fun in Q & A, dubbing he and his brothers as pretty "tough motherf***ers" who gave their parents, a rough time. It is nostalgic but hard to like when the kid seems to smile only when he's done something bad.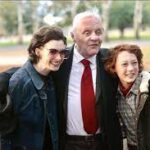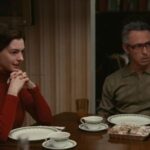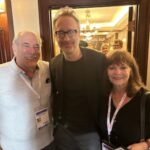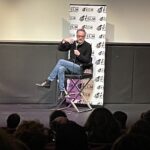 Women Talking -Writer/Producer Sarah Polley with Super Producer Dede Gardner talked with us about how they created this compelling drama that is so current today. They assembled a cast of superior actresses, fully developing their characters discussing whether to continue being the victims of sexual violence and brutality in their religious colony, or to escape. Even though this film is basically discussion in a barn, the dialogue is eloquent, delivered with determination in varied tones of emotion by Rooney Mara, Jessie Buckley, and Claire Foy among others. We were particularly struck by the voices of the elders, Shirley McCarthy and Frances McDormand who became the referees keeping the discussion under control with comic relief to lighten the mood. Ben Wishaw's role as the one sensitive male trying to document all of the arguments for staying or going, is particularly effective. Watch our interview with Sarah Polley and Dede Gardner about the look of the film, how it was shot and how it reflects what the democracy really means.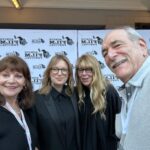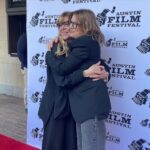 Song of the Cicada – We've never thought of a funeral director who specializes in embalming as upbeat, knowledgable, engaging and fun, but Dale Carter of Galveston is that and more. Directors Aaron and Robert Weiss met Dale 10 years ago and were fascinated about his thoughtful and compassionate approach to creating funerals with sensitivity and care for the deceased as well as the family. The film shows the many facets of Carter's love of history, culture, art and fashion. He is a fop with personality plus. In the film, he gets to tell his own story spinning fascinating tales of the bodies he's made younger and more beautiful, and about the most unusual burial requests he every had. The film is entertaining on many levels, so don't shy away from it. Carter is a positive person who has a smile for everyone, dead or alive.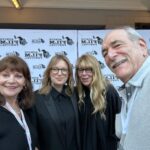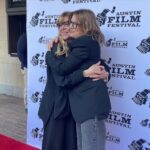 The post Austin Film Festival, October 27-November 3rd, 2022 first appeared on Movies and Shakers.
from Movies and Shakers https://ift.tt/zOY0WkZ