Black Adam Movies and Shakers October 24, 2022
Black Adam kills with no remorse and even though the script attempts to inject some humor into his bloodlust, it all falls as flat as the blank stare on Dwayne Johnson's face. There are some attempts to bring in themes of freedom, family and brotherhood, but it's only a thin cover for the non-stop action. The aerial battles between Hawkman and Black Adam are reminiscent of Superman vs. Zod, even down to speeding up action and jerking the camera. This film just looks and feels like it's not up to the quality of what technology can deliver today. Audiences expect more bang for the buck, especially with a $195 million budget. 
This muddled, disjointed, cartoonish (even by comic book standards) anti-hero fable marks the beginning of a whole new collection for the DC Universe. Dwayne Johnson waited 15 years to get this movie made. He wanted to play an anti hero kids like he was as a boy could relate to.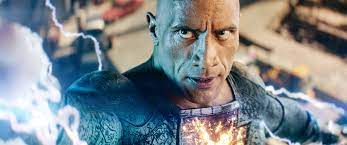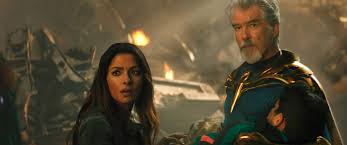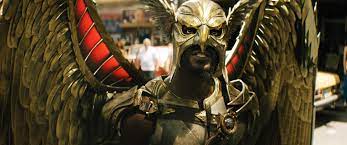 Director Jaume Collet-Serra (Jungle Cruise, Unknown)  along with writers Adam Sztykiel, Rory Haines, and Sohrab Noshirvani, take the audience on a journey that begins 5,000 years ago in Kahndaq, the mythical Middle Eastern region on the Sinai Peninsula.
The people of Kahndaq are enslaved under militaristic rule. The people yearn for a savior to lift their yoke. Their prayers are answered in the form of Teth-Adam (Johnson). He has unmatched super-power, emanating from Eternium, a rare stone only found in Kahndaq. He was never meant to be a hero, but that's the perception that landed on him. His invincibility reaches the level of, say, Captain Marvel. But he is no simple hero. Teth-Adam transforms into Black Adam who carries infinite lethal rage and hate for whomever he considers his enemy. His reign of terror is so terrible, the wizards and gods banish him to entombment at the bottom of a remote cave. 
As fate would have it, Kahndaq's history is bering repeated in modern times. Teth Adam, unsurprisingly, is released by Adrianna (Sarah Shahi), a Khandaq scholar well versed in the history of the legend. Black Adam is free to resume his murderous rampage.This activity grabs the attention of Amanda Waller (Viola Davis) and the Justice Society of America. It's clear, from the moment the other costumed characters show up, this movie is positioned as the starting point for a new DC franchise.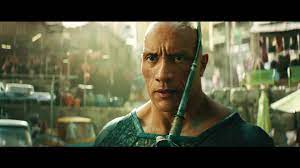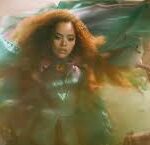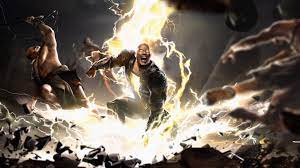 The majority of the second act is taken up with Black Adam battling the Justice Sociey characters, Hawkman (Aldis Hodge), Atom Smasher (Noah Centineo), Quintessa Swindall (Cyclone) and Pierce Brosnan (Dr. Fate). Where the first three heroes are cookie cutter action figures, Pierce Brosnan's grey bearded, gold helmeted seer of the future is the most interesting and watchable creation in this film.
And then there's the climactic battle with the ultimate villain, Sabbac. If you didn't get the idea he's evil, the design team makes him an over-sized red-devil with swept back horns, a snarling mouth full of huge teeth and demonic symbols on his chest. You'd swear this guy has already appeared in multiple awful movies or video games.
There's not very much here that's fresh or original in this era of the über superhero. The over riding thought conjured up after a viewing of Black Adam is that you've seen this before. Dwayne Johnson's fan will love it, but Black Adam is too little story, with too much screen time on predictable scenes. It's big booms and fiery explosions that's little more than flash and bang. 
Warner Bros       2 Hours 4 Minutes             PG-13
The post Black Adam first appeared on Movies and Shakers.
from Movies and Shakers https://ift.tt/PXw6rbq