Don't Worry Darling Movies and Shakers September 21, 2022
We wish that Olivia Wilde's directing would have been as compelling as Florence Pugh's acting in this film that hints at themes from The Stepford Wives, The Truman Show and Pleasantville, but doesn't do as well. The screenplay was co-written by Kate Silberman, Carey Van Dyke, and Shane Van Dyke with big nod to the #meToo movement. 
There were a lot of machinations behind-the-scenes among Wilde, Pugh, Chris Pine and Harry Styles that brought attention in the tabloids to the movie, and not in a good way. Several incidents involving the cast caused tongues to wag during filming and after at the Venice Film Festival premiere.
The set design (Katie Byron) is one of the best points to the film. It reflects details of track houses detailed with 1950's decor and retro classic cars in each driveway. We think the cars helped set the tone for the feel for the movie better than anything else. Although the film is colorful, the cinematography (Matthew Libatique) is oversaturated, which adds to the unrealistic aura of this place.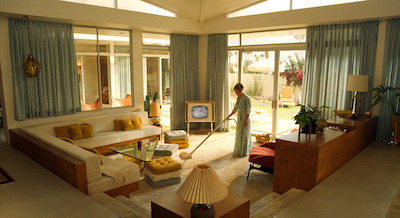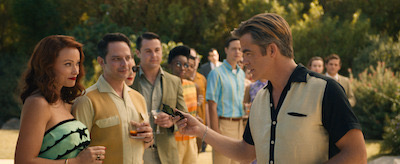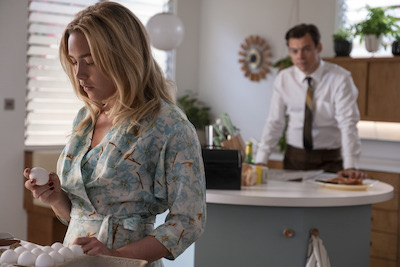 Florence Pugh is on the screen every minute as Alice, one of many wives in this cul-de-sac with their husbands all taking off for work in the same way at the same time every day. Bunny (Olivia Wilde) is one of her best friends, always staying with the program. The wives clean house but the rest of their day is filled with pampered life style activities like ballet class, meeting for coffee and gossiping. 
As Bunny, Wilde is over made-up, with ruby red lips and perfectly-coifed hair that makes her look somewhat grotesque. The women are always ready with a cocktail for their husbands when they come home from Victory, their workplace which is inside the mountain in the middle of the desert. It's run by the smooth, polished and seemingly all-powerful Frank (Chris Pine).  We never really know what they do, except work on "progressive materials."
Alice's husband, Jack, (Harry Styles) is one of the workers going through the routine every day. They seem to have a loving relationship, but there are chinks in Alice's psyche that pop up and are confusing to us and to Jack She has weird dreams of a plane crashing behind the mountain and overhead shots of Busby Berkeley style synchronized choreography used as transition between scenes and during the credits. Wilde adds a scene where frank gives Jack a promotion and calls him up to dance. The scene is intercut badly with Styles dancing so awkwardly, jumping into turning leaps. It's all so odd. Styles is known as a music heartthrob, so we're curious if that's what he was directed to do. 
The culmination of Alice being very unsettled comes at a dinner she and Jack host for their friends, including the boss, Frank and his wife, Shelley (Gemma Chan). Over dinner, Alice challenges Frank's agenda. It becomes an uncomfortable situation for all involved and Frank turns the tables convincing her friends that Alice is crazy. Interesting to see Chris Pine as a villain when he usually plays the hero.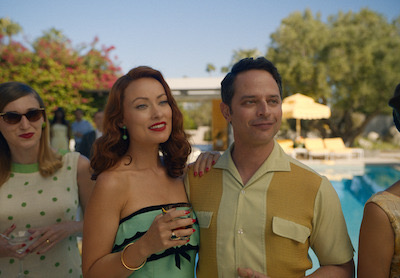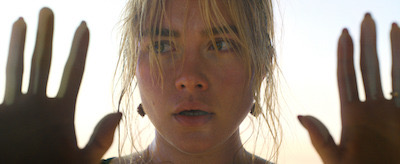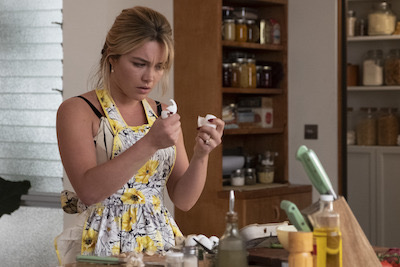 When she suddenly realizes how she got to this strange place, Alice springs into action, being chased by Frank's henchmen all over the desert. This is where the film falls apart. It takes a sharp turn pitting Alice and Frank along with others against each other in what becomes kind of Twilight Zone-like in nature. 
This is a film that tries to put out a feminist #MeToo trope, but it gets mired in what seem to be forced twists and turns in this convoluted story. Just like Blonde, this story is predominately carried by the female lead whose acting shines better than the movie around her. The plot twists and turns in this film may not hang together well, but Don't Worry Darling, hang around to see Florence Pugh's committed performance. 
Warner Bros.     2 hours 2 minutes.     R
The post Don't Worry Darling first appeared on Movies and Shakers.
from Movies and Shakers https://ift.tt/O6qT4ie