See How They Run Movies and Shakers September 15, 2022
With a cast including Sam Rockwell, Saoirse Ronan, and Adrien Brody, Director Tom George could have let these actors have a lot more fun with this whodunit.  Plans to make a Hollywood film of Agatha Christie's legendary theatrical play, "The Mouse Trap" turns the theatre into a real crime scene. 
This film has the feel of a Wes Anderson production in the same vein as The Grand Budapest Hotel or Moonrise Kingdom. It's intended to be a drawing room comedy or farce, but the way the film is structured, with it's hard to follow plot line, it just doesn't capture the grandeur of Christie's original piece. 
The consummate cad, self-centered Hollywood director, Leo Kopernick, (Adrien Brody), who was hired to make the movie version of the play is the first murder victim. But Brody lives on as this film's narrator while Detective Stoppard (Sam Rockwell) and the inexperienced Constable Stalker (Saoirse Ronan) end up working together, as well as against each other to solve the murder.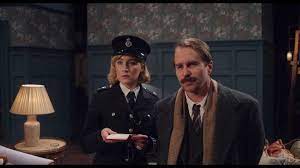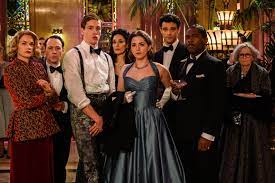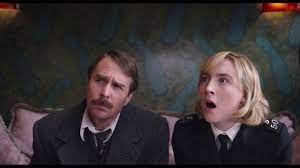 Tom George's direction is sometimes confusing and unwieldy at times employing split screen to show the same action from different angles, often going in opposite directions. The technique wasn't effective. Rockwell really downplays his role as the bumbling, hard drinking Scotland Yard gum-shoe on the case. He usually adds a lot of personality and humor to his characters, but not here. There was definitely an opportunity to do so, but we have to wonder if Rockwell chose his character's demeanor or if that's the way George directed him. 
Saoirse Ronan plays a detective wannabe shadowing Stoppard, jumping to conclusions every time a piece of possible evidence comes to light. She's also star struck being in the presence of the actors, wanting to know everything about the proposed film. She jumps at the chance when offered free tickets to see the classic stage play. And there's always a character who thinks he's immune to being treated as a suspect. David Oyelowo as the film's self-centered screenwriter plays bored with the whole investigation, even though he's challenged for having a possible motive. 
Stalker's enthusiasm is refreshing and helps buoy the production, but Ronan is capable of doing much more than play a sidekick in this film. Still, she is there as the prime comedic element. Sometimes it works and sometimes it doesn't, but she's cute as the ditzy Stalker. She is clearly the most likable character. It's sometimes hard to understand Ronan's fast delivery with her Irish accent. Too bad Rockwell's British accent is so inconsistent, and many of his words are lost as he mumbles his lines. We've seen him more engaged.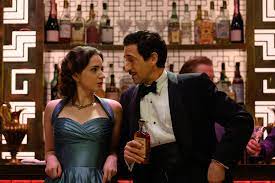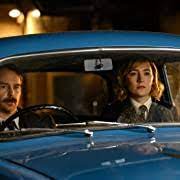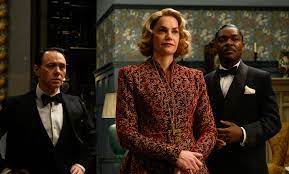 George's use of multiple angles and cutting is sometimes too complicated and frantic, or just curious. Set in the early 1950's, costumes and the cars are fun, but the most elegant set is that at the country house dinner, which, of course, goes completely awry.  
The story leads all the actors, suspects and detectives to the grand country house of none other than Agatha Christie herself, played by a very underused Shirley Henderson. The prescient storyboarding of the climax by Leo, the now dead director, is supposed to be a Christie-like revelation, but it doesn't stick the landing. This movie lacks the energy and smart banter of an Agatha Christie story. At least there's Saoirse Ronan to light up the screen. Moviegoers may walk slowly away from See How They Run.
Searchlight Pictures.   1 hour 38 minutes     PG-13
The post See How They Run first appeared on Movies and Shakers.
from Movies and Shakers https://ift.tt/2OyTnSN