The Woman King Movies and Shakers September 14, 2022
Never underestimate the power of a woman…especially Viola Davis. Director Gina Prince-Bythewood (The Secret Life of Bees) makes her fierce starring in this brutal, heart-pounding action epic, yet there is tenderness and camaraderie that elevates this piece above another action flick. It's been likened to a female version of Black Panther, but, maybe, in some ways better. 
The story revolves around Viola Davis' character, Nanisca, the veteran general and leader of the Agojie. She has no magical powers except her inner and physical strength honed, along with the rest of the cast,  9 months of extreme rigorous training. High intensity workouts included 3 hours of martial arts and even more weapons training. Having gone through this rigorous prep, Davis boasts feeling like a "badass." Not only are these Agojie women strong, they're strikingly beautiful, even in combat.
In actuality, they were an elite squad of all-female warriors pledged to protect the security of the Dahomey kingdom and their monarch, King Ghezo (John Boyega). And the Agojie inspired the fictional Dora Milaje warriors in 2018's Black Panther. This historically-based West African epic set in 1823 is based on the true story of one of the most powerful states of Africa in the 18th and 19th centuries.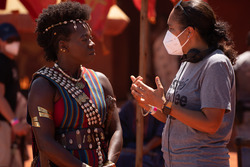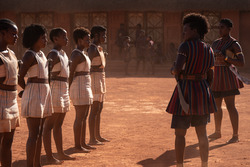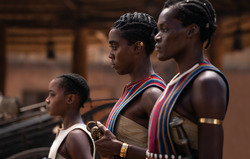 Maria Bello told Viola Davis she had her in mind for this film when they met at an awards program several years ago. Bello and Dana Stevens created the story and screenplay. They have reimagined to new levels, the well-worn concept of a hero taking on an impossible fight. It is complicated, layering stories of warring factions, retribution, sexual violence, family abandonment, and the slave trade of Africans. 
The axis of the story's conflict centers on the threat to the Dahomey kingdom from the rival Oyo empire. The more powerful Oyo have been shaking down the Dahomey to pay for an uneasy peace. One of the treasures King Ghezo pays to the Oyo are some of his own people who are then sold to European slave traders. Nanisca has had enough and vows to stop this barbarism. Nanisca's supporting warriors include Amenza (Sheila Atim, who we saw with Halle Berry in Bruised) and the exotic, Isogie (Lashana Lynch).
Nanisca has a very personal reason for wanting to destroy the Oyo's brutal general Oba Ade (Jimmy Odukoya). As a young woman, Oba Ade captured Nanisca and repeatedly beat and raped her. Even though Director Prince-Blythewood effectively shows it ithrough short-bursts in flashback, it is still disturbing to watch. 
The film begins with backstory on Nawi (Thuso Mbedu – Underground Railroad and Shuga TV series), the young orphan raised by a guardian who wants to marry her off to an abusive older man for money. She objects and flees coming upon women in combat training. Nawi is inspired to join the Agojie to become a worthy soldier trained by hard core, driven leader, Nanisca. They bond and once the slightly built Nawi proves herself, she joins the women willing to sacrifice everything to fight for their lives and the Dahomey people. Nanisca is the revered brain of the operation, even though she bumps heads with her King Ghezo over strategy. Boyega tries to be regal, but comes off weak.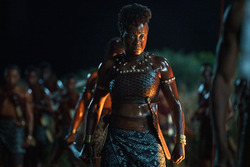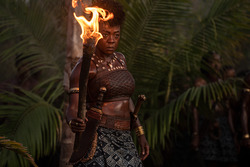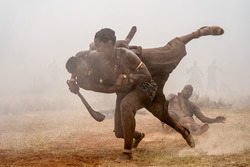 The set and costume design is detailed and vibrant. Hair and makeup are exquisite. When these women fight, you feel as if you're right there, in the middle of the action furiously battling their male enemies. Their scenes are bloody, but you'll be cheering for these female warriors, hell-bent on nothing short of complete victory. 
Even though there is a thread where Nawi strikes up a budding relationship with a European whose mother came from Dahomey, we were glad that it didn't take the predictable turn for young women. Nawi gets to remain her own person. 
Bello's long love and respect for African culture and history comes through in every frame. Maria Bello rightly envisioned Viola Davis as the embodiment of female strength, intelligence and empathy in this film. Director Prince-Bythewood, and writers Bello and Stevens deliver a completely new way of rooting for a mature woman instead of a man as an action hero and Davis uses every inch of her strength and talent to prove it in this film.
Sony Pictures        2 hours and 6 minutes.   PG-13
The post The Woman King first appeared on Movies and Shakers.
from Movies and Shakers https://ift.tt/eQxPWOY