Bodies, Bodies, Bodies Movies and Shakers July 31, 2022
Young and beautiful rich, entitled, old and new friends get together to party during a hurricane and that can only mean trouble. The script by Sarah DeLappe and Kristen Roupenian centers on an unlikable collection of twenty-somethings playing a backstabbing party-game, verbally and literally. This could be considered another bloody slasher film. Dutch director Halina Reijn, reins in the very talented cast that go at it and at each other throughout this harrowing journey. It's a scary, yet funny adventure from start to finish, and what a finish!
Sophie, (Amandla Stenberg –The Hate U Give) and Bee, (Maria Bakalova – Borat's second film) can't keep their hands off each other from the get go. They're going to Sophie's best friend's house outside New York City to party with friends in the middle of an approaching hurricane. OK, so we know there's a chance of flooding, no power, no internet and more damage.
Most of all, there's already friction from the past within this Gen Z group which spills over during their chosen festivities which include playing a game of "Bodies, Bodies,Bodies" while various members are either drinking, drugging or both.
There's Alice (Rachel Sennott – Shiva Baby) ), Emma (Chase Sui Wonders – Generation TV series), Jordan, (Myha'la Herrold), and Greg (Lee Pace) who are already there when Sophie and Bee show up, unexpectedly. Apparently Sophie was on the outs, but is still good friends with party host, David (Pete Davidson – (SNL, The King of Staten Island, The Suicide Squad). It's his parents' house and they're gone for the weekend, so all bets are off.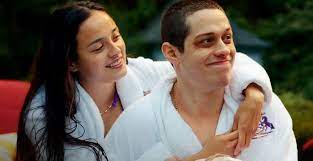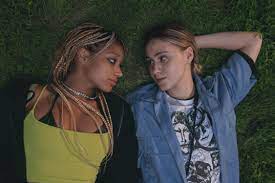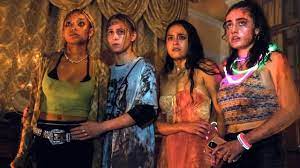 Amandla Stenberg, following in her previous roles, continues to be a strong presence on camera. She does a good job pivoting between sexy and playful, or scheming and conniving. She's so striking, your eyes are drawn to her in almost every scene she appears. Maria Bakalova is given the opportunity to show some depth as the poor girl who gets caught in this house of horrors interacting with some incredibly stupid rich kids. Pete Davidson plays the snarky, snide and slightly narcissist character we've seen him perform more than a few times. He's clueless and mostly unlikeable.
Director Reijn takes this simple backstabbing game and enhances it with sound effects of the storm's strong winds and pouring rain as the external elements become more intense. A problem with the game pops up when the first "victim" of the game who is supposed to play dead is really bloody dead. The group's logical choice for who committed the crime points to Greg (Lee Pace- Guardians of the Galaxy). He's only there as a plus one and is called out for being a vet, which the other partygoers assume means he knows how to be a killer.
The writers give the characters' backstory history with each other as they try to figure out what's going on how in that big three-story murder scene. Accusations and screaming abound with plenty of crying, slapping, and increasing violence, but whodunnit?
And what's the worst thing you can take away from these youngins? The storm has knocked out WIFI so they have zero communication with each other nor the outside world. How are they going to get help? Early in the film, Bee, the newcomer with the Russian accent, goes out to Sophie's car to take a break from the ugliness going on inside the house. As soon as she looked in the vanity mirror, we knew she'd leave it open with the lights on. Of course, that's going to drain the battery so they won't be able to go for help. That was the first of many clues that it was going to be a long night for whoever survives.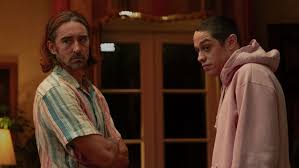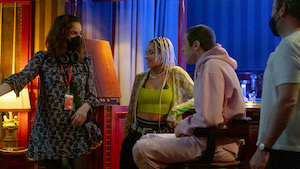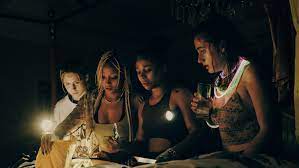 From then on, it's not so much what's happening, but how Reijn directs the shoot by Cinematographer Jasper Wolf. There are lots of hand held shots following these characters, some wearing neon glow stick necklaces to create eerie silhouettes as they roam alone or in tandem around the house not knowing who's next. Wolf uses some standard slasher movie techniques to create scary images. They include quick, tight swish pans of faces lit in shadow or with harsh flashlight underneath their faces to make it appear even more ominous. And there are some close up glimpses of the victims' wounds so you can use your imagination to fill what may have happened to them.
The concept of taking away the creature comforts of these upscale nitwits is comical. Of course, like the game, there are plenty of bloody bodies, bodies, bodies. Reijin makes good use of these young actors turning on each other which is the core of the story and where the comedy is found. You'll be laughing at these inept 20-somethings and almost rooting for the killer until the final twist that caps it off .
A 24 1 Hour 35 Minutes R
The post Bodies, Bodies, Bodies first appeared on Movies and Shakers.
from Movies and Shakers https://ift.tt/83omasQ