The Gray Man Movies and Shakers July 22, 2022
The Russo Brothers throw everything at the screen with outrageous, over-the-top, totally incongruous action scenes pitting Chris Evans as a super villain against Ryan Gosling playing his target. Watching them go head-to-head in a big budget action flick is a first. This is the most expensive film for Netflix costing more than $200 million. That had to pay for all of the global locations, flying glass, crashed trains, cars and  trashed buildings as well as the talent.  
In his first leading role as an action star, Gosling is known only as Sierra Six, playing the last surviving CIA agent of a secret government operation that offers prison inmates freedom in exchange for carrying out clandestine assassinations around the world. He takes the bait, trained, once again, by his old boss and veteran handler Fitzroy (Billie Bob Thornton). This last mission puts Six' in the crosshairs of his bosses after he takes possession of a piece of jewelry that turns out to be the MacGuffin of Joe an Aaron Russo's story.  
Chris Evans was originally considered to play Gosling's role, but wanted to play the driven villain instead. As Lloyd Hansen, Evans seems to salivate getting to play against type as the crazed sociopath who takes charge of the mission to take down Six. He almost relishes this role too much as he sneers and smiles while performing terrifying torture on his victims. Evans reportedly hit Gosling in the face with a prop by accident on the first day of filming. Definitely not in the script.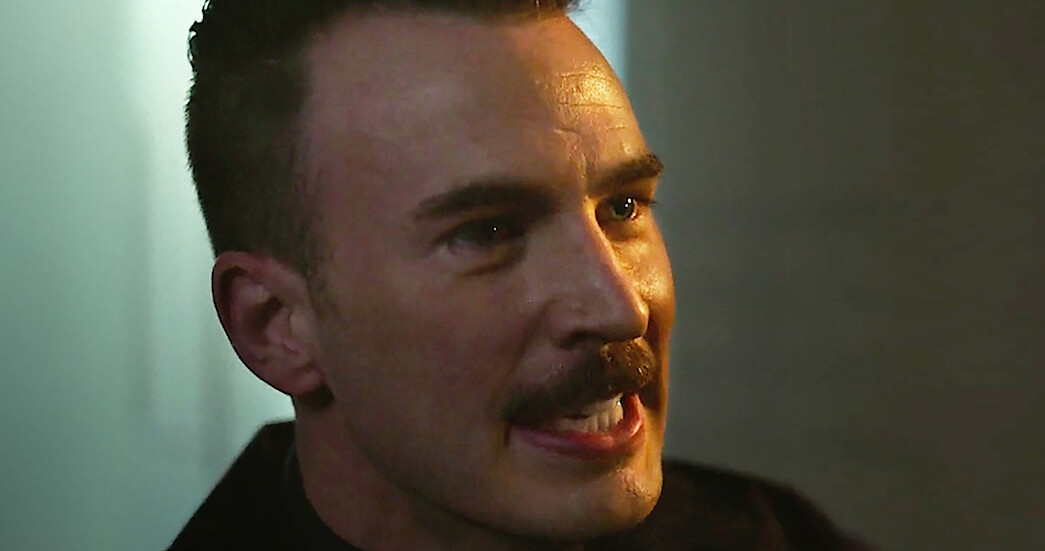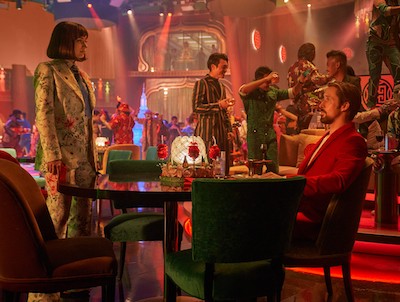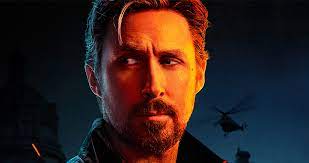 Hansen's task is to retrieve the charm that could incriminate his boss, Carmichael, (Regé-Jean Page). He's the uptight puppet-master, every bit as villainous as Hansen, but the handsome sophisticate who never gets his hands dirty. Carmichael is just good at giving orders desperate to save his own skin for running a secret, shadow black-ops government operation. He, too, loves inflicting pain, but lets others get blood on their hands. Jessica Henwick (Suzanne Brewer) is Carmichael's second in command. She's tasked with the impossible job of trying to reign in the sadistic Lloyd Hansen and gets constantly brow-beaten by the misogynistic Carmichael.
Then there's Agent Dani Miranda (Ana de Armas). She's supposed to be one tough cookie. Even though de Armas has been successful playing action roles in previous films, she's pretty deadpan here. Writers Joe Russo, Christopher Markus, and Stephen McFeely don't give her enough dialogue or develop her character as well as her male counterparts. She just doesn't come across as the strong broad she should be, but has good scenes playing Six's backup with impossible stunts that are so unrealistic, but exciting.
The long chase and fight in a trolley train careening through Prague is incredibly ridiculous. Director Anthony Russo creates a series of implausible scenes that keep growing more violent, loud and lethal, yet Six keeps fighting and somehow, endures. The battle goes on forever, shot from every angle by cinematographer, Stephen F. Windon (Fast and Furious movies, Star Trek Beyond). Six is even seen surfing on top of the trolley as it twists through the streets, derails and crashes, after he's been pummeled to a pulp. But that doesn't stop him from jumping onto Dani's souped-up, moving car. He not only survives, but looks like he just took a walk in the park.
The other impossible escape is the climactic face-off with Evans' Hansen and his minions while Gosling is handcuffed to a bench. The order is given to kill him, but dozens of heavily armed attackers with grenades and rockets can't get the job done. Amazingly, Gosling's Six manages to evade the bullets and escape without much damage to his ripped body.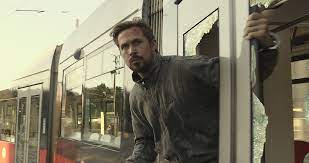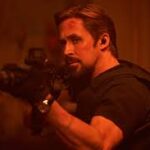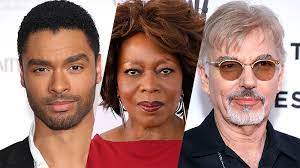 Billy Bob Thornton as Fitzroy is one of the only sympathetic characters in the film. He's devoted to his niece Claire (Julia Butters). Thankfully, the Russo's spare us, cinematically pulling their punch when Thornton as Fitzroy is being methodically tortured by Hansen over an ultimatum. Will he save the young girl or sacrifice Six? Former operative, Maurice Cahill (Alfre Woodard) surfaces from Six's past and gets involved in the operation.
This film comes from a novel and the Russo's could be hoping for a series. Fun watching Evans and Gosling go at it, but bigger budgets, chases and explosions can't fix a thin plot and don't always make for better movies. Instead of a sharp, vibrant, exhilarating action adventure, we still simply got The Gray Man.
Netflix.    2 hours and 2 minutes.    PG-13. 
The post The Gray Man first appeared on Movies and Shakers.
from Movies and Shakers https://ift.tt/vAzcPbG