Nope Movies and Shakers July 21, 2022
Disappointing. Other than periodic tense moments, we kept waiting for Jordan Peele to deliver a mega watt jolt that never materialized. We were expecting this to be as stimulating and clever a horror film following hits Get Out and US. With Daniel Kaluuya, Keke Palmer and Steven Yeun leading the way, we grabbed the arms of our IMAX seats and waited for Peele to shock us, but that didn't happen. 
Peele's script is in chapters that don't flow smoothly. They are disjointed and just when you think something is about to grab you, it doesn't. Peele tries to pack several issues into this film and doesn't fully develop any of them. Just as you get interested in following a thread, it changes and the impetus seems lost. 
Credit goes to writer/director Peele for including Black cowboys and the historical first image ever put on film of a Black rider on horseback to let us know where filmmaking started. What ensues are fleeting images through a cloud that doesn't move, a flying saucer that apparently is carrying aliens we can't see, tech, connectivity, and energy issues at the ranch and a few unexplained deaths. Plus he includes the graphic portrayal of the racial economic and social inequality of hiring and business practices in Hollywood.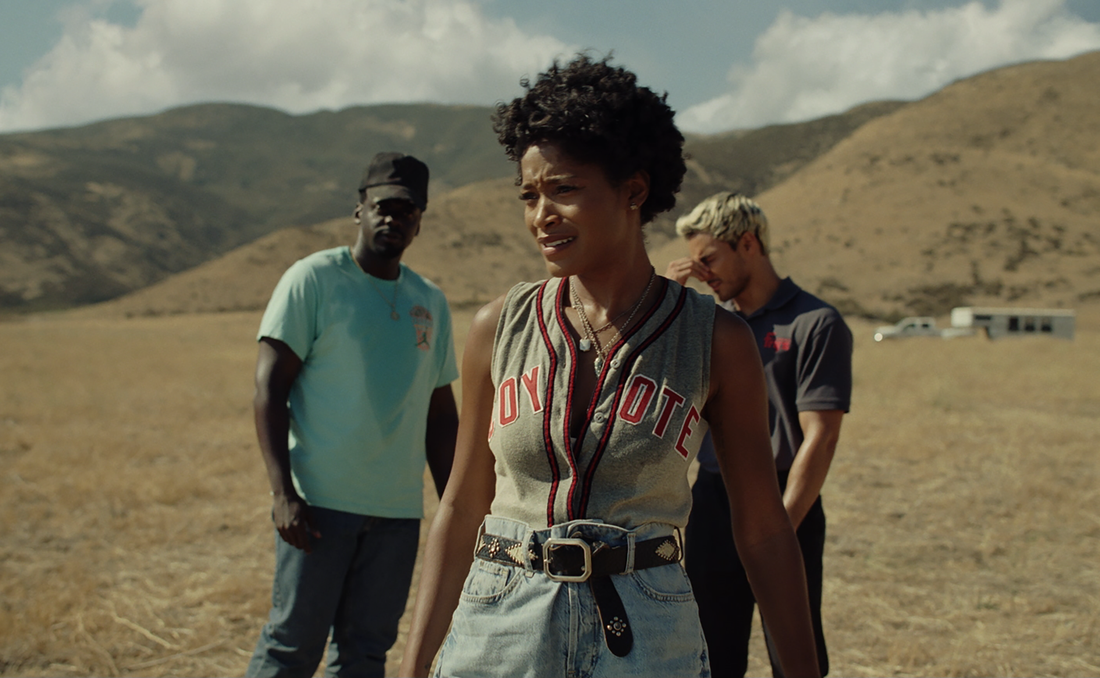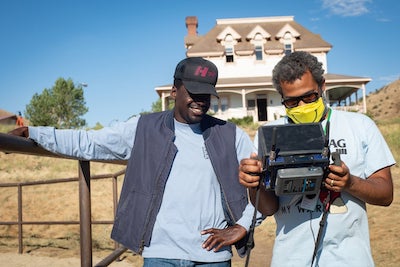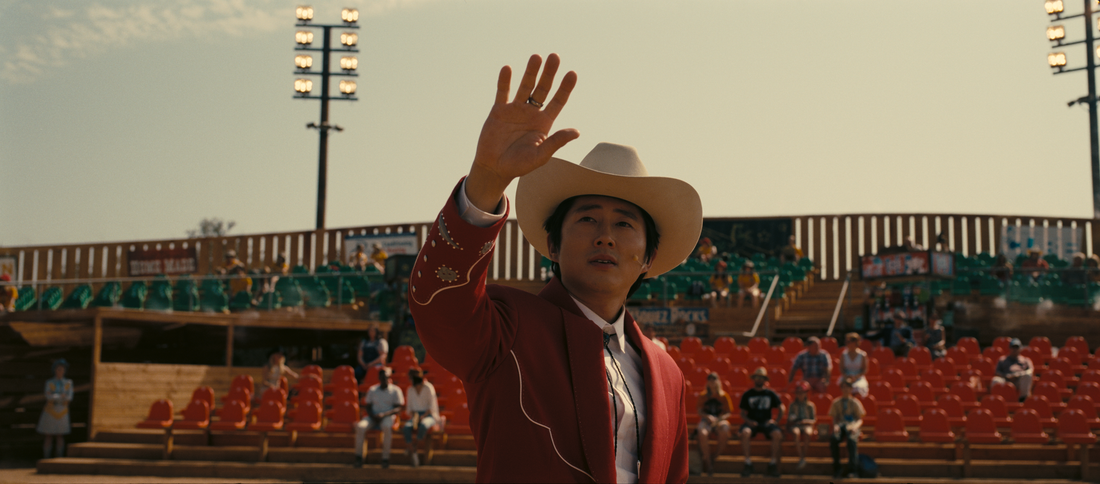 It starts with OJ Haywood (Daniel Kaluuya) and his father on their ranch outside of Los Angeles which supplies stunt horses for Hollywood movies. His father suffers a bloody death after being hit by something that fell from the sky. Peele creates a foreboding atmosphere with loud ominous sounds to signal when something is about to happen throughout the film. Those signals create tension, even though nothing often happens. He also uses music coming from a record player or the car radio as a diversion and to punctuate scenes.
OJ and his sister, Emerald (Keke Palmer) have a strained relationship. She is a ball of energy who is somewhat annoying because she can't shut up. Although part of the family business, she's often absent off doing her own side hustles. But when she shows up, she dives right in. 
Strange things start happening. OJ feels like he's being watched and hunted. OJ and Emerald decide to get high tech surveillance and maybe get a picture of the strange fleeting image they see through the clouds.  Enter "Fry Guy," a tech from Fry's named, Angel Torres (Brandon Perea) to come out and, of course, he experiences, first hand, the strange events happening at the ranch. He joins their team to help get a picture, they call "The Oprah Shot" of this UFO so they can get money and fame to keep their business going. 
While all this is going on, we're introduced to Ricky, the former child actor who runs a bizarre Western ghost town theme park. He wants to buy the ranch from OJ and Emerald, but there's more to it than that. All of a sudden we get a chapter on Ricky's background as a child actor on a sit com that went haywire one day. Peele creates a brutal, horrific scene with a chimpanzee that went berserk on the set. This is, by far, the best and scariest moment in the whole film. Here, it's obvious Peele makes a graphic statement about mistreatment of animals in TV and movies. 
Peele divides the parts of the story into chapters named for the horses, but that doesn't help the story. Daniel Kaluuya barely speaks but he does get to use the film title for a good punch line. Palmer talks enough for both of them and is successfully annoying."Fry Guy," Brandon, makes an earnest side kick.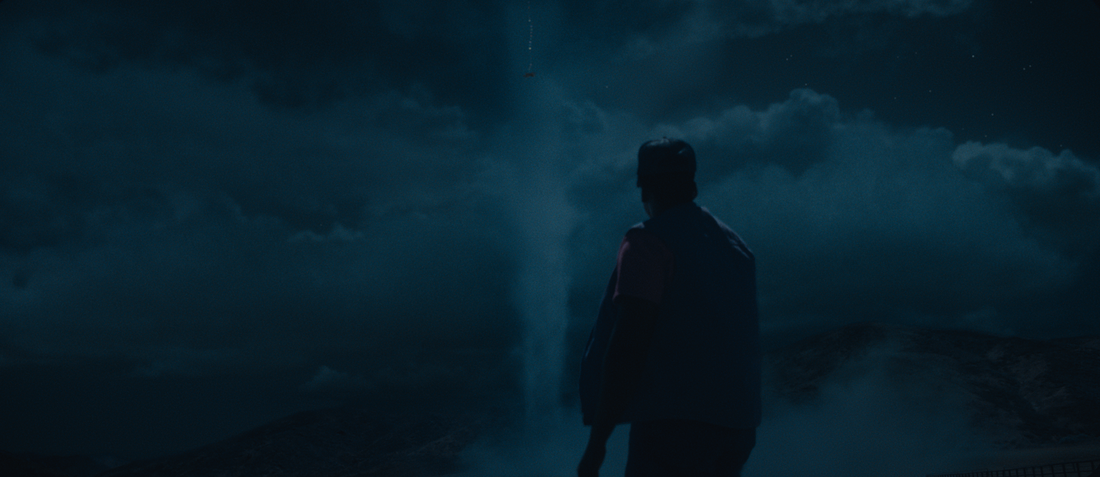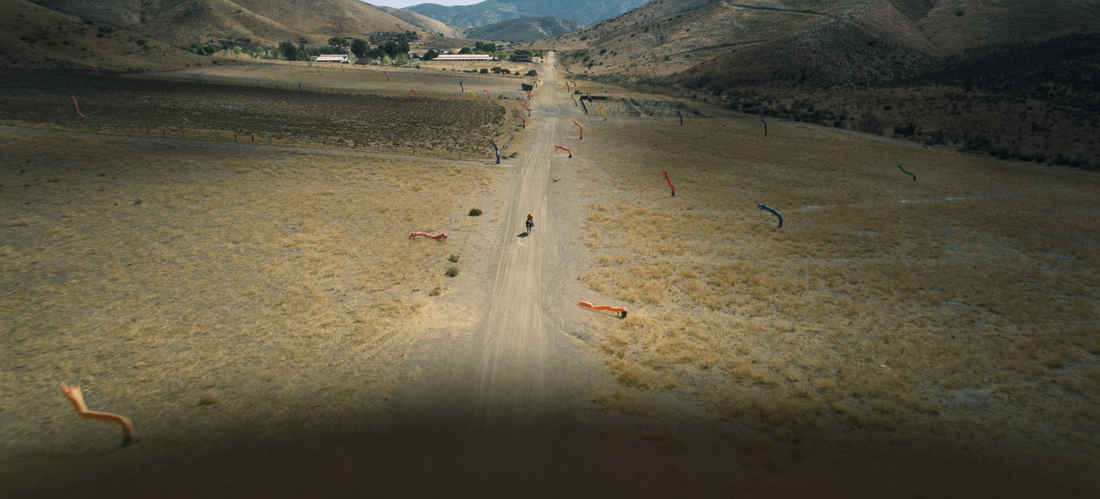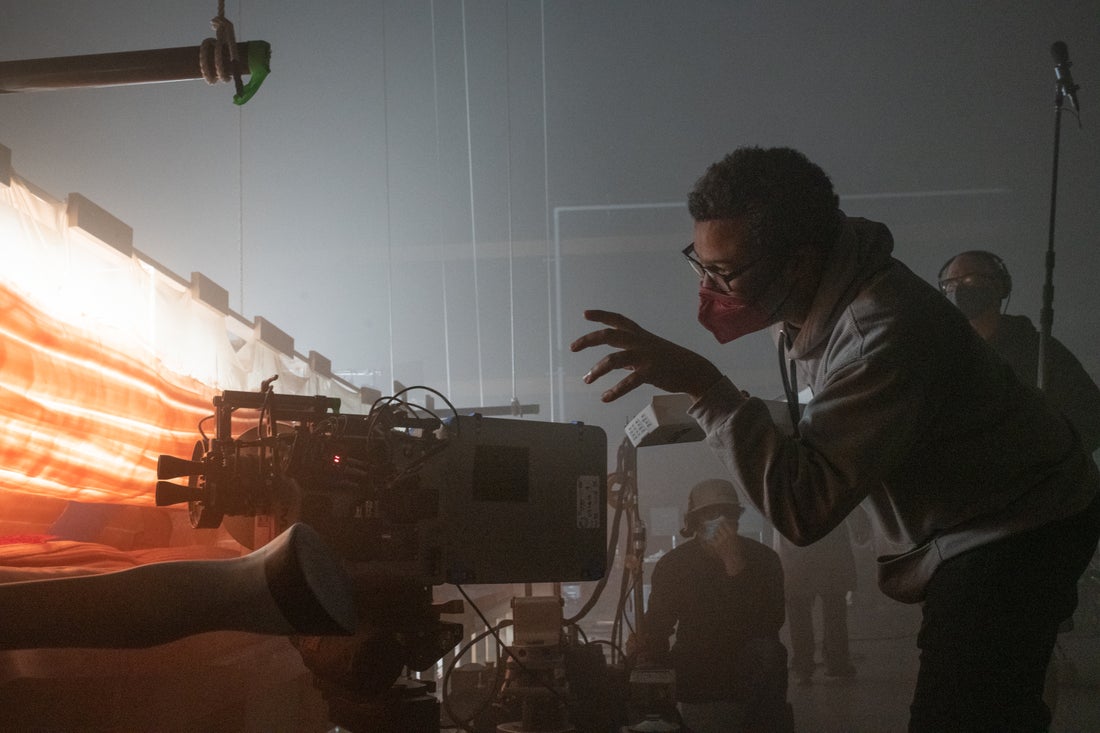 All the elements are here for a well-crafted sci-fi movie. But it never comes together. Even the way they try to get a photo of the flying ship is weird. They hire a craggy faced cinematographer with a super deep voice and loads of attitude named Antler Hoist (Michael Wincott). He's creepy enough. But we never get to see the perpetrator aliens. The special effects are just nothing to write home about. When the flying saucer appears closer, it looks old school sci-fi, and pretty cheesy. 
Whatever tension Peele creates in the beginning chapters never pays off in the end. There was great anticipation for us and the audience, but, at the end, instead of shrieks and screams at the end, it lays flat. Peele's UFO reminded us of the primitive flying saucer in the 1951 film, The Day the Earth Stood Still. But Nope, this one doesn't stick the landing. 
Universal Pictures.     2 hours 10 minutes.        R
The post Nope first appeared on Movies and Shakers.
from Movies and Shakers https://ift.tt/wRruGEq