Persuasion Movies and Shakers July 16, 2022
The major problem with this treatment of Jane Austen's last novel is that the writers and the director give Anne a contemporary attitude while abiding by the misogynistic societal rules of the times. British, first-time feature director, Carrie Cracknell, seems to have made it more a romantic comedy than a love story. And that does not compute. Cinematographer Joe Anderson creates beautiful imagery of the countryside, the well-appointed mansions, seashore, as well as Anne (Dakota Johnson), but that's not enough to carry the story.
Writers Ron Bass and Alice Victoria Winslow constantly, intentionally have Anne break the 4th wall giving the audience sideways glances and directly addressing viewers. It was cute for awhile, but became labored and slightly annoying. Having Johnson as Anne narrate what she's thinking out loud would have been more effective, giving her character more depth. Johnson is certainly strikingly beautiful as a mature damsel who keeps emotions repressed one moment but goes for light comedy in the next. Not sure if it was from direction or her own characterization.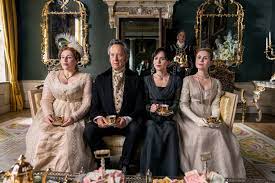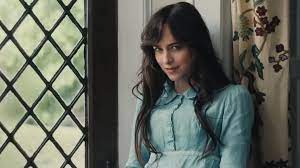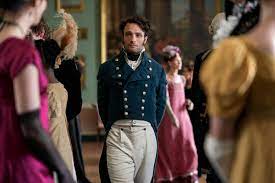 family thought he was below her station, without wealth or rank. She was so in love with Wentworth (Cosmo Jarvis) and still pines for him every day. When he returns as a decorated Naval Officer, sparks reignite, but are repressed. 
From then on, there is a lot of misdirection involving the wealthy, handsome scoundrel of a cousin, Mr. Elliott, (Henry Golding), and her family's ludicrous meddling. Wentworth is still hurting from her earlier rejection. Anne's sisters don't help.  Anne is humble, quiet and the most patient of the bunch. Sister Mary is a narcissistic, self-indulgent, controlling, needy mess. We had trouble understanding her. She talks under her breath so fast, you can't understand what she's saying, not that you want to.  We kept hoping that someone (her husband or Anne) would put Mary in her place. If it was done for comedy, it doesn't work. She became utterly and painfully annoying.
Anne's father, Sir Walter Elliot, (Richard E. Grant) doesn't help. He's another narcissist with portraits of himself all over their house. He's the prime example of the inequality and unfairness of British society that places access to privilege and wealth in genealogy instead of talent and hard work. Austen made that point by showing how this idiot of a father squandered the family fortune. Grant's performances are always good, but here, he is so outrageous that he loses being a comedic character. He may have had fun prancing and preening, but we didn't have fun watching him play this pain-in-the-ass.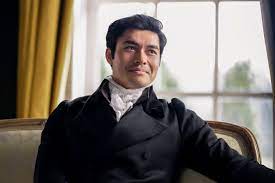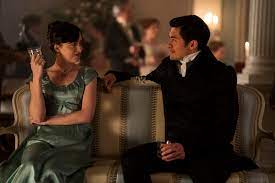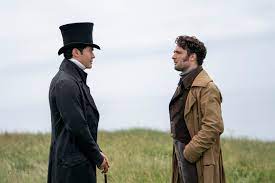 Grant's character is so unlike Captain Wentworth (Cosmo Jarvis) who is patient and quiet. You can see he longs for Anne, but was spurned and still wary. You also get a sense of Anne's frustration at their platonic reconnection when she says, "We're worse than exes, we're friends." It sounds a little too contemporary for this period piece. But there is even more incongruous dialogue. 
The climax and the ending wrap up way too fast and much too conveniently. But that's not the only problem with this film. Playing with the 4th wall, injecting contemporary comic dialogue and even at what should have been the emotional high point, it fails to produce one sincere heart tug. Not terribly excited to persuade you to see this one.
 Netflix                     1 Hour 47 Minutes            PG
The post Persuasion first appeared on Movies and Shakers.
from Movies and Shakers https://ift.tt/vziTeXR