Mrs. Harris Goes to Paris Movies and Shakers July 15, 2022
Lesley Manville is a joy to watch in this throwback to films of the 1950's where a cleaning lady dreams of going to Paris with enough money to buy a Dior gown. Writer/Director Anthony Fabian has this woman without social status face many somewhat contrived obstacles on her adventure to make her rather elite dream come true. 
Ada (Manville) is a sweet, petite widow of a soldier who cleans houses to make ends meet. While cleaning uppity client Lady Dant's (Anna Chancellor) apartment, she sees a magnificent sequined pink Dior gown hanging in the closet which takes her breath away. She's so overwhelmed, she makes her mission being able to get one of her own, despite the fact that she has no money. Even worse, her client is way behind paying her for cleaning her house. 
Ada has lots of friends and they play an important part in her life. She confides her desire to fulfill her crazy dream with her best friend and neighbor Vi (Ellen Thomas) who thinks she's bonkers. But when she suddenly receives funds held back since her husband died in the service, and more from a friend from the local race track, she decides to go for it.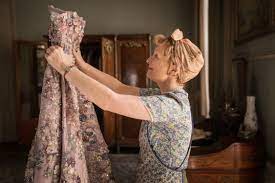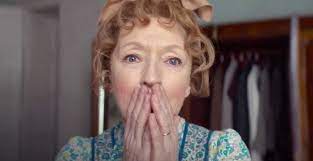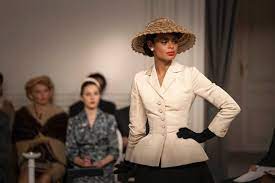 Interactions with people en route and at the train depot in France show Ada as an adorably friendly woman who is not very worldly. But her friendly warm smile lights up a room. You get a brief travelogue through Paris in the '50's during a garbage strike, one of many Paris is known for. Ada's like a fish out of water trying to navigate Paris planning to attend her first ever fashion show at the House of Dior. 
First interactions with the Dior executive Claudine Colbert (Isabelle Huppert) are insulting and rough. Claudine's tough. How dare this simple woman from London demand to attend this presentation without status or a ticket. Thank goodness the distinguished Marquis de Chassagne (Lambert Wilson) sees how she's being treated and invites Ada to be his guest. 
Fabian directs and has the Dior fashion show edited exquisitely with stunning and exotic models swirling and twirling. You've probably seen some of these now vintage Dior gowns on celebrities walking the Red Carpet at awards shows in recent years. They are truly priceless and timeless couture. Of course, another woman keeps Ada from buying the dress of her dreams.
But director Fabian shows how Ada's friendly, down-to-earth personality helps her make friends with Dior's designers, tailors and seamstresses and shows the rare inner workings behind the scenes. She also befriends handsome young Dior executive, André (Lucas Bravo) and the beautiful Audrey Hepburn-style model, Natasha (Alba Baptista), trying to play matchmaker.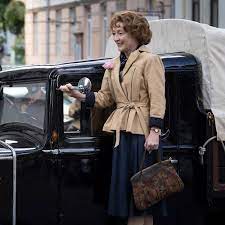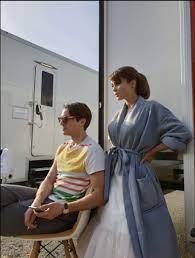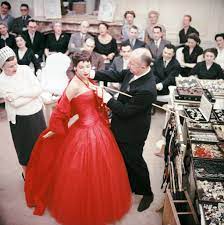 Standing up to Hupperts well-played, hard-hearted Claudine, Ada makes the fashionista's aloof Paris attitude soften. Ada wins Claudine over and receives some lovely attention from the Marquis. You might think this will end in romance, but Ada proves she's her own person and already got what she came for; the emerald green, bejeweled Dior dress of her dreams. 
Back in London, when Ada is foolishly generous with her dress, another disaster strikes. But, with a fun twist, the film proves that bad publicity is sometimes just as good or better than good publicity. Fabian's direction makes good use of Manville's sparkling eyes and soft smile as the unassuming fish out of water and Mrs.Harris teaches the elite to be human which is luscious, refreshing fun.
Focus Features.    1 hour 55 minutes.     PG
The post Mrs. Harris Goes to Paris first appeared on Movies and Shakers.
from Movies and Shakers https://ift.tt/PtbV0mB