The Princess Movies and Shakers July 13, 2022
Joey King plays one bad ass princess in this medieval fairy tale kung fu mashup. It's a female empowerment story that's essentially one long sequence of martial arts fights. This Princess like the energizer bunny on steroids trying to save her father's kingdom when women had no power, no rights, and no means to defend themselves. 
In that sense, writers Ben Lustic and Jake Thornton have made this a #MeToo fairy tale. Even though one might be tempted to compare this to the similarly themed The Princess Bride, or even Disney's Brave, do not put the kids in front of this film. This one has enough surprisingly gory bloodshed it rightly earns its R rating. 
Director Le-Van Kiet , who studied at UCLA,is no stranger to staging effective martial arts scenes. His 2019 film, Furie, was Viet Nam's highest earning film. If there are shades of John Wick or The Fast and the Furious in The Princess, it's no accident  because producers of both are involved in this project. Just as with those films, there are moments of complete unbelievable absurdity in the situations The Princess must face, but that's part of the fun.
There isn't much in the way of story nor meaningful dialogue, but that doesn't keep it from being action filled entertainment. The King (Ed Stoppard) hasn't produced a male heir so he needs to marry off his daughter to keep the kingdom in the family. This is not the fairy tale this Princess dreams about. Very early on the feminist sensibility is established.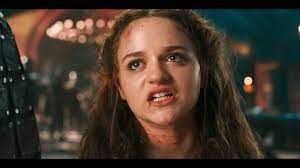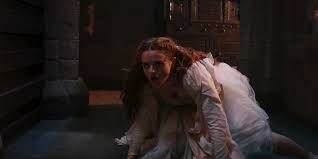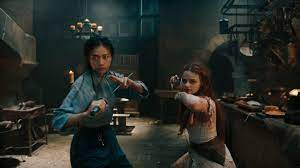 Right from the get-go, she wakes up still in her wedding dress, chained in the tower. But we quickly learn she's no helpless female when she demolishes the two brutes guarding her after she refused o marry creepy, power-hungry, murderous Julius (Dominic Cooper) trying to take the kingdom from her father. The Princess is not supposed to have studied such unladylike skills her father, the King, frowns upon. 
Fortunately, this princess has been studying martial arts and the zen mindset that goes along with it for years under the tutelage of Linh (Veronica Ngo). Ngo has worked with Director Le-Van Kiet previously in The Furie and we see why she is such a strong presence here. Her moves are fluid, strong, focused, and most of all, powerful.
Even though the director keeps the stunt team busy, King still has to make the action look good and she does. Long sequences keep Joey King coming back for more. Like a video game, the Princess, is joined by Linh, fighting their way down the tower, level after level until they reach the ultimate battle.
Julius is a slimy villain with leather clad, ice cold, female sidekick, Moira (Olga Kurylenko} who uses a souped up whip with a sharp tip to kill. It's a pretty simple plot. All The Princess has to do is free herself and kill scores, and more scores of heavily armed, massive mercenaries to reach the ground, free her family and kill the bad guy. Amazing how she takes on groups of men three times her size again and again. 
There are some political overtones in the script. Julius claims that he's entitled to take the throne to reject the King's efforts to re-make his kingdom into one of inclusiveness and diversity. Julius sees this as weakness that must be obliterated, along with the immigrants.Without that diversity, Ling would never have been in the Kingdom to teach The Princess her martial arts skills.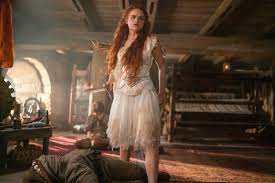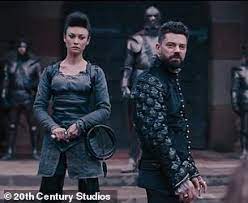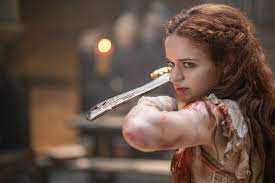 The real art in this film is the staging and choreography of the non-stop action. King constantly has to fight opponents bigger and stronger than her so Director Kiet and especially his huge team of stunt coordinators and choreographers have her sliding, twirling, jumping and twisting her way through the mayhem. Despite all the violence and death on each level of the tower, somehow the movie retains an upbeat attitude. Maybe the hard charging music and some of the fun cover songs make it work. 
King as The Princess shows astounding prowess and stamina only stopping once to chug a mug of ale before she cracks it over the head of her next attacker. Joey King takes glee in delivering some sharp quips by writers Ben Lustig and Jake Thornton to punctuate the fast moves. It's fun to follow her through the secret passageways of the huge castle to find out Julius' plans.
Joey King's performance as The Princess is the Energizer Bunny on steroids. King keeps coming back for more in this mix of a medieval tale with martial arts action. More entertaining than expected, Joey King shows fierce determination playing this damsel is in distress who knows how to kick ass.
20th Century Studios, Hulu, Disney+                 1 Hour 30 Minutes           R
The post The Princess first appeared on Movies and Shakers.
from Movies and Shakers https://ift.tt/RFSjuD6