Review(s): Thor Love and Thunder
Celebrating This Month: Ryan Gosling
Trivia: Love and Thunder Movie Trivia
Sponsored by: Overcast, Speakeasy Noir Cast
This week on CinemaJaw we don our magic cloaks, flick our wands, rub our crystal balls, and gaze into the Top 5 Magical Items in film!
Of course we are doing this in honor of our big review of Thor: Love and Thunder, one of the most anticipated films of the summer.
Joining us is a guy who knows how to swing a hammer. The Über Critic Patrick McDonald…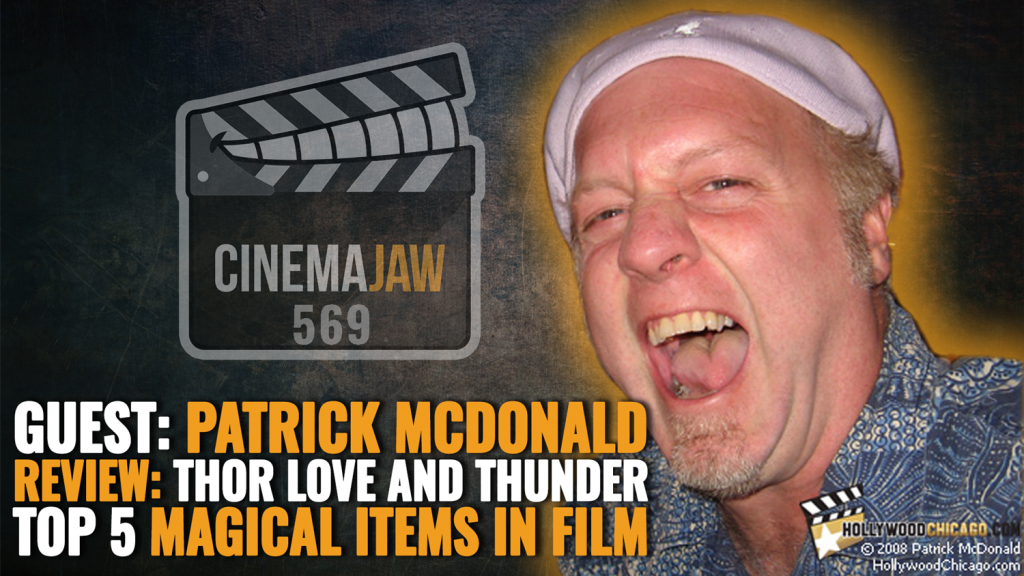 It is rumored that Patrick was conceived at a drive-in during a double feature of "It Came From Outer Space" and "Touch of Evil," which may explain his movie review perspective. He was discovered for HollywoodChicago.com while wearing a tight sweater and sitting at the Woolworth's soda fountain, or at least that's how he likes to tell it.
Patrick McDonald (AKA The Über Critic) has been a writer, editorial coordinator, and film critic for many years, and has been a member of the Chicago Film Critics Association for several of those years. He has made appearances on behalf of the film tour and general film topics on WGN Radio (semi-regular on the Bill Leff & Wendy Snyder Show), WFXF-FM (The Eddie Volkman Show), Fox32 News, WGN-TV Morning News and "190 North" on ABC7 in Chicago, and he's still all over the airwaves.
Follow him on Facebook at Pat Über-Critic McDonald and on Twitter @ubercritic.
So plant those magic beans right in your zen garden, close your eyes and relax… it's CinemaJaw time.
Top 5 Magical Items in Film
Matt:
5.) The Glaive – Krull
4.) The Power Glove – The Wizard
3.) The Cloak of Levitation – Dr. Strange
2.) The Marauder's Map – Harry Potter
1.) Sting – LoTR
Pat:
5.) The Remote – Pleasantville
4.) The Letter – Mr. Roberts
3.) The Dance – 8 1/2
2.) The Copyright Notice – It's a Wonderful Life
1.) The Repeat – Groundhog Day
Ryan:
5.) The Zoltar Machine – Big
4.) The Dagger of Time – Prince of Persia
3.) The Shamisen – Kubo and the Two Strings
2.) The Bracelets fo Submission – Wonderwoman
1.) The Cloak of Invisibility – Harry Potter
from CinemaJaw https://ift.tt/f9ALvaj
via IFTTT