Official Competition Movies and Shakers July 1, 2022
This film is for movie lovers. It's a Master Class in satire seeing film actors and their director put their egos center stage in an outlandish, outrageous exaggeration of the film business. A series of situations garner huge laughs because of the underplayed interaction impeccably displayed by Penélope Cruz, Antonio Banderas and Oscar Martinez. New twists keep turning up, each more outrageous than the last.  
This is a study of 3 artistes playing off each other for effect. They keep trying to manipulate and out maneuver for the chance to give their best performances. That's becomes the real official competition referred to in the title. 
In Spanish, with easy to read subtitles, which are not completely necessary. Cruz, Banderas and Martinez are so expressive, they convey every emotion, from joy to rage and suspicion with body language, facial movements and their sparse, low-key dialogue. They show every predictable trait of temperamental, self-important, delusional artistes as they work with and against each other.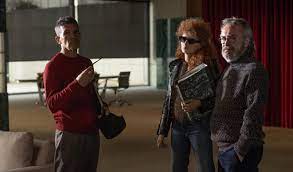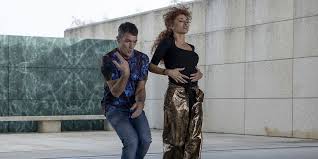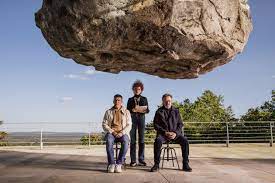 The conceit of this comedy about the business of filmmaking starts from the very first scenes with industrialist Humberto Suarez (José Luis Gómez) who already has found fortune. Now he wants to buy fame and glory. 
He has a foundation based in a magnificent modern building he feels does not do justice to his legacy. He picks a book to be made into a movie and hires neurotic, avantgarde director Lola (Cruz) to make his film. Has he read the book? No. Does he care? No. But he wants this to be turned into award winning cinema. 
First, there are rehearsals which Lola structures as tests. She really puts them through their paces. Look for a boulder, an industrial shredder and a hundred microphones. These are three great attention grabbing scenes using props so odd, they will make you gasp and laugh out loud. 
Ivan and Felix pretend they have the ultimate respect for their talented award winning performances. But they are really exact opposites. Ivan is an articulate professional who meticulously prepares for his roles. Felix could care less. He works entirely on instinct and emotion, shooting from the hip. He plays along with Lola and Ivan pretending he's working at their craft, while brushing off criticism. Banderas as Felix is a hoot, too cool for the room. Seeing the juxtaposition of their styles is fun to observe.  
Lola is a diva in her own right with a massive flowing red curls surrounding her serious face. Cruz hand-picked the big wig for her persona. Her fashion style is artsy chic. Directors Mariano Cohn, Gaston Deprat wrote the script along with Andrés Duprat and it's a gem. Cohn and Deprat must've had fun directing a director who's directing actors. Having Lola put her two leading men though questionable situations is what many real directors would love to do, but never can. Their performances demonstrate, even in rehearsal, how they try to one up each other.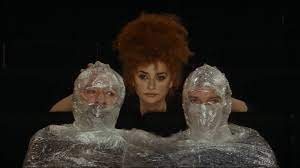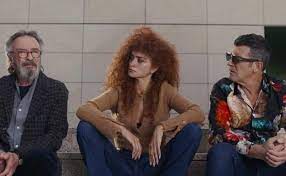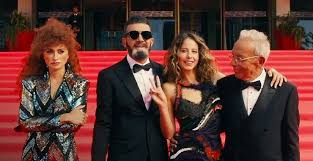 Cinematographer Arnau Valls Colomer captures the striking beauty of the building being used for rehearsals. It was shot at the San Lorenzo de El Escorial in Madrid Spain which is a remarkable piece of architecture with huge open spaces and a theater. Just seeing these three together in those big areas makes them look so small. But then Colomer also fills the screen with closeups that pull back the curtain showing facial expressions hinting what they're really thinking. 
Even though we could anticipate most of the major plot twists coming, it doesn't detract from the gleeful reaction when they actually occur.  One of the most fun scenes is a competition involving kissing. In this one big wet kiss to the art of filmmaking, Cruz, Banderas and Martinez hit all their marks. 
IFC      1 hour 55 minutes    R
In theaters now
The post Official Competition first appeared on Movies and Shakers.
from Movies and Shakers https://ift.tt/sUCg6yV