Minions: The Rise of Gru Movies and Shakers June 29, 2022
If this film is Gru's backstory, it doesn't fill in enough blanks. The first hour sets up 11-year-old Gru's intention on joining his favorite group of super villains and then kind of goes downhill from there. The script is wildly uneven filled with holes in many of the characters' background that neither  writers Matthew Fogel and Bryan Lynch seem to want to divulge. Also, having three directors, Kyle Balda, Brad Abelson and Johnathan del Val, is not always a good sign for consistency and a unified artistic view.
This is a summer movie aimed at kids and parents who are Minion fans and there are plenty of the little yellow, google-eyed wonders. They're the real stars here. Each of these characters has their own distinct personality. Longtime voice the Minions, Pierre Coffin (who also directed 4 of the previous movies), has now made their chattering, high pitched speech pattern more recognizable. We could pick out more words, both in English and French which makes hearing them even more fun. So is the animation with more emotional expression in their eyes, especially when pleading with Cru.  
Steve Carell's voice is only slightly de-aged for the part. We also meet the young Dr. Nefario (Russell Brand) who takes a liking to Gru and sets the stage for their future collaborations. Nefario gives him his first gadget that saves the day. Gru's Mom (Julie Andrews), is portrayed as a less than supportive hag. Her purpose is to give Gru the desire to find his own family, which turns out to be the Minions.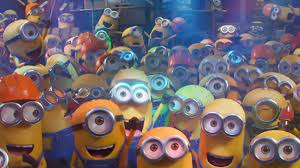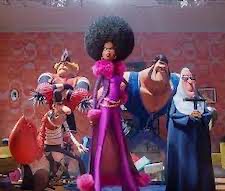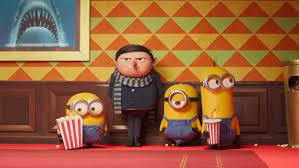 In the mid 1970s, young Gru dreams of joining his supervillain superstars, The Vicious 6. The movie opens with a very exciting action sequence. Legendary fighter, Wild Knuckles, the Vicious 6 founder and leader (voiced by Alan Arkin), steals a magical green stone in a medallion, Indiana Jones style in a cave on a tropical island. But he is double-crossed by his co-horts and left for dead. The remaining members put out a help wanted notice to fill Knuckles' spot and Gru manages to land an interview. The young boy is insulted and dismissed by the gang. To show his mettle, Gru swipes the green trinket and takes off with the evil Vicious 6 on his tail.
Belle Bottom, (Taraji P. Henson) who took over leadership of the group from Wild Knuckles, is simply a screaming, snarling banshee. But we're sure the writers had fun coming up with cute names as clues to each of the others' diabolical talents, including Jean-Claude Van Damme as the voice of Jean-Clawed. Lucy Lawless gets to voice the evil nun-esque, Nun-Chuck twirling her lethal sticks wearing a Nun's habit. 
The Minions find their own savior in Master Chow (Michelle Yeoh), with her powerful Kung Fu moves despite her frumpy appearance. This acupuncturist/retired martial arts expert instantly teaches the uncoordinated Minions how to split boards and kick high through the air inspired only by hearing her simply say, "find your inner beast." They were more successful at crashing into each other, until crucial moment later in the film.
A large part of the appeal of Minions movies is that Gru is an evil mastermind, without being a total bad guy. He develops emotional attachments with the Minions and with Wild Knuckles who becomes an unlikely friend and mentor. The scene where the Minions just show up outside his bedroom window and express their desire to work for and love Gru is another rather curiously vague scenario.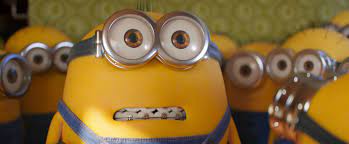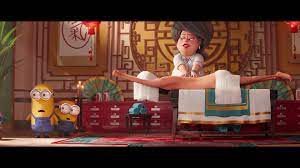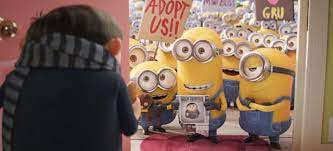 All the characters, clothes, cars, and especially the music aptly evoke the 70's era. It's wild, colorful and loud. The artwork and animation that place us in the time period are some of the most gratifying parts of the film. It's the music, however, that is as important as any character. Legendary hits like "Funkytown, Shining Star, Fly Like an Eagle "and "You're No Good" plus original song, "Turn Up the Sunshine," from Diana Ross keep athe energy going when the story is on the brink of falling apart.
Another example of how the script just seems slapped together is the action-packed Biker episode. RZA voices a likable guy on a motorcycle who just appears and rides away with the McGuffin of the story, that magical green medallion. A Minion gives chase on a plastic tricycle. Really? They speed all the way to Death Valley and in the space of 30 seconds the biker saves our Minion and gives away his prize. What?!
Minions: The Rise of Gru doesn't pretend to be anything more than another episode of wildly successful kid-movie franchise. Don't try to look for any meaningful messages in this uneven piece of fluff. Just go along for the ride and enjoy all the gibberish. The Minions are the stars and far from done. Maybe they'll help Gru get through puberty in the next one?
Universal Pictures           1 Hour 27 Minutes         PG
The post Minions: The Rise of Gru first appeared on Movies and Shakers.
from Movies and Shakers https://ift.tt/m7DYqba