Elvis Movies and Shakers June 23, 2022
Whether you were an Elvis fan or not, Baz Luhrman puts the myth of Elvis up on a pedestal but reveals the magnetic talents even Austin Butler didn't know he had channeling the rock'n'roll icon whose life was "All Shook Up." Luhrman's decision to put the narrative through the lens of Colonel Parker is both understandable and problematic. 
Parker is the one person who spans Elvis' entire career, yet Hanks' performance is so contrived and disturbing that he feels like more of a distraction at some points in the film. The film is long with Tom Hanks, in his first villainous role, as Col. Tom Parker who discovered and then manipulated Elvis' career. There's too much of both Toms. 
Butler is a young actor from Anaheim, California who plays plays guitar and piano, but never sang before and didn't know much of Elvis' background. Coincidentally, he found out just before shooting the film that Elvis' mother, Gladys, died, as did Butler's, when both were just 23. Elvis' song "Like a Motherless Child" is included in the film. 
Butler dove deep reading and listening to everything he could when production had barely begun, then shut down during COVID. It gave him more time to get into the mindset. He sang "Unchained Melody" in his audition for Luhrman which obviously succeeded, subsequently working with several dialect and voice coaches for Elvis' soft-spoken twang. Butler sings and lip syncs more in the first half of the film. Elvis's actual tracks are used in the latter half for the deeper tone and more realistic tone as he got older. Butler also met with Priscilla Presley and daughter Lisa Marie for his first trip for research at Elvis' Graceland estate in Memphis.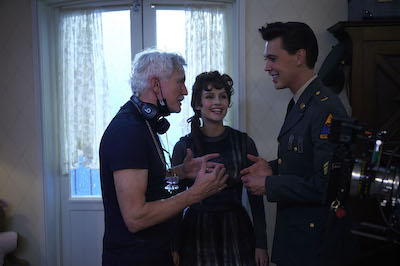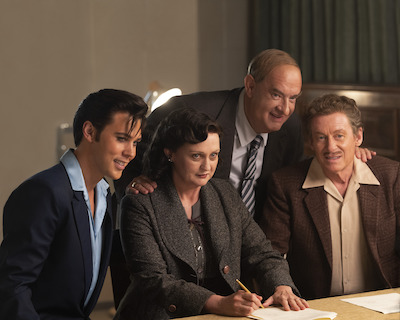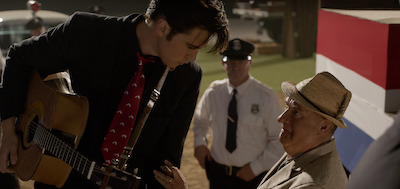 Luhrman along with his co-writers Craig Pearce, Sam Bromell and Jeremy Doner, could have tightened the film and flow up considerably to run less than the almost 3 hours. It's pretty much chronological, but Lurmanesaque. His distinctive style is on full display using vibrant graphics, throwback visual techniques, split screens, quick cuts, slo-mo and lots of camera movement. It sometimes feels confusing and messy, and often distracting. 
Hanks' substantial prosthetic makeover is disturbing at first, but you get used to Hanks being about twice his size. His accent is hard to discern, but so was the real Col. Tom Parker's. He was a grifter and a schemer who left The Netherlands for America to join the circus. Some of Hanks' intonation with attitude sounds a little W.C. Fields. Hanks always does a great job, but there were times when you knew you were still looking at Hanks, not his character. 
Butler admitted being terrified before every day of shooting, but once he got on stage, he felt the essence of Elvis take over. He gives an electric performance, especially for the musical numbers, in front of screaming females going wild. Costumer Catherine Martin creates a plethora of colorful, bejeweled jumpsuits that became Elvis' trademark, each more glitzy than the next. The sequence quick cutting Elvis in the vibrant bejeweled, caped costumes adds to the excitement.
The actor's attitude, sexy hip movements and iconic curled lip, along with the interaction with the ladies caught by cinematographer Mandy Walker (Mulan) is spot on. You see where it all came from and how it developed without Butler going overboard looking forced. Butler's committed performance took a physical and emotional toll on the actor actually sending him to the hospital when they wrapped.
This film is enlightening showing where Elvis got his musical influence. As a boy, having to move to the Black area of Memphis from Mississippi when his father went to prison, you see how he appropriated gospel and blues songs from the artists he loved. Luhrman provides glimpses of these with Mahalia Jackson, B. B. King (Kelvin Harrison, Jr.), Big Mama Thornton (Shonka Dukureh) Little Richard (Alton Mason) singing "Tutti Frutti" will make you want to get up and dance. 
The White Christian power brokers in the South, saw Elvis's sexuality as a threat and mounted a campaign to stop his career. Col. Parker's strategy was to get 23 year old Elvis drafted to change his image. While stationed in Germany, he met Priscilla (Olivia DeJonge), daughter of a military officer and 10 years his junior. DeJonge fills the bill well as Priscilla showing how she stuck by him, having daughter, Lisa Marie, but struggling with their loving relationship.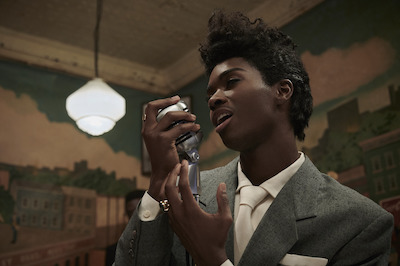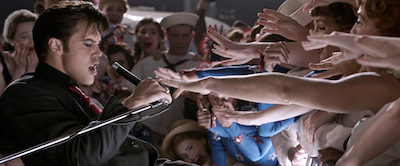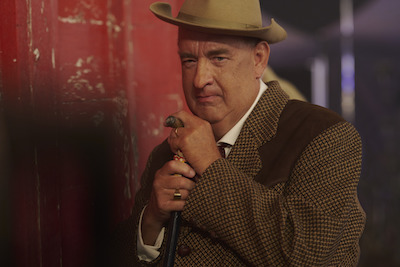 Elvis' career tanked and skyrocketed many times. The Col. always tried to save himself, by saving Elvis. The most tragic example was how he signed Elvis' life away committing him to performing in Vegas as Parker's ticket out of his gambling debt. The film shows how It ruined his health and his marriage at the expense of Col. Parker's greed. By this time, Col. Parker with complicity from Dr. Nick (Tony Nixon) provided the drugs to keep him on stage. 
Butler believably portrays Elvis' ups and downs and more of the person he was when not performing. Even though Elvis didn't write any of the songs, one very memorable scene shows his musicianship working with the band showcasing the blaring horns of his signature intro. "da-da-DAH! da-da-DUH!"
There are some definite problems with the film's over-stuffed length, awkward transitions and uneven pacing. Butler hits it out of the park, but  Luhrman designed this spectacle to make you respect and appreciate Elvis, the man and his music. For Elvis fans, old and new, this is a "A Hunk of Burnin' Love."
Warner Bros             2 Hours 49 Minutes         PG-13
Streaming on HBO Max in early August.
The post Elvis first appeared on Movies and Shakers.
from Movies and Shakers https://ift.tt/YZmG8iC