Lightyear Movies and Shakers June 17, 2022
Lightyear is here with huge anticipation, but it doesn't quite live up to the buzz. Director Angus MacLane reimagines Buzz, no longer as the bumbling, buffoonish Space Ranger toy in Toy Story. This version of Buzz is a toned down hero MacLane wanted to appear more true to the retro animated sci-fi flicks he watched growing up. The result is not as much fun. What we're shown here is supposedly the actual movie that spawned the toy Andy (voiced by Tom Hanks) loved throughout the Toy Story  franchise.
Chris Evans, as the voice of Buzz, is earnest, heroic and shows the tender side of the character, particularly in his relationships with his mentors and colleagues. But he's always hell-bent on finishing the mission which is to get home. He's responsible for stranding his team on a hostile alien planet. When you think about it, this is kind of a mash up with overtones of The Wizard of Oz and Top Gun. Having to go to "Infinity and Beyond" to get home. 
Tim Allen as the original voice of Buzz Lightyear is iconic and beloved. MacLane wanted to do a version of the character as the hero the toy was based on, so he had to create a different persona. Evans does it well, but not with enough comedy and personality to make fans forget Allen. Even the delivery of the iconic line gives Toy Story fans reason to gripe. Where Allen boomed "To Infinity…and BEYOND!" Evans says the line in an almost hushed, reverent tone more as an aspirational mantra.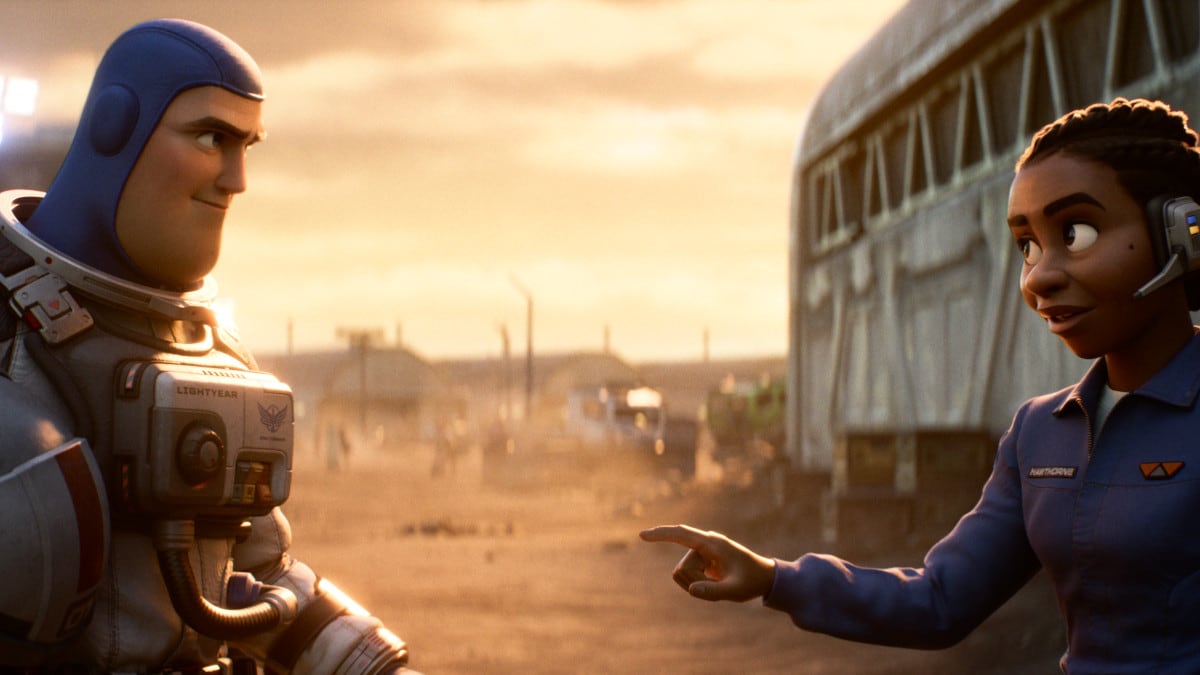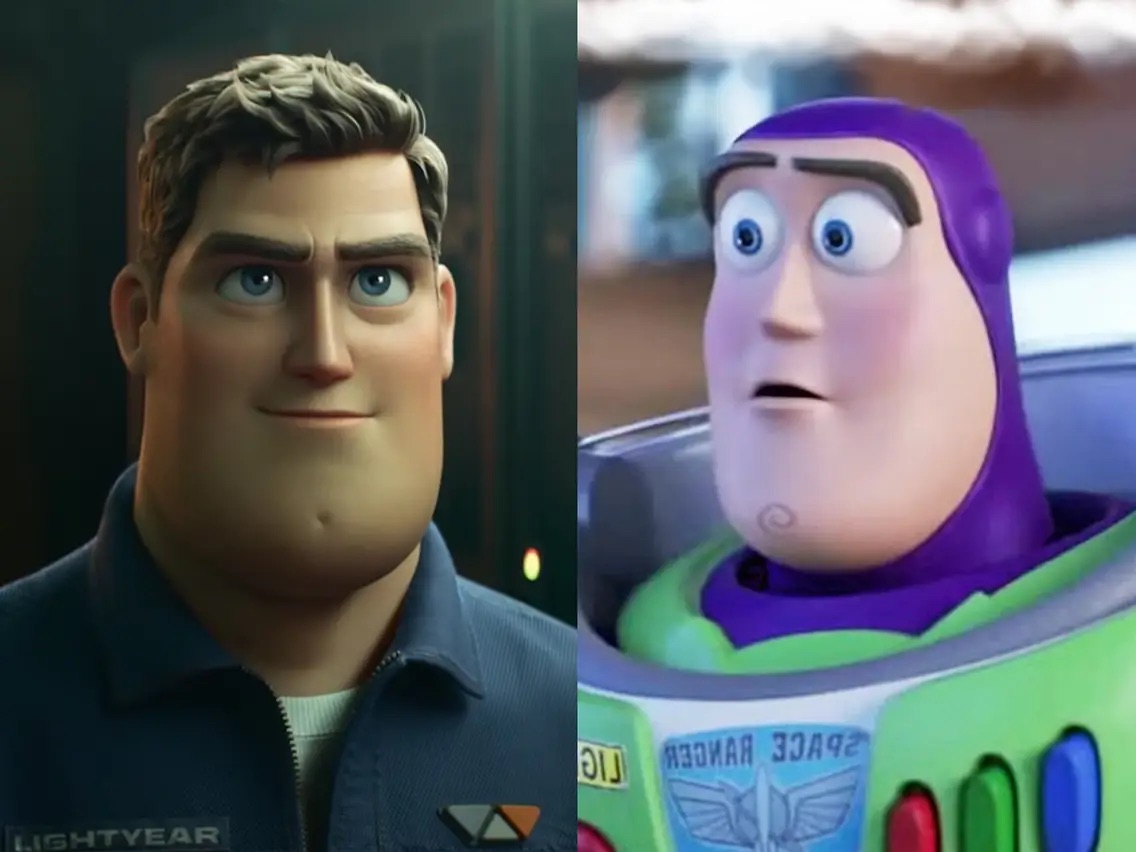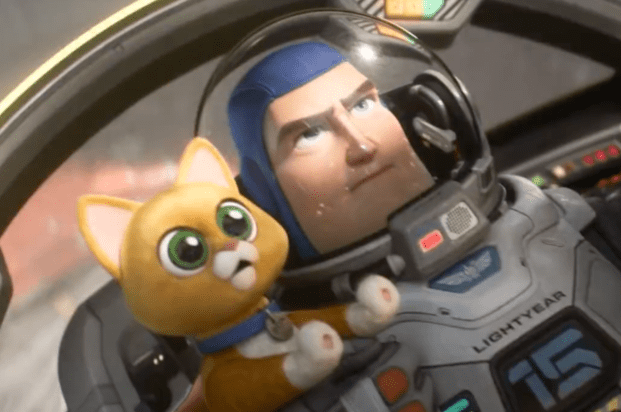 We also found the screenplay and story by MacLane, Jason Headley with Matthew Aldrich too convoluted, complicated and confounding. Here's yet another film playing with the timeline which throws another curve ball at young viewers trying to engage with more than the colorful visuals. There's plenty of action, but it becomes mission after mission for Buzz testing the hyper-fuel needed to power the ship. Each time he lifts off on a test flight time passes for everyone but him. With each failure Buzz suffers even more loss back on the planet. While emotional, it's also very repetitive. 
Buzz's guiding star is his commanding officer, Alisha Hawthorne (Uzo Aruba). She's his rock and also provides controversy as the first Pixar character to have an on-screen, same sex kiss. Disney executives originally ordered it to be cut. The LGBTQ Pixar employees went public with their objection to the censorship. Disney relented although it is already banned in 14 markets and probably will be in China.
Izzy (Keke Palmer) is Hawthorne's daughter who becomes an ally and a new generation hero, while  standing beside Buzz. Her voice acting was appropriately energetic and cute and a character young audiences can relate to. Goofy, clueless Mo Morrison (Taika Waititi) is another of Izzy's buddies, helping to lighten up the proceedings. Like Izzy, Mo also aspires to be come a Space Ranger.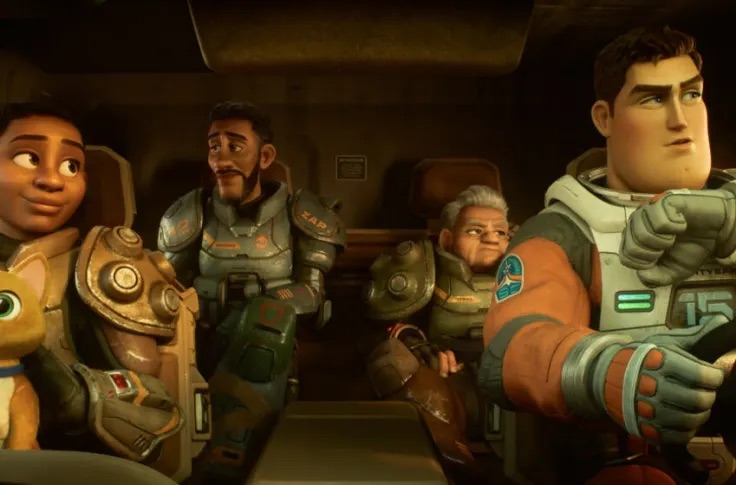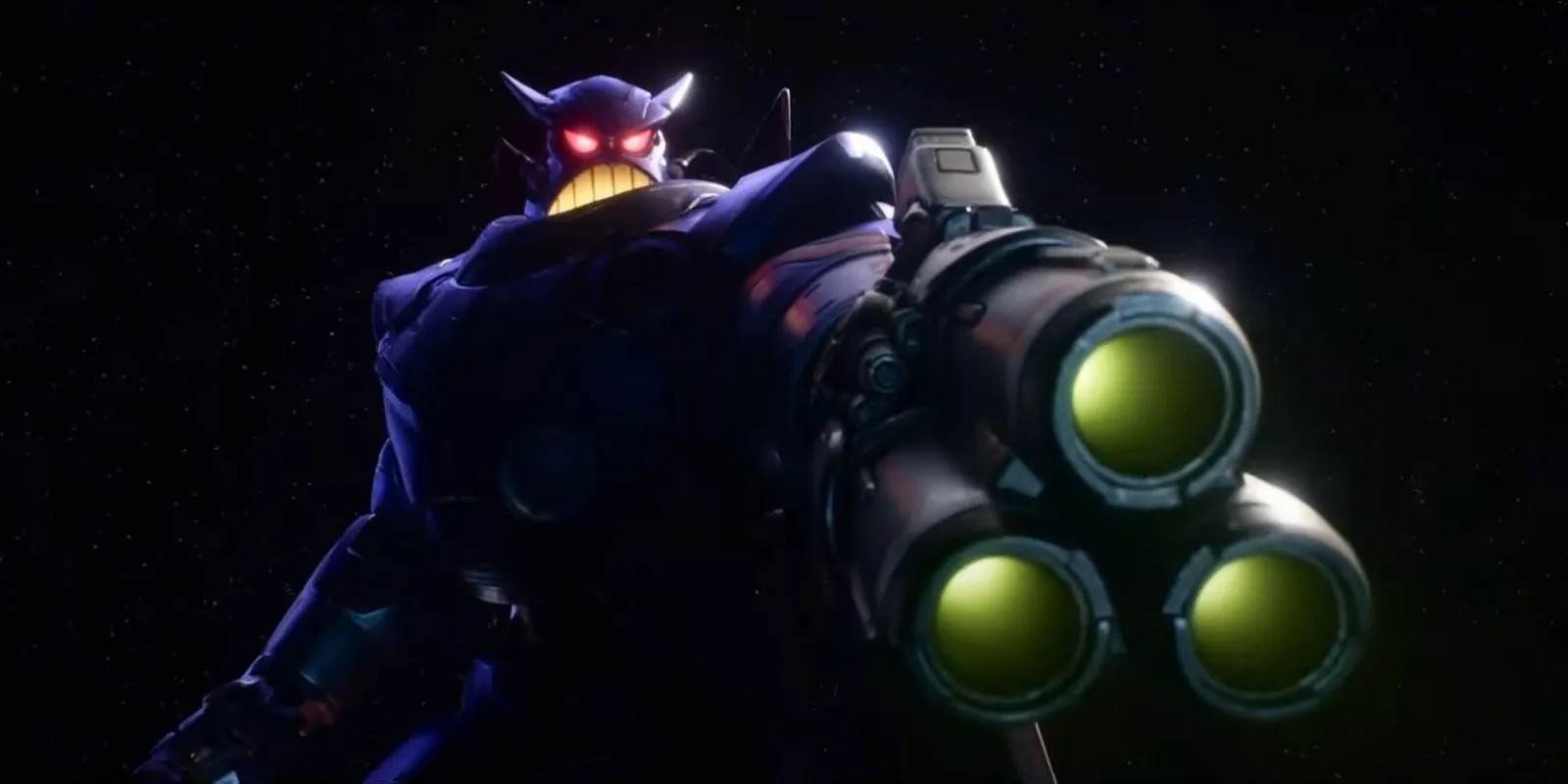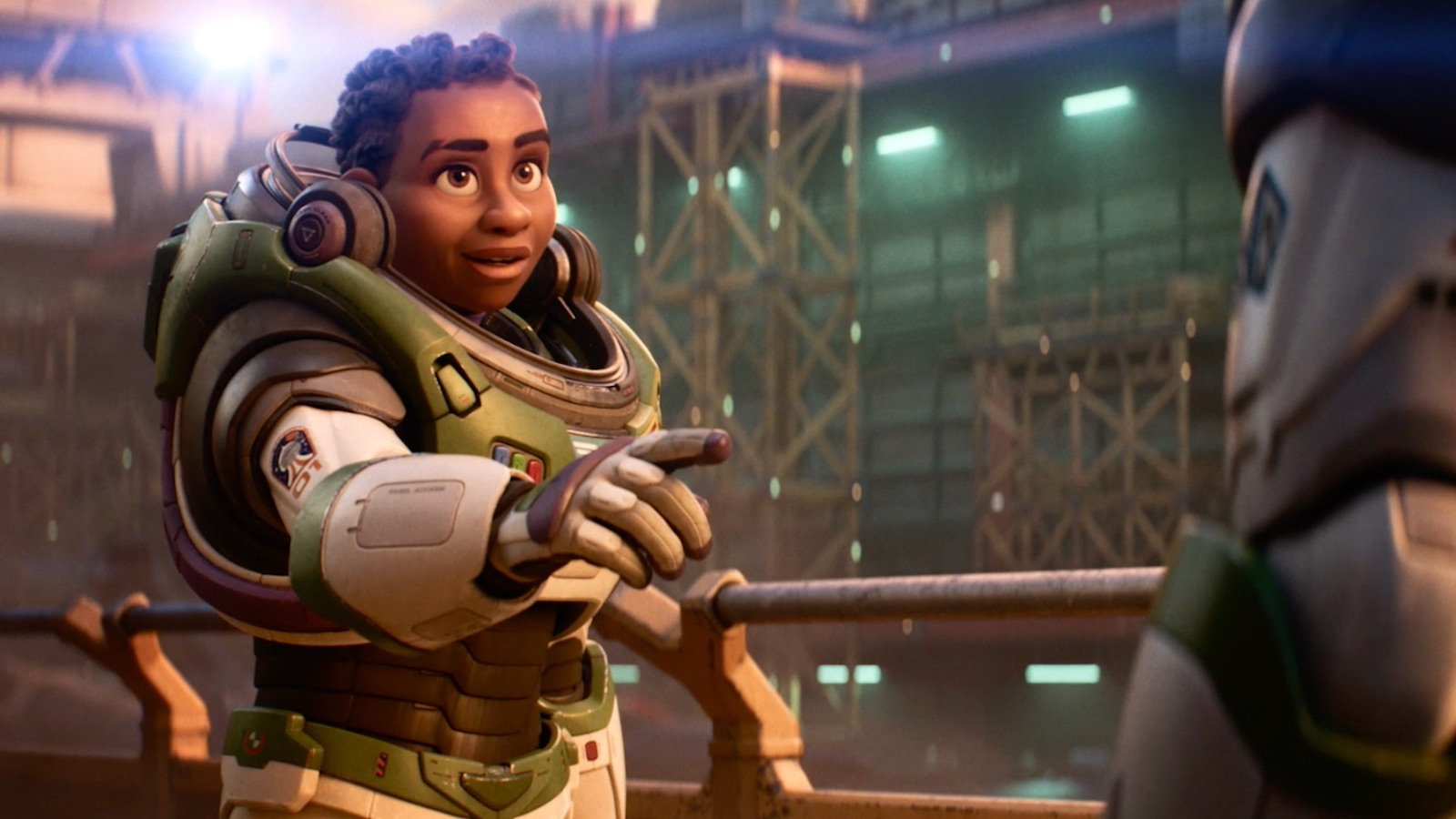 But the standout, as is the case with most Disney and Pixar movies is the sidekick that provides oddball comedy and invaluable assistance. This time, it's the robotic cat, Sox (voiced byPeter Sohn), who turns out to be more human than some of the other characters, especially Zurg (James Brolin), the heavy. Sox is the cute looking kitty with an infallible brain. The Sox toy will be the one kids will pester their parents to buy when the merch hits stores. Sox is far and away the most fun character. 
This is the first Pixar film shot in IMAX. Korean Animators Can Sung-uk and Lee Chae-yeon worked from home during COVID after going to NASA for inspiration. MacLane wanted the animated visuals to look more like live action. The screen is loaded with explosions and fight scenes, but the animation feels more primitive than other  Pixar projects. The color palette is more subdued and the lighting is not as dynamic we expected.
The score for this film is provided by Michael Giacchino (Jurassic World, JoJo Rabbit) rather than as in other Toy Story films, by Randy Newman. It's dynamic and, at times, exhilarating. 
There's a post credit scene that clues you to the possibility we haven't seen the last of this iteration of Buzz. One of the great things about Pixar is their creative teamwork. We're rooting for the next team that picks up the Buzz Lightyear saga to do even better at reaching "To Infinity and Beyond." This movie doesn't reach those heights. It's a light year for Lightyear.
Disney/Pixar             1 Hour 40 Minutes.        PG
The post Lightyear first appeared on Movies and Shakers.
from Movies and Shakers https://ift.tt/qoI0NKH