Hustle Movies and Shakers June 14, 2022
Adam Sandler's passion for basketball is on full display in this well crafted, exciting, emotional, funny love-letter to the game. Sandler plays Stanley Sugarman, a long-time scout for the Philadelphia 76'ers who's been on the road for decades searching for the next hoops superstar. He's weary of the grind and his dream of a job on the bench, but coaching is always just beyond his reach. 
Stanley's understanding, sympathetic wife Teresa (Queen Latifa) is always there for support, and a quick wisecrack to keep him in line. Sometimes she seems a little too understanding. But he just wants to spend time with his wife and adorable daughter, Alex (Jordan Hull). 
Director Jeremiah Zagar uses Sandler's low-key, self contained, sarcastic persona to create a character that hides the hurt, mentally and physically that never goes away, while always trying to make everyone else smile.
Sugarman is on a European scouting trip that seems fruitless until he happens upon a street basketball game dominated by a steely eyed, shot rejecting ace covered in tattoos and playing in construction boots! He's Bo Cruz (Utah Jazz NBA player Juancho Hernangomez) who's not on any team's radar, until now.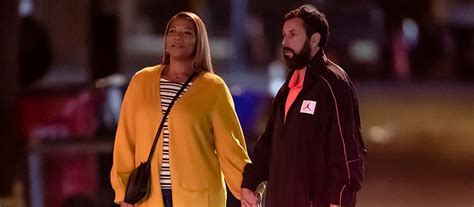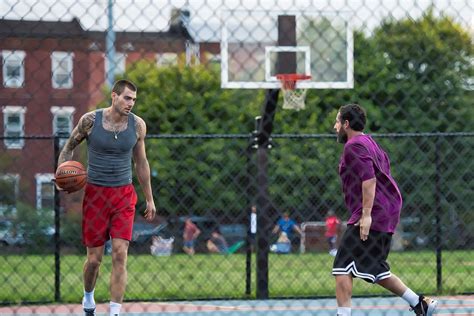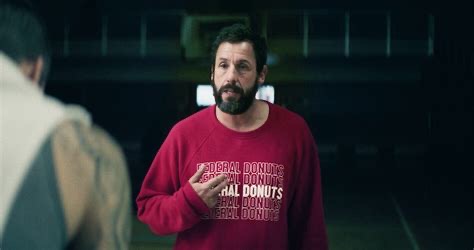 The crux of this movie is the relationship that grows between Stanley and Bo as Sugarman tries to get Bo to America and into the league. Sandler, the seasoned comedic actor and Hernangomez, in his very first time acting in front of the camera, actually pull it off. 
Juancho had no intention of getting into acting, but when COVID shut down basketball, he was persuaded to give auditions a try to fill time. Sandler, one of the producers, saw his raw talent and got him professional acting coaching. The result is a performance showing his ability to portray intense love for his family, as well as underlying rage in addition to his impressive shot-blocking and shooting.
This isn't the first time Adam Sandler has used NBA players as actors. He got a very good performance out of the Celtics Keven Garnett in 2019's Uncut Gems. But Hustle is not just a showcase for one NBA player, Sandler pulls out all the stops with a huge roster of "Himself" credits for known current and past players. Even Lebron James is another producer.
Another standout current player putting in good minutes on the court and in front of the camera is Minnesota Timberwolves' Anthony Edwards who gets to play Bo Cruz' nemesis Kermet Wilts. He shows plenty of attitude with and without a basketball in his hands.
The film, shot in Philadelphia, pays more than a little homage to Rocky, especially the overly long (7 minutes) physical training montage. Where Sylvester Stallone's Rocky ran up the steps of City Hall to raise his arms in celebration, here we see Bo Cruz racing up a steep hill and then more stairs to prep for his battle on the court. This was the one sequence that Director Zagar really needed to pare down, although Dan Deacon's original music does help the pacing.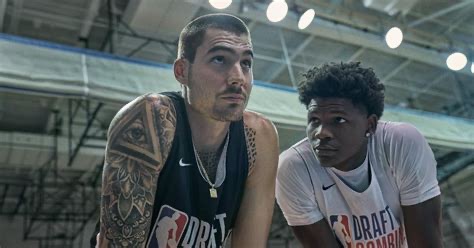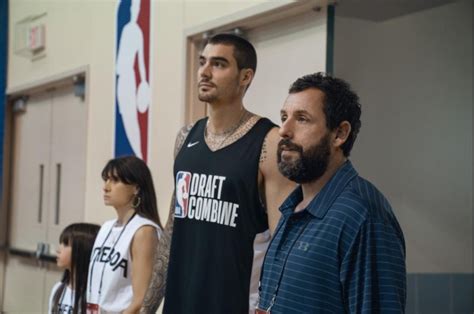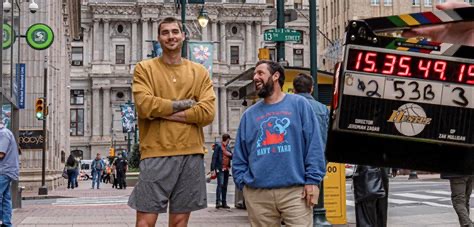 While the story is fairly predictable, writers Will Fetters and Taylor Materne manage to interject some insight into the corporate, capitalist agenda behind the business of professional sports. They also give Sugarman and Cruz' backstories enough texture so we care about them as individuals, not just archetype characters.
Sports themed movies live and die in how well the game scenes come across and credit to cinematographer Zak Mulligan for not only following the ball but conveying the seething emotions under the player's stoic faces. Sandler and Bo make a good team in this film. It runs about as long as it takes to play an NBA contest, but while there's always a loser in the game, this Hustle is a winner.
Netflix               1 Hour 58 Minutes              R
The post Hustle first appeared on Movies and Shakers.
from Movies and Shakers https://ift.tt/F0SJmcM