Cha Cha Real Smooth Movies and Shakers June 14, 2022
Cooper Raiff is a force to be reckoned with writing, directing and starring in this crowd pleaser. This charming, sensitive, dramedy of a frustrated young guy longing to find his soul mate is filled with heart and plenty of laughs. Raiff has put together a talented ensemble led by Dakota Johnson with Leslie Mann, Brad Garrett and newcomers Vanessa Burghardt and Evan Assante. We screened the film at Sundance and SXSW, but with an audience at the Chicago Critics Film Festival. It follows Raiff's 2020 SXSW prize winning debut feature, Shithouse.
Andrew, (Raiff ) is a recent college grad, living at home, sleeping on the floor in his brother's room. He graduated from Tulane but is working at Meat Sticks, a fast food spot in a mall. He's attentive to his cute 13-year-old brother, David (Evan Assante) who's having problems with his first love. David is cute pumping Andrew for advice on how to get his first kiss from the girl of his dreams at a Bar Mitzvah. Andrew agrees to take him to the party where he's immediately attracted to a Mom and her daughter sitting quietly alone. 
When Andrew sees the intriguing Domino (Johnson) with her daughter, Lola (Burghardt) who is in her own world playing Rubik's cube, he sees people he might be able to help have a good time. Andrew connects with Lola which endears him to Domino. That leads to a definite attraction even though Domino is older and Andrew is still a kid. Andrew eventually wins their trust and becomes Lola's sitter, but it's obvious he wants more.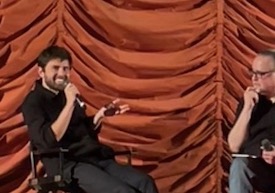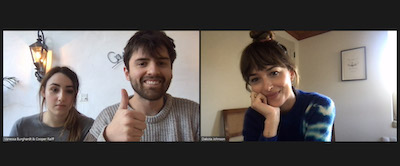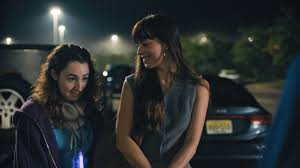 single Mom, and Burghardt is captivating as her autistic daughter who is so candid and smart. Burghardt is an actress who is autistic. Her audition tape blew Raiff away. He told us he demanded that she be in the film and even changed the script for her. Burghardt is a standout.
In the film, Andrew has an innate talent for knowing how to get a party started and he soon finds himself in demand as a host and emcee on the local Bar and Bat Mitzvah circuit. Raiff says the title fits because the Cha Cha Slide is the one song that always gets everybody on the dance floor.
The most animated scenes are those with Andrew interacting with the kids and parents having crazy, fun dancing with all the themed tchotchkes. Shot during COVID, Raiff relayed in our interview how a vacant Pittsburgh mall provided multiple settings with the same kids changing clothes and the production designer changing the party decor. Cinematographer, Cristina Dunlap, shot at various angles to make the parties look different. A very creative way to use vacant stores made to look like different function halls without having to change locations. 
Raiff credits Johnson, who started collaborating early in the process, with digging deep into the emotional makeup of these characters. The director explores in back-to back scenes, Andrew's relationship with the female characters he cares about most.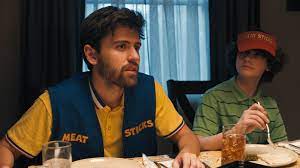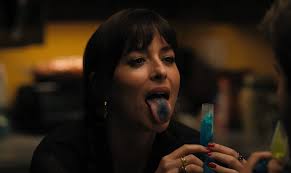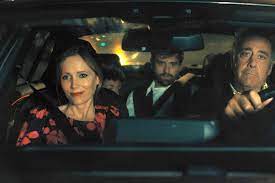 First he shares a very intimate talk over Domino's kitchen counter where they trade ice pops as they talk about life and love. It's Raiff and Johnson's favorite scene. Andrew is still smitten with Domino he thinks is his soul mate. But she has a fiancé who is a lawyer and grounded. Although she really cares for him, Domino recognizes that he is in a much different place and needs to enjoy his 20's. 
Another tender moment follows. It's Andrew and his caring Mom (Leslie Mann) in a personal and private kitchen conversation. Both women have issues with their first loves and each was looking for security. His mother is worried about Andrew's future and love life. And he lets her know he's worried about she and 2nd husband, Greg, (Garrett) who doesn't buy Andrew's act. The feeling is mutual. But Mann and Raiff are convincingly warm and loving as mother and son come to an understanding. Mom found security with Brad which he proves dynamically in a surprising manner.
There are more than a few memorable scenes in this film. Some are intensely serious, others outrageously funny. Raiff's poignant and sensitive writing and directing show savvy instinct for a 24-year-old filmmaker. Cooper Raiff is full of infectious energy and immense talent. We can't wait to see what he Cha Cha Slides into next. 
Watch the fun conversation with Cooper Raiff talking about our mutual Dallas connection, making this film with Dakota Johnson, and find out where he got his first kiss. 
Apple TV+           1 Hour 47 Minutes                 R       
The post Cha Cha Real Smooth first appeared on Movies and Shakers.
from Movies and Shakers https://ift.tt/8yltH2J