Jurassic World Dominion Movies and Shakers June 9, 2022
Unfortunately, the excessive, yet impressive special effects of the dinosaurs and action in this film overshadow this never-ending, weak script. Even though your favorite characters from this franchise are back, it's still all about the dinosaurs. Can they really co-exist peacefully with humans?
Chris Pratt, as Owen Grady, opens the film with a full-on cowboy round-up that is less than convincing. It doesn't set the film up for a satisfying ride. You can clearly tell he's not really riding a horse to catch up with the dinosaur on the loose. From there, we slowly get to see all of the old friends come back but for different reasons.
Owen Grady (Pratt l and Claire Dearing (Bryce Dallas Howard) are taking care of Maisie Lockwood (Isabella Sermon) whose scientist mother, Charlotte (Elva Trill) died. They're hiding Maisie because she's being hunted for her unique genetic code. Maisie has grown into a serious, head strong teenager who doesn't like being confined. She brings a combination of intelligence and impetuous youth to her role When she gets kidnapped, Owen and Claire make it their mission to come to the rescue.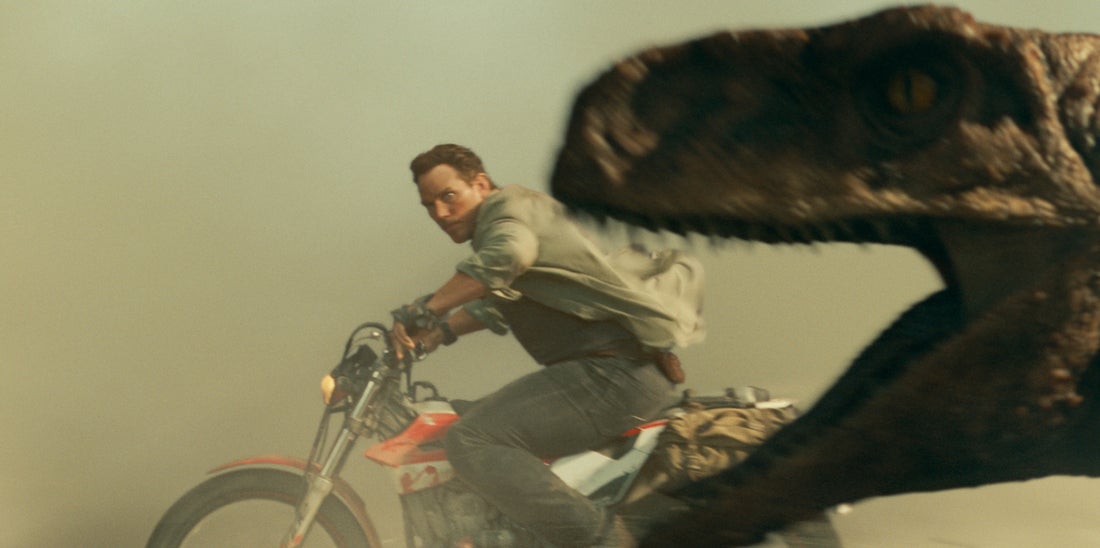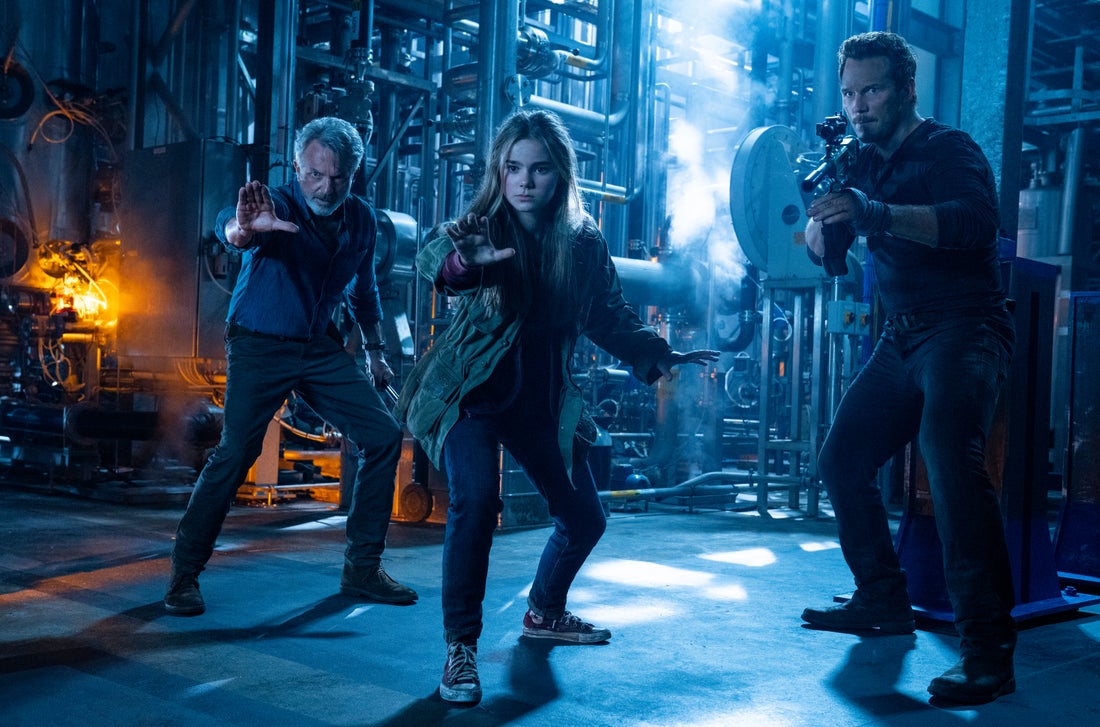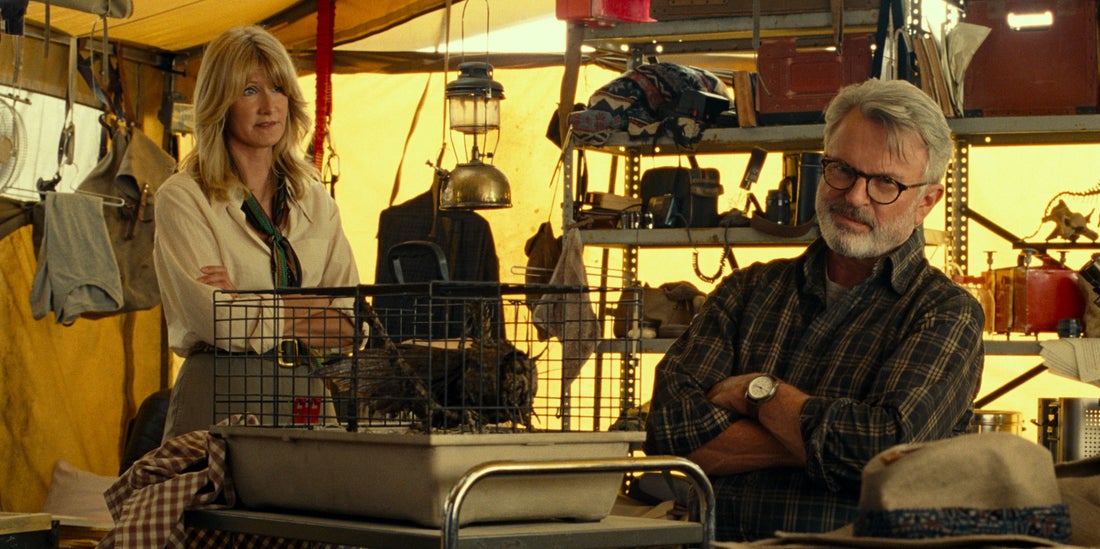 This is an excuse for a series of action-filled chase scenes that eventually bring more of the original characters together, along with a few new ones. The script written by Emily Carmichael and Director Colin Trevorrow from a story by Trevorrow and Derek Connolly just tries to be too cute with misdirections. Bad guys are good guys and good guys are bad guys, but it's all pretty predictable. It's exposed by one of the characters we liked best.
Kayla Watts (DeWanda Wise- Fatherhood, The Harder They Fall) is a pilot for hire who is reluctant to help Grady and Lockwood find Maisie. The dialogue throughout this film is sparse and pretty lame, except for her role. Her timing and delivery are effective, even if only in a few words. A lot is because of attitude and she's convincing. Wise as Watts seems to be the only one who can keep the others in check.
There's a nice little reunion when Ellie Sattler (Laura Dern) meets up with Alan Grant (Sam Neill) after years apart. Of course, their awkward interplay indicates that sparks will eventually fly. It's all very bland and congenial. They, too, get pulled into the search for Maisie which brings them to a huge genetic engineering conglomerate run by Dr. Lewis Dodgson (Campbell Scott). Interesting that he presents himself as a champion of the environment and a billionaire. His appearance and mannerism reminded us of an amalgam of Apple's Tim Cook and Tesla's Elon Musk. He orders his staff around dismissively. Ramsey Cole ((Mamoudou Athie) seems to take the brunt of his officious, condescending attitude.
What we were really waiting for comes late in the film when Jeff Goldblum reprises his role as Dr. Ian Malcolm. There were cheers when he finally showed up on the screen. Goldblum is always good as himself which raises levity in a film, but here, it was as if he was in some other movie. Director Trevorrow seemed to hold him back. He plays a celebrity scientist who has basically sold out, but takes a turn when he realizes what his boss is really up to. Pratt often provides some humor, but that's Goldblum's specialty in this one, just not enough of it.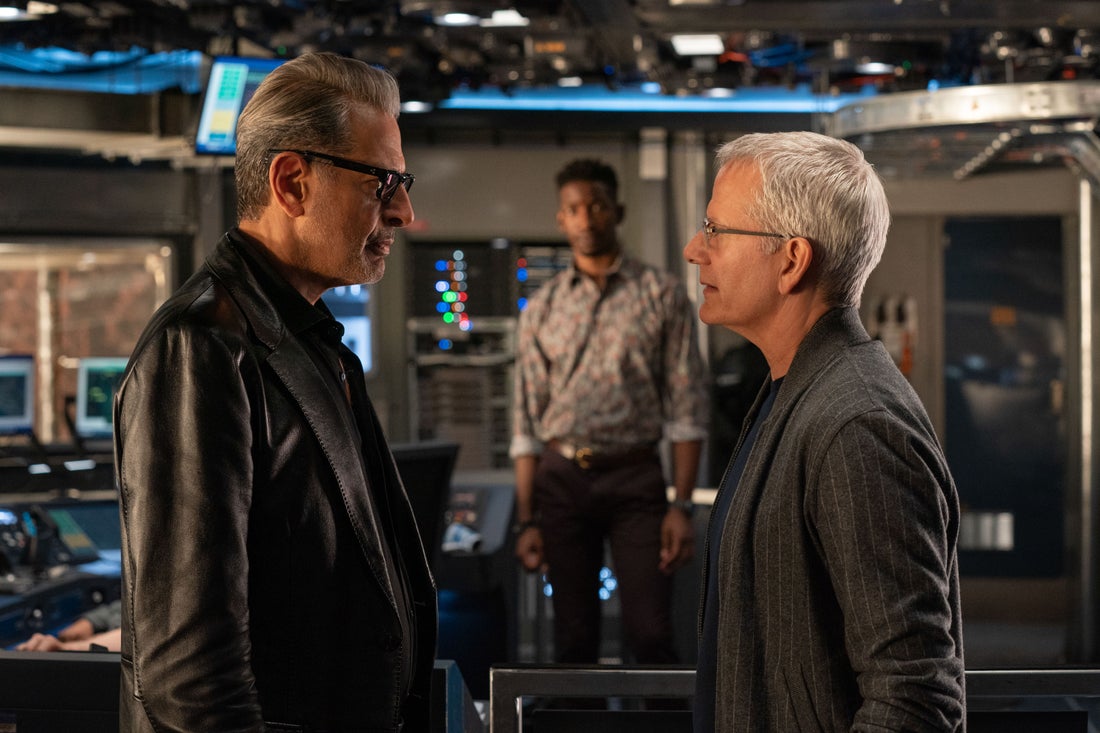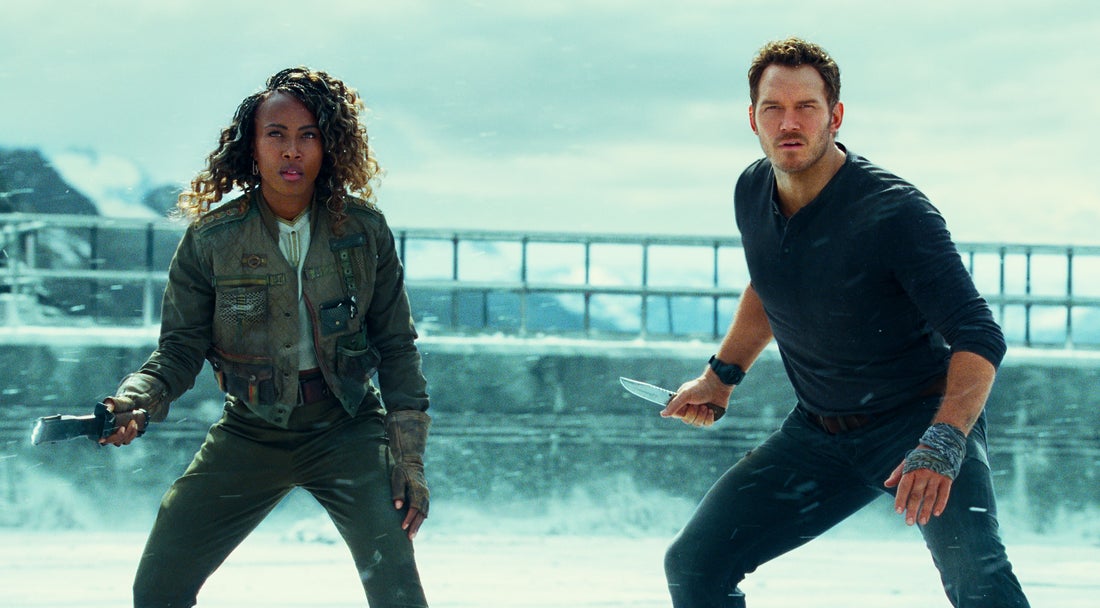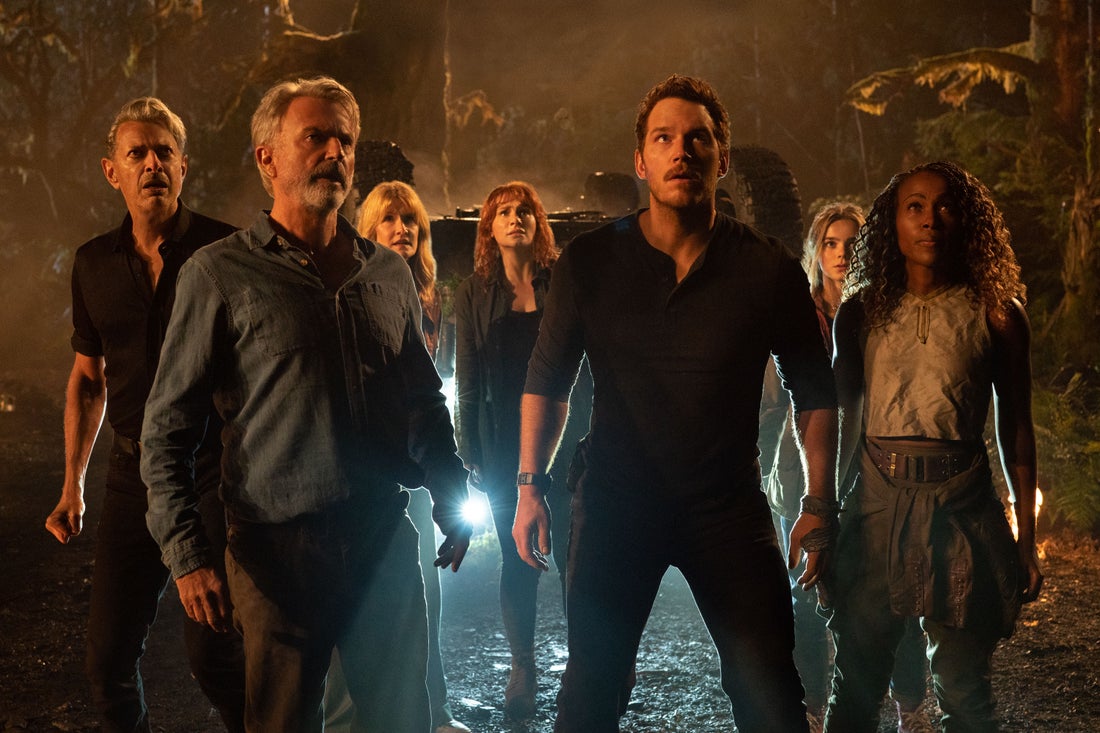 The real stars of this film, of course, are the dinosaurs and maybe there's just too much of a good thing. In the final third of this big budget film , this action adventure becomes more like a Godzilla style Kaiju Battle Royale with shrieking and howling apex predator beasts. Kind of ludicrous watching these creatures go at it with half the cast standing right there in the middle of the melee and none of them get hurt.
That happens several times in the movie when the humans are being chased. When Bryce Dallas Howard is pursued by a huge one into a swamp, she goes barely underwater, as if that beast standing over her while she's holding her breath forever, can't see her flaming red hair under the surface. And when she comes up for air, not even breathing hard, her makeup looks just as good as ever. So is her hair in the very next scene. And Laura Dern, after being chased relentlessly throughout this film, comes up with just a slight rip on her sleeve. Really?
The special effects, sound effects and music by Michael Giacchino along with a couple of jump worthy moments still don't make this reason enough to stick with it for 2 hours and 26 minutes. The Jurassic family is back, but with lackluster performances and weak storytelling. It just might be time for this franchise to head toward extinction.
Universal Pictures 2 hours 26 minutes. PG-13
The post Jurassic World Dominion first appeared on Movies and Shakers.
from Movies and Shakers https://ift.tt/4kiY1dJ