Top Gun: Maverick Movies and Shakers May 24, 2022
Top Gun: Maverick Cruises to the top with heart-stopping aerial acrobatics and a grounded storyline. It is off the charts adrenalin-charged and exhilarating. This sequel draws heavily on the original, including flashback scenes pulled from the 1986 movie. But even if you haven't seen that movie or forgotten the plot points, this still delivers its pulsating iconic music and sound design, plus a new song (Hold My Hand) from Lady Gaga. Credit the writing team for delivering an easily discernible story that makes this a must-see film.
Director Joseph Kosinski worked with the Navy and Cinematographer (Claudio Miranda) used 6 cameras placed in the cockpit of an F-18 to put you in the pilot's seat with Tom and the other Top Guns. They would ask if a piece of equipment in the plane was absolutely necessary and if not, replace it with a camera. Tom had to turn them on and off himself to get different angles on the action as the real professional pilots handled the stick. Cruise is known for doing his own stunts and the rest of the cast playing Top Gun flyers were also trained, flying with professionals at the controls. 
Kosinski demanded to wait out the 2 year pandemic delay until this could be premiered to audiences on the big screen. He's right. This is where it belongs. It made a big splash at the International Premiere at Cannes with a flyover when the whole cast was watching from the Red Carpet.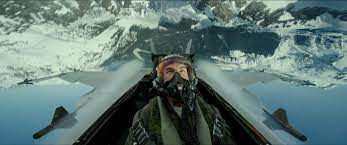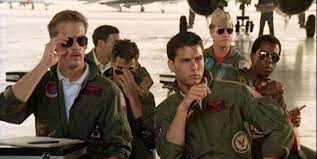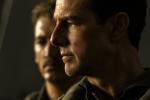 It's now 30 years later, but this continues the story of a much decorated test pilot for the Navy still pissing off his superiors because he's never stopped pushing the envelope. Maverick (Tom Cruise) never wanted to leave the cockpit so he wouldn't accept any promotion that would put him behind a desk. 
He's given a plum assignment, to train The new batch of Top Gun pilots who will be assigned a near impossible secret mission. Iceman (Val Kilmer) helps makes Maverick's assignment happen. It was Val Kilmer, after having  battled health issues affecting his voice, who suggested how to deal with his character in the film. Cruise said he would not do the movie without Val in it. He looks good and it works. Iceman has been Maverick's guardian angel through the years. But, the Rear Admiral (Ed Harris) and present Top Gun Director, Bo Simpson, (Jon Hamm as Cyclone), are the heavies who don't appreciate Maverick's hot-shot attitude and want him to fail.  
The down side for Maverick is when he sees that the son of his late back-seater, Goose (Anthony Edwards) is in the class. Rooster (Miles Teller) has a huge chip on his shoulder, still believing Maverick responsible for his Dad's death. The strained relationship between them is an underlying current throughout. Teller steps up, sporting a mustache like the one Anthony Edwards had in the original. But more importantly, Teller brings intensity with a bit of sarcastic humor to his characterization that harkens back to his father's personality that resonates with Maverick. 
The other members of the mission sense it, too. Chief among them, Natasha/Phoenix (Monica Barbara), shows how sensibilities of women in the military have changed since the original film 36 years ago. Jake/Hangman (Glenn Powell) is Rooster's nemesis, vying for the lead role in this mission. It's Maverick's job to get them all on the same page, working as a team or they'll die. 
This film practically follows every one of the plot points of the original. Kosinski says he was repeatedly asked if there was going to be a shirtless volleyball scene. Sure enough, there is another athletic competition on the beach for team building that includes lots of eye candy. You'll see well-oiled, six-packs on young athletic bodies, male and female, including Cruise, who still looks damn good.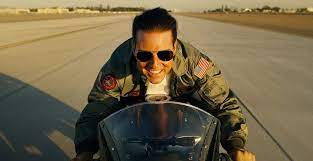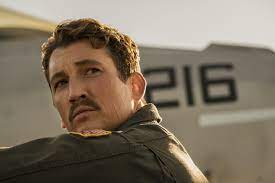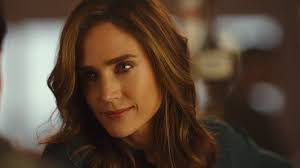 Maverick's return to Fighter Town (Miramar CA), brings him back into the orbit of a long ago love. Penny (Jennifer Connolly) the Admiral's daughter alluded to in the original Top Gun. Connolly does a good job as Penny having fun pulling Maverick's chain at his expense. There are some fun camaraderie scenes with the boys in Penny's bar, and subsequent tender rekindling of their romantic relationship. Connolly actually trained for being tossed around in the rough sailing scenes where she points out the incongruity of Navy officer Maverick being out of his element on the water. 
One of the pleasures of this movie, is that Kosinski and his team of writers have found a way to balance the dynamic action sequences with touching moments of emotion for Maverick, Rooster, Penny, and especially Iceman. Tom Cruise shows he's still Mr. Top Gun. This sequel ages as well as Tom has, and should be seen on the big screen with Dolby Sound. Kosinsky, not going full CGI, makes the action in the sky feel like you're pulling G's in your seat, right along with the pilots.
Paramount Pictures   2 hours and 11 minutes   PG-13
The post Top Gun: Maverick first appeared on Movies and Shakers.
from Movies and Shakers https://ift.tt/kcX7V3E