Downton Abbey: A New Era Movies and Shakers May 20, 2022
If you've watched from the start of this franchise, you'll be pleased, but if not, you'll still be able to follow these rich characters without a guide. This film presents an engaging story with drama, comedy, and heart. 
The film opens with a scenes of a stunning wedding which always provide beautiful visuals. Not long after you get familiar with the principles and the staff of Grantham Manor, a curious arc helps the plot thickens. Violet Grantham (Maggie Smith) receives a letter telling the family that she has inherited an estate in the South of France. It was bequeathed by a former male acquaintance who may have been more than just an acquaintance. 
The family is summoned by the man's son, who is now the Marquis de Montmirail (Johnathan Zaccaï), to introduce the new owners to their newly acquired property. Violet, in frail health, sends the family and stays back. There are several subplots as the family tries to find out why in the world Violet would be left an estate in the South of France by an admirer they knew nothing about. Just how close were they?
Maggie Smith is her remarkable self, pulling the strings for the family with wise advice and wise cracks. As Violet, she consistently makes her opinions known in her own inimitable style, putting her 2 pence in whenever she can. There is a turn that will surprise the die hard fans about her past and her legacy. Bring tissues.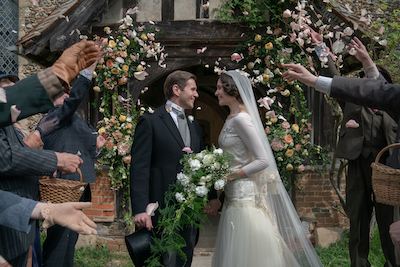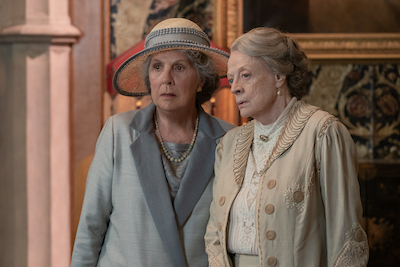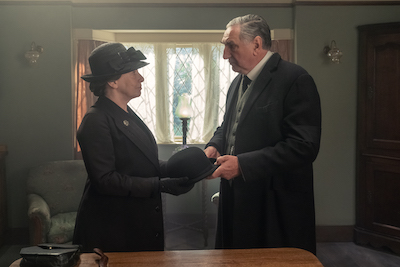 The interactions between all of the beloved characters is well-crafted by Writer/Creator Julian Fellowes and Director Simon Curtis who give each character their due. Not only the family, but the staff who is meticulously trained to serve them, led by Head Butler, Mr. Carson (Jim Carter) slowly but surely get more involved. 
Director of Cinematography, Andrew Dunn, has plenty of rich landscapes and mansions to fill his lens with exquisite detail, especially in the South of France. But there is just as much 1920's opulence to see back at the Grantham Estate when they return. Maja Ceschede and Anna Robbins along with Francesco America and Corinne Boss have created costume, makeup and hair styles tailored to a "T" to each of the characters. And the Production Design by Donal Woods stays true to the upper class grandeur of the Granthams and their way of life. 
Cora Grantham (Elizabeth McGovern) makes her father, Robert (Hugh Bonneville) aware that the estate is in a state of disrepair which will take a large sum of money. Opportunity knocks when film company offers to pay handsomely for use of the Grantham estate as the location for its 1928 film. This is just at the time when talkies are becoming in vogue.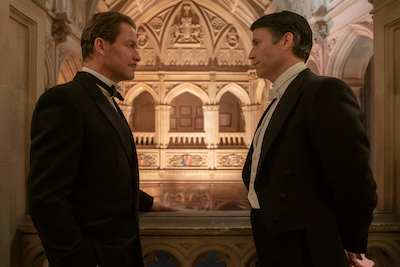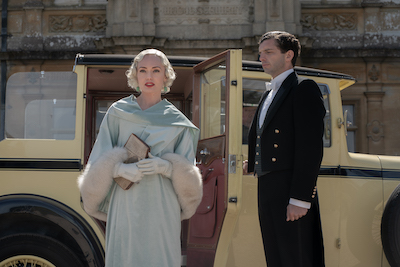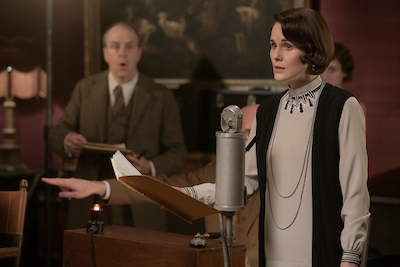 The story picks up when the dashing film director, Mr. Barber (Hugh Dancy) and the crew with all their huge equipment and cameras take over the mansion. The staff is all a twitter when the silent movie stars Guy Dexter (Dominic West) and Myrna Dalgleish (Laura Haddock) show up. Guy is a regular guy. But Myrna is a diva with a voice that's reminiscent of Jean Hagin's Singing in the Rain screeching, ''I caaann't stand it." 
You get a little bit of history about the evolution of the film industry in 1928 as it was transforming from silent movies to "talkies." When Cora (Elizabeth McGovern) is recruited to record her voice in stead of Myrna's in the film, it gets takes a turn with the possibility of a new romance. 
This film is a fitting bookend to the Crawley family story and ever popular TV series. It will interesting to see if Julian Fellowes decides to take the family into new territory as WWII approaches in the 1930's. You don't have to be total devotees of the Downton Abbey franchise to appreciate these fine characters and their lush settings. All of these actors have been playing these characters for a long time and they wear them well.
The post Downton Abbey: A New Era first appeared on Movies and Shakers.
from Movies and Shakers https://ift.tt/lD7SQgq