Shining Girls Movies and Shakers May 10, 2022
Elisabeth Moss excels in playing tense, mysterious and intentionally confusing characters and this is no exception. Jamie Bell adds suspense playing the chilling killer who plays a game with clues revealed along the way. Moss as Kirby lives in constantly shifting reality and timelines. The series shows how the killer uses these multiverses to stalk his prey. 
It is based on a novel about a 1980's of a serial killer in the city of Chicago by Lauren Beukes. Moss is also an Executive Producer who directed episodes, in addition to Michelle MacLaren and Daina Reid. Shot in Chicago, it was nostalgic for us to see archival footage of our home town with some buildings long gone, like the Chicago Sun-Times building which ironically has been replaced by Trump Tower. Neighborhoods, locations, even the politics of the era were accurately portrayed.
Moss plays a woman who may be the only survivor of grotesquely brutal assaults by the serial killer and wants to hunt him down. She always wanted to be a reporter, but the attack left her traumatized physically and mentally, afraid to speak and always looking over her shoulder. She has managed to get a job at the Chicago Sun-times in the archive library, which gives her the opportunity to research her case and that of other women who didn't survive. She becomes the primary investigator trying to piece her life back together while discovering clues that throw her back into hallucinations, memories and depression.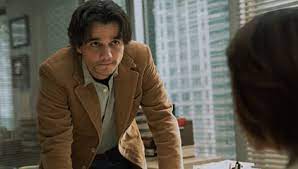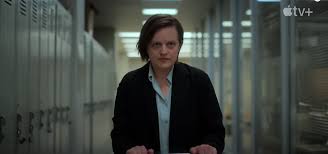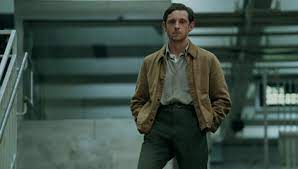 Crusty, downtrodden, alcoholic Reporter, Dan Vasquez (Brazilian actor Wagner Moura), is fighting for survival at the paper. He wants to sink his teeth into a big story, but divorce has made him sole custodian raising a son. His taste for alcohol complicates matters. But his interest is peaked by Kirby and her drive to get details to expose this serial killer still on the loose. 
Kirby seemingly lives in at least two separate worlds with a different name and a different apartment. She keeps a notebook with all her pertinent personal details (like where she lives and who she's married to) or else she's completely lost. Her husband, Marcus (Chris Chalk) is one of the Sun-Times' photographers. In the first few episodes, their relationship is distant and confusing. They don't seem to relate or communicate. You learn more about their marriage by the 4th episode as he gets more involved.  
Jamie Bell is baby-faced killer, Harper, who is a constant menacing nightmare capable of unspeakable violence and cruelty. He has a chilling blank stare and soft, detached voice. Bell is so understated in the role, he becomes even more frightening. You never know what his sadistic Harper is going to do next.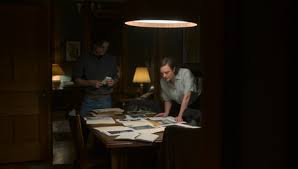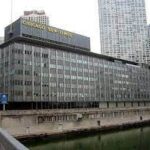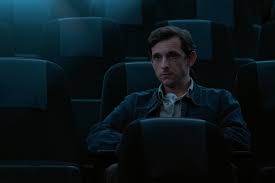 There are plenty of closeups with pregnant pauses as Kirby tries to process the clues left by Harper sprinkled throughout the series. Elisabeth Moss plays her character with understated intensity which is one of her trademarks. There's something always churning beneath her surface exterior.
Due to the nature of episodic TV with so much time to fill, the threads throughout this series become cumbersome and tiresome waiting for something to happen or to draw us back in. But the acting by Moss, Wagner and Bell will keep you in front of the screen. 
Apple TV+          8 episodes.         TV-MA
The post Shining Girls first appeared on Movies and Shakers.
from Movies and Shakers https://ift.tt/2RykIip