Candy Movies and Shakers May 6, 2022
How could someone as sweet as Candy be suspected of murder? Jessica Biel shows great range as the friendliest neighbor in her North Texas bedroom community, and the most lethal when it's time for her to get attention, popularity, as well as secret sex, without attachment, from someone else's husband. 
Director Michael Uppendahl (Mad Men, American Horror Story, Glee) brings to life the true story Nick Antosca and Robin Veith created, based on a woman who murdered her best friend and neighbor in Plano, Texas in 1980. We lived in Dallas near Plano for 17 years and Biel's characterization is spot on, reminding us of some who are saccharin sweet and welcoming one minute, but turn tough as nails. even lethal, the next. Some women struggle with identity crisis. Are they Southern Belles or tough Western cowgirls you don't want to mess with? It can change on a dime.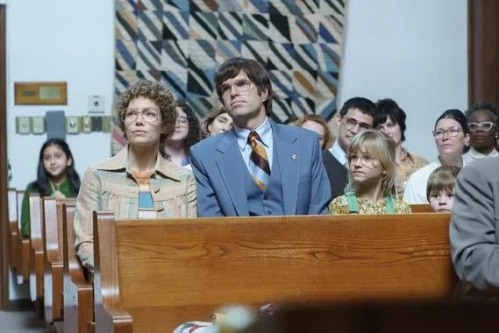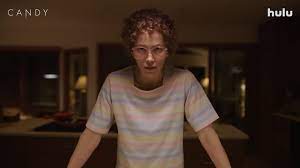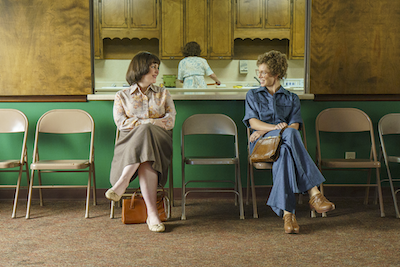 Candy, like her name is syrupy sweet. But she's also a Mom, seething underneath, reading dirty romance novels, wishing her husband could live up to her expectations in bed. Biel is on the screen every minute and carries this series with attitude, using a light, lilting Texas drawl. She is calm and collected, always thinking about her next move, peering through her big framed glasses with a head of short, curly hair. The costuming and production design of the interiors of the homes in wood, browns and gold is apropos of the 1980's. 
Candy befriends soft-spoken, easily intimidated Mom and dutiful wife, Betty Gore (Melanie Lynskey – Don't Look Up, TV's Yellowjackets). She was a teacher but fired after giving her whole class detention for one kid's bad behavior. Now, she has too much time on her hands. Her husband Allan (Pablo Schreiber) is all work and no play. He's kind of an automaton. Melanie is yearning for attention as well and tells Candy of her frustration with him traveling for work. Candy sets her plan. Betty has already made the mistake of confiding in Candy that Allan isn't attentive in the bedroom. Could that be a challenge for Candy who is looking for a little extracurricular activity of her own? She targets Allan, her fellow volley ball player and best friend's husband.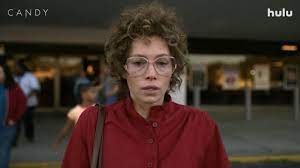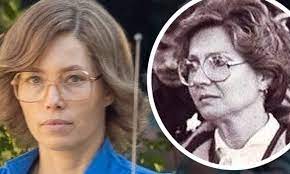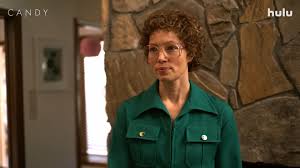 The mystery that draws you in is when Allan's away and Melanie is home alone with a crying baby on Friday the 13th, 1980. Tension mounts as Allan is calling the house to see if Melanie is ok, and has neighbors checking, to no avail. We know that something has gone terribly wrong involving blood and an axe. 
We saw the first 3 episodes and each one ends with a cliff hanger. Jessica Biel in one of her best roles handles Candy well as a woman who thinks on her feet to get out of the tough situations she's created.The pace of these episodes is very slow. We almost tuned out after the first episode and a half because the time line bounced around too much, (2 years earlier, 2 months later) We finally got a bigger picture in Episode 3 and will check back to update if it holds our attention. Surprises in store?  
HULU      5 episodes- one each night May 9th – Friday the 13th.
The post Candy first appeared on Movies and Shakers.
from Movies and Shakers https://ift.tt/GlA37Ev