Doctor Strange in the Multiverse of Madness Movies and Shakers May 4, 2022
Like the multiverse, you're dropped into an imaginative but jumbled timeline. The story as well as the action is unrelenting in pace and ferocity, confusing and frenetic, like a video game. 
Right from the get/go, Director Sam Raimi and Writer Michael Waldron hint that we're in for a trip across multiple verses and versions of reality, personalities, time and relationships. Our hint? It will make more sense if you have seen a lot of Marvel movies, especially Avengers: Endgame AND the popular WandaVision TV series. 
Sam Raimi kicks off this latest Marvel entry with an all too typical action/battle between Dr. Strange (Benedict Cumberbatch) and a colorful, cyclops octopus monster hell-bent on destroying a teen age young woman. But before it becomes completely groan-worthy, Master of Horror Raimi jolts us to attention as Strange bolts up in bed. Same dream….same nightmare, and springs into action.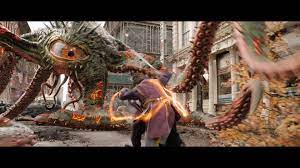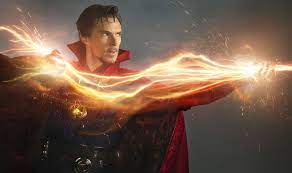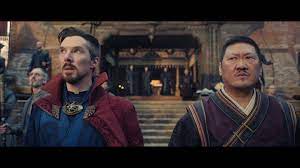 While Dr. Strange takes on the task to save America Chavez (Xochitl Gomez) and the world, the story focuses and is interestingly nuanced on erstwhile villain, the Scarlet Witch (Elizabeth Olsen). This film comes out Mother's Day weekend which is apropos to her character. Is she Mommy Dearest, loving Mommy, or both?
America Gomez is a frequent traveller across the parallel universes. That's her power. She has found there are 818 distinct universes all containing different versions of the same people. Thankfully we only go to a few of them. The Scarlet Witch is tracking her down to take that power for herself. This is where this movie veers away from standard superhero fare. 
The Witch wants this power so she can re-unite with the two young sons she was mother to and lost in WandaVision". That's all she wants for Mother's Day. She needs to find a universe where they exist and insert herself into their lives. Olsen delivers a haunting line that defines her struggle, "Every night, the same dream. Every day, the same nightmare."
Give Olsen credit for her dedication to her roles, though at times there seems to be a bland demeanor while we thought we should be feeling her rage. It's a rather uneven performance. Look for cameos of familiar and a few surprise characters. Wong (Benedict Wong) is back and so is Christine (Rachel McAdams)to wreak havoc with the Doctor's emotions.
Cumberbatch isn't given that much to work with until the third act. He's mainly wisecracking and trying to keep his silver streaked wig on straight. The width of the silver keeps changing. Maybe they had separate hair stylists for each universe (That's a joke) Finally, in that third act Cumberbatch is given the opportunity to play a rather unique zombie-like version of himself that may remind you of The Walking Dead, as he conjures up a super spell.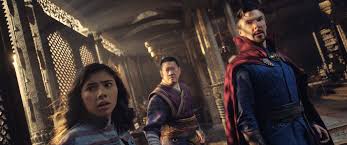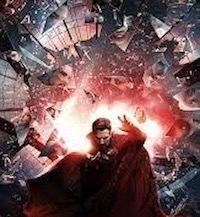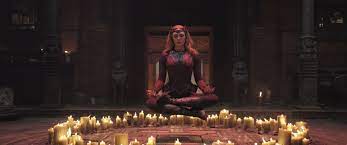 Of course the action is what puts young mens'  bottoms in the theatre seats so there's more than enough, ok, too much, fighting, special effects wizardry with constant noise. The Sound Design department was kept very busy. But it gets a little silly when Dr. Strange gets in a pinch and can easily just wave his hands around to concoct just the right weapon. And those animated power discs that all young sorcerers can instantly conjure up are a bit cheesy.
But ultimately it's Sam Raimi who stars with his visuals and effects and creative camera pans and swooshes.  Especially noted in one sequence where Sr. Strange and America travel through multiple universes seamlessly transforming with each beat of Danny Elfman's score into some other eye popping (literally) version of themselves. 
This is a spectacle that's both too long AND too short. It's only slightly over 2 hours but feels much longer. It becomes a tad tedious with the endless battling and miraculous returns from certain death to go right back at it in another place and time. Confusion reigns and it's entertaining, but there are too many multiverse storylines bouncing off cinema screens these days. Marvel TV series' seem to have time to allow the stories to develop better at a more manageable pace. In Multiverse of Madness, it's just too frantic, and exhausting! 
Marvel Studios/Walt Disney Pictures          2 Hours 6 Minutes       PG-13    
The post Doctor Strange in the Multiverse of Madness first appeared on Movies and Shakers.
from Movies and Shakers https://ift.tt/R4mgYwl