The Northman Movies and Shakers April 18, 2022
This is a ghastly, grisly, ultra violent film that is hard to watch, but also hard to look away from this visually striking take on ancient Viking lore. Robert Eggers, known for making horror-style films, says this isn't one, but the theme is still betrayal, murder and revenge. It is based on the Norse mythology of Amleth, which was also the basic story that Shakespeare used in formulating his Hamlet characters. And, like Hamlet, there is a strong undercurrent of magic and the supernatural running through it.
All this is complicated by the mother-son relationship between Queen Gudrún (Nicole Kidman) and her son, Prince Amleth (Alexander Skarsgård). In flashback, young Amleth runs for his life after his father, King Aurvandi (Ethan Hawke), is assassinated by his father's brother, Fjölnir (Claes Bang). As he escapes, Amleth repeats his mantra, "I will avenge you, Father. I will save you, Mother. I will kill you Fjölnir." That, in a nutshell, is the effective path the script follows.
Eggers and his writing partner Sjón seem to take almost perverse delight in putting Amleth through physically tortuous scenes over and over again. In the opening scenes, Amleth, as a boy goes through rituals guided by his father becoming a man by wearing animal skins and transforming their primal psyches into that of a wild beast.
Each segment of this epic is bookended with unapologetic inhuman bloody combat. Eggers stages the scenes of war and plunder without regard to the sensibilities of a modern audience to make it seem authentic to the historical time period.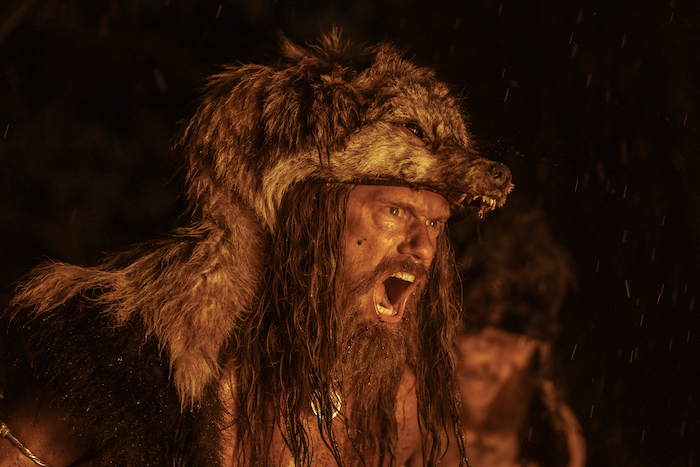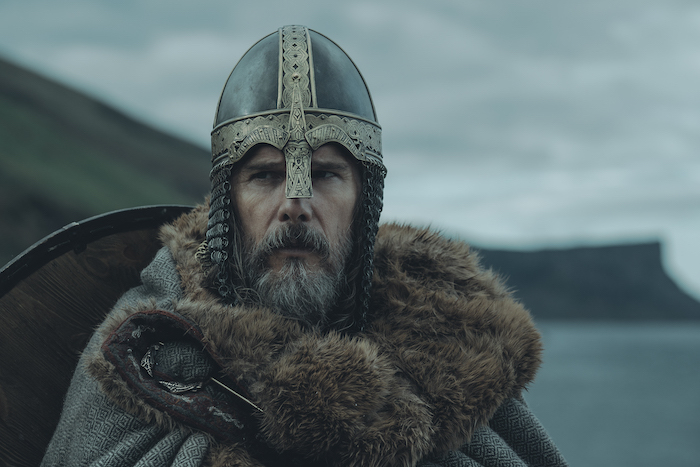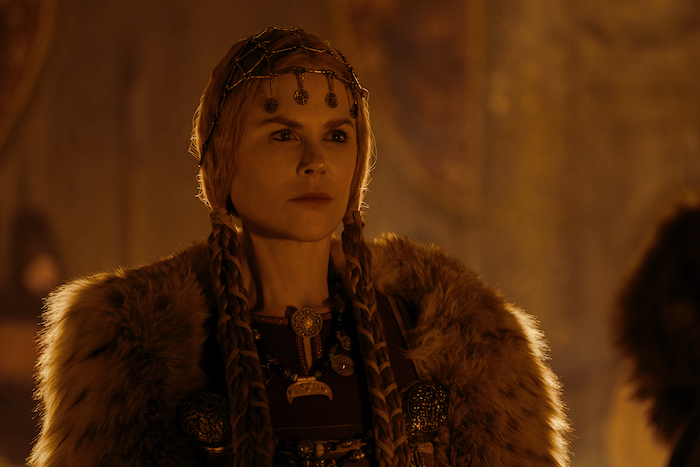 Alexander Skarsgård and Director Eggers met a few years ago without any idea for a film in mind, but when Skarsgård said he'd always wanted to do a Viking movie, Eggers, told him about an old Norse legend he heard from his wife, and decided to go for it.
Eggers, who conceived the equally dark, critically acclaimed The Lighthouse, brings brutal intensity again to all his characters in The Northman. Wilem Dafoe, one of The Lighthouse leads, plays the court jester to King Aurvandill, (Ethan Hawke). Dafoe is nearly unrecognizable at first. And this is another unusual role for Hawke.
In Amleth's travels as he is becoming a man, he meets the beguiling Olga (AnnaTaylor-Joy), a smart, nomadic white witch. Taylor-Joy also worked with Eggars on his film, The Witch. Olga's scheming along with her Pagan witch spells, help Amleth plan his return to get revenge and take back what is rightfully his.He allows himself to be taken as a slave in order to get close to his uncle, Fjölnir. Skarsgård is fully immersed in the role, bulked up and shirtless for much of this movie. He is pent up and rebellious as Amleth waiting for the right time to take on his Uncle, save his mother, his half-brother and what was his father's kingdom.
Björk, playing the seer, adds another dimension to the mythic feel of the film and Anya Taylor-Joy's Olga of the Birch Forest is calm, collected and ready to keep Amleth on his path. They make an appealing team as well as a couple as the story unfolds.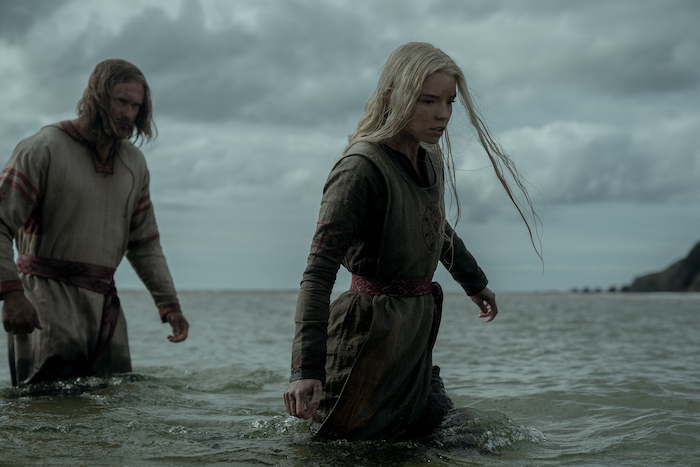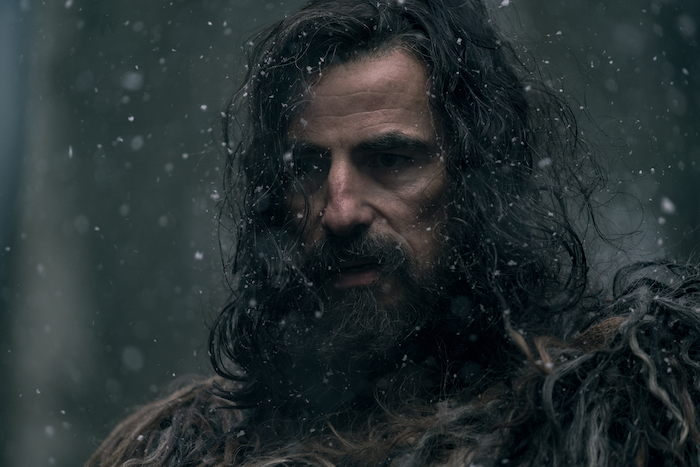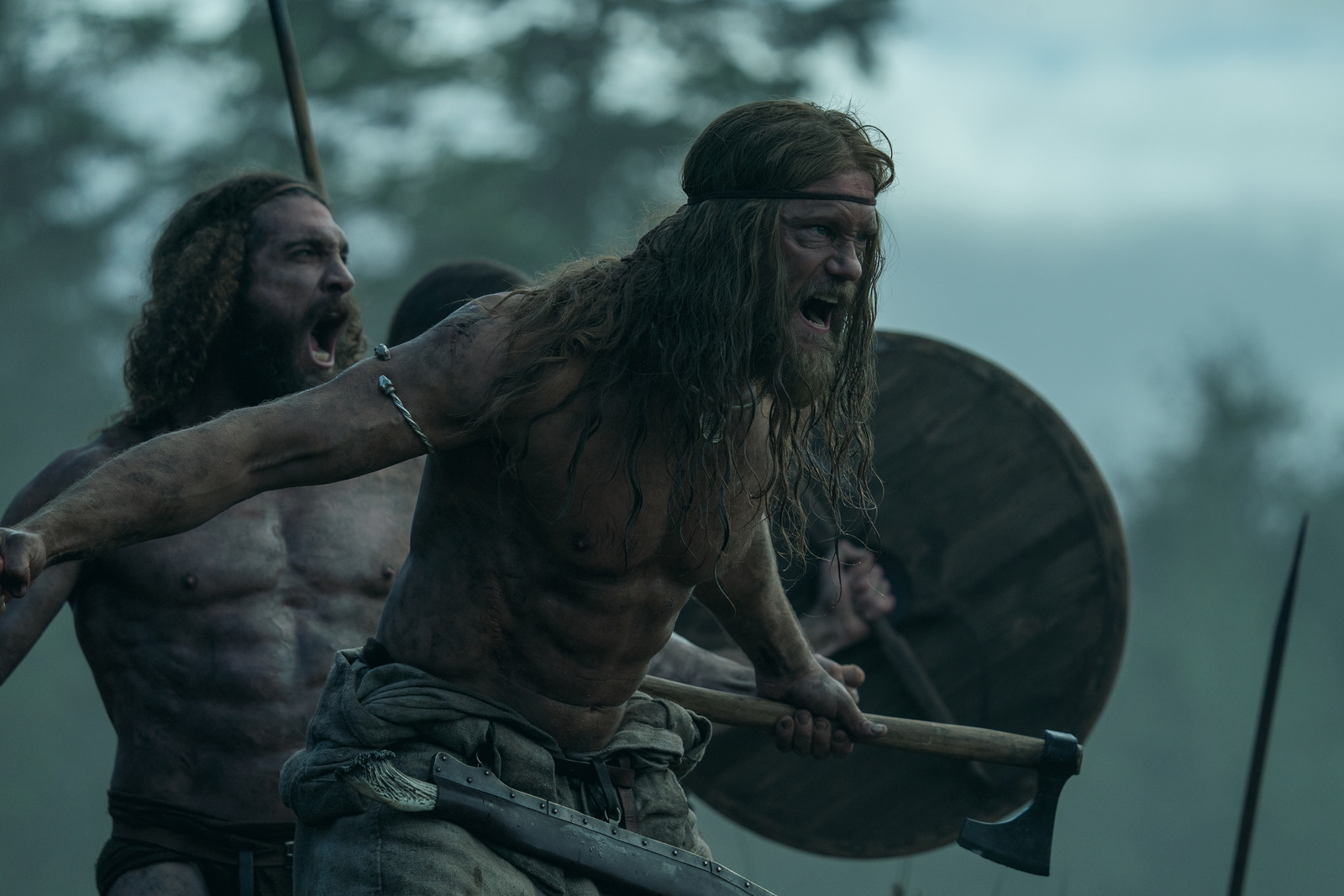 The many episodes of hand-to-hand combat while braving the unforgiving natural forces of the expansive cold, wet environment make this an uncomfortable film to watch on every level. And yet the view through cinematographer Jarin Blaschke's lens is exquisitely detailed to be close to 10th century of several Viking villages, ships and more that Eggers wanted to recreate.
Skarsgård certainly breaks out of his reputation as a Hollywood "pretty boy" with his Amleth character. His portrayal is at times sensitive and caring, especially with Olga, and at others he becomes that animal he and his father were trying to be at the outset. More often than not, it's his ferocious animal nature that keeps him alive while leaving so bloody bodies in his wake.
Credit Eggers for creating a story that is more multi-layered than just focusing on revenge. Class Bang's Fjölnir is not entirely a bad guy. After the assassination of his brother, he fell on hard times, lost his kingdom and had to begin a new life in exile. Amleth's mother, Gudrún (Kidman), was taken by Fjölnir, bore another son and never expected Amleth to return. She's left to decide where her allegiances lie.
This is a film with a distinct vision and precise execution from a talented director who cares more for his craft than making a movie that will appeal to a mass audience. The Northman tells another iteration of a story that we think we know, but in a disturbingly violent fashion. This is a striking film that deserves a big screen, but be prepared for a lot of outrageous brutality in bizarre combat settings, including at the edge of an erupting volcano. The Northman is a Nordic killer thriller.
Focus Features. 2 hours and 16 minutes. R
The post The Northman first appeared on Movies and Shakers.
from Movies and Shakers https://ift.tt/jq9YMtK