Ambulance Movies and Shakers April 7, 2022
This film is overproduced, over dramatic, over stimulating and could be called "We all Crash!" It's Michael Bay on steroids using cars, trucks, helicopters, and, yes, an ambulance to create his most thrilling explosive destruction yet. And it's all packed into one harrowing afternoon!
Timing is everything is this film. Bay's choreography is what he does best. He has numerous metal vehicles of all kinds stopping at the same intersection, nose to nose, in sync, on a dime, on scene after scene with fiery explosions coming right at you. He'd got it down presenting his mayhem as poetry in motion.
The story itself is not even remotely believable. It's based on the original story and screenplay for Ambulancen, the 2005 Danish film by Laurits Munch-Petersen and Lars Andreas Pedersen. But this screenplay is by Chris Fedak (Prodigal Son, Chuck) who adds too cutesy clever and too cool for the room asides that are simply ridiculous.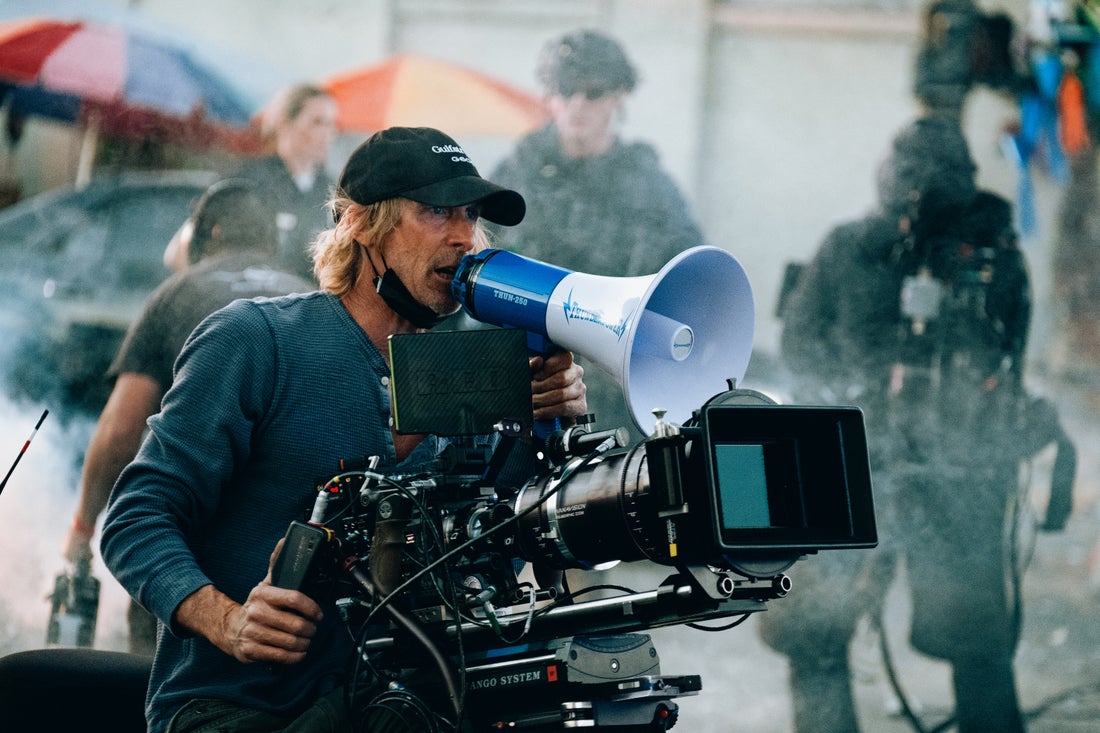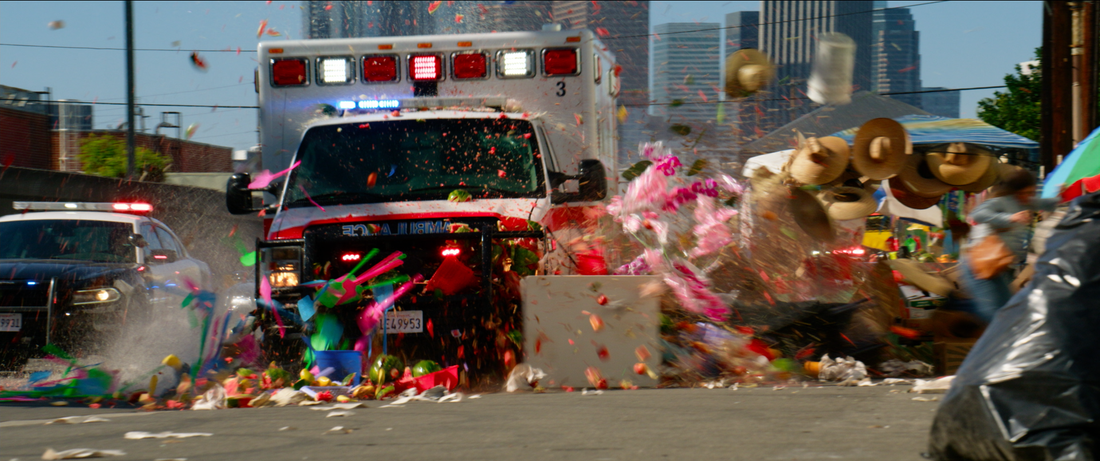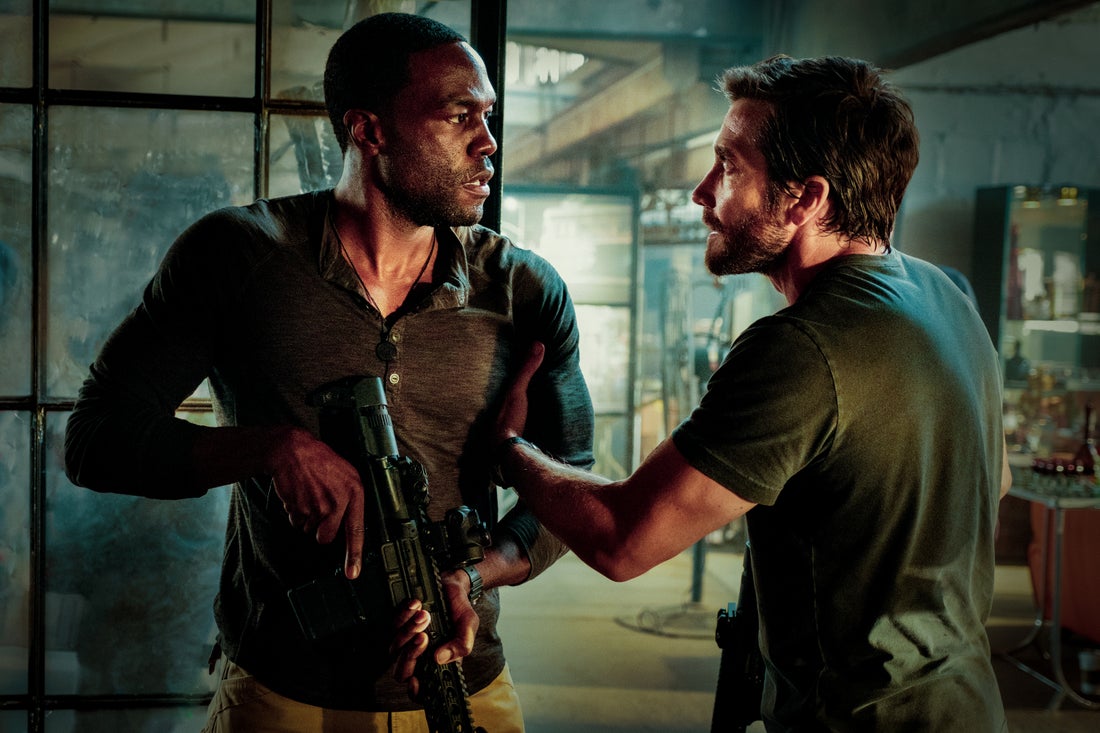 The action starts off innocently enough with a cop who's got a crush on a bank teller. He stumbles into a bank locked by robbers there to take $32 million. It's awkward and badly orchestrated from the start with wheeler dealer Danny (Jake Gyllenhaal – Zodiac, Spider-Man: Far From Home, Nightcrawler) in charge. Of course, it all goes awry.
Add that Danny has forced his adoptive brother, Will (Yahya Abdul-Mateen II – Candyman, The Matrix Resurrections, The Trial of the Chicago 7) to be his wingman/driver, with the promise of a big chunk of change for Will's wife's surgery. Oh, did we mention Will is the father of a very cute baby? Tug at your heartstrings yet? Nope, not to ours either. All we know is that Will is a decorated Marine Veteran who was relying on money from the VA for his wife's serious medical situation. That money isn't coming so Will goes to Danny for a loan. Bad timing for Will, good timing for Danny, who needs Will's expertise behind the wheel.
With a bunch of additional, well-timed mishaps, it's cops and robbers on the run. The rookie cop gets shot and is picked up by ambulance during utter chaos and gunfire on the streets. Gorgeous, hot-shot EMT Cam Thompson (Eiza González – Fast & Furious Presents: Hobbs & Shaw, Baby Driver) has to try to keep the cop alive as the ambulance becomes the focus of a high-speed chase careening into every vehicle and abutment Bay could put in its way. Have to admit Michael Bay knows how to get an adrenaline rush out of his audience. As an added bonus, you get to see life saving surgery being taught via FaceTime from doctors in the middle of their round of golf!! Really?!
Gyllenhaal gets to play the manic, frantic bad guy who is putting pressure on his cartel buddies to come up with decoy vehicles to get the cops off his tail. Will and Danny bounce from ridiculous to ludicrous as they strive to keep their hostages alive. And this is happening concurrently with Cam's hands in the cop's abdomen!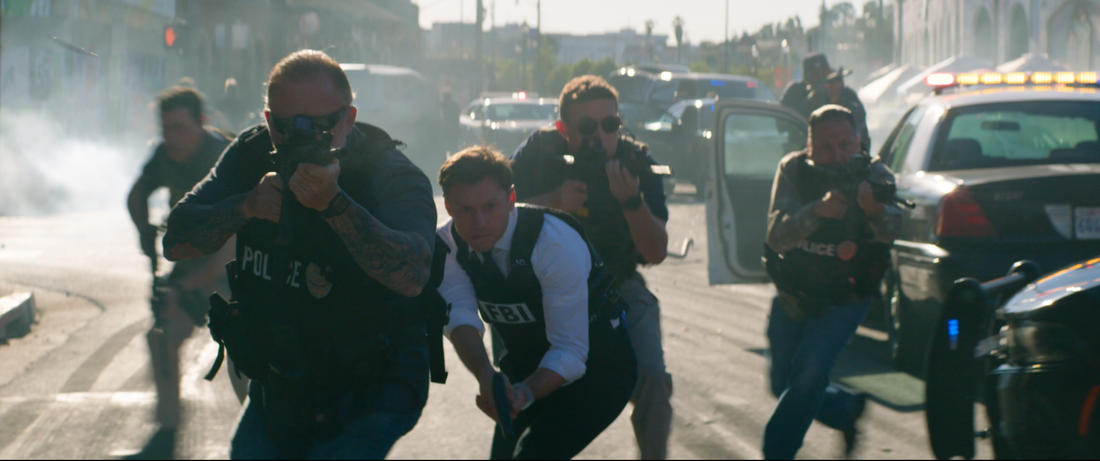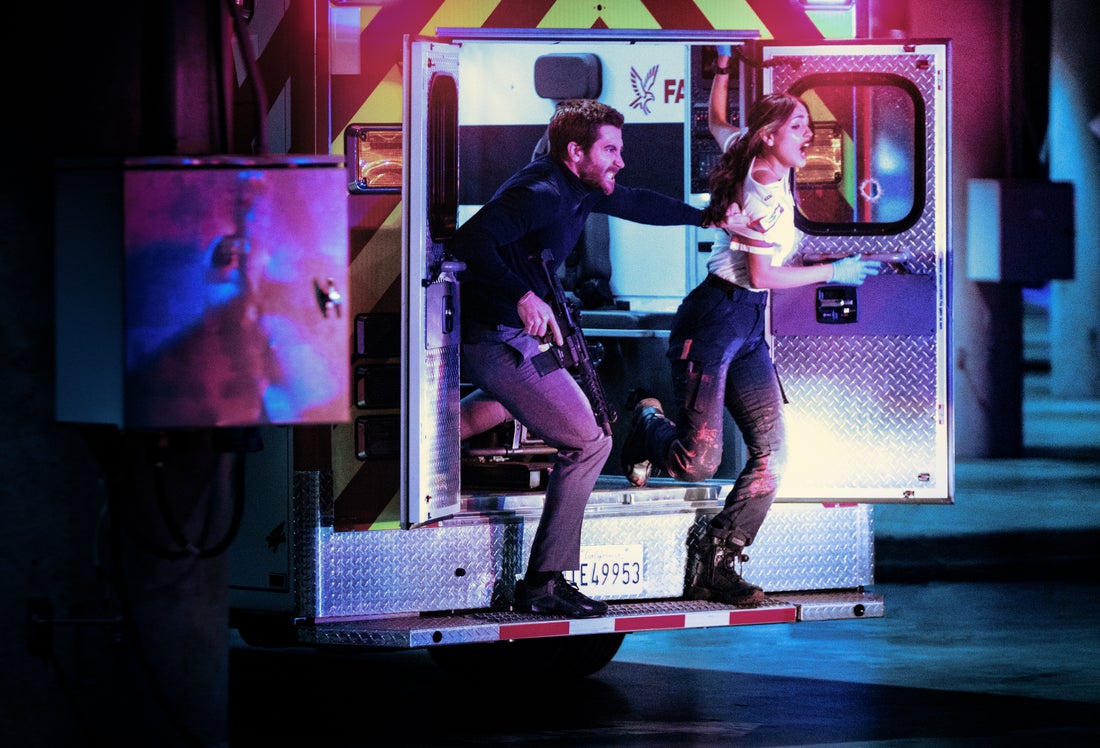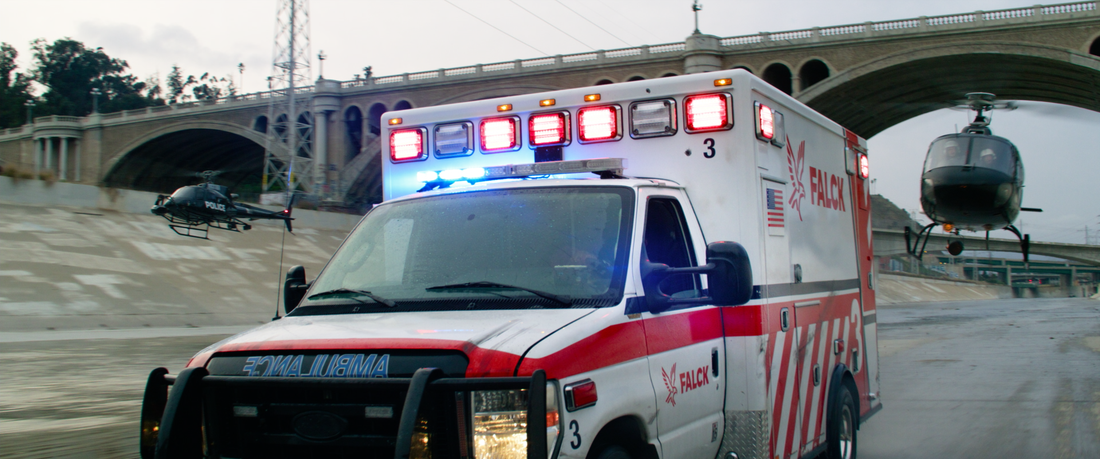 Eiza González as Cam is the sanest of the bunch staying beautiful calm and cool. Somehow, her makeup and lipstick stay in place throughout while performing surgery in the back of a jumpy vehicle. She's supposed to be so savvy, though scared, trying to save this cop who looks to have died at least twice during the film.
Cam bookends the film with an ambulance story where she helped rescue a little girl from a car accident. After more than two hours of guns blazing, crashing metal, broken glass and lots of blood, it's way too sappy.
This is one wild ride, but one which kept us rolling our eyes in disbelief at the relentless chase and clever quips in between scene after scene of bumper cars and explosions. It feels like an elongated combination of several TV crime and medical shows. Fans of mindless action, interspersed with lame attempts at witty repartee will probably flock to see this movie. The rest of us should stay far away from this overblown cinematic crime scene.
Universal Pictures. 2 hours 16 minutes. R
In Theaters
The post Ambulance first appeared on Movies and Shakers.
from Movies and Shakers https://ift.tt/8g1ilo3