Everything, Everywhere, All at Once Movies and Shakers April 4, 2022
This multi-layered, thrill packed action, sci-fi comedy, would be a fantastic experience if the script wasn't such a hot mess. This mishmash of a film mirrors the time in 2016 when the project started to take shape and the political landscape turned upside down. While we still don't know how things will play out in real life, directors Daniel Kwan and Daniel Scheinert (The Daniels) attempt to give us some clues that could lead to better days.
Michelle Yeoh is a wonder playing Evelyn Wang, a Chinese American immigrant who feels unfulfilled in her marriage and under pressure to keep the family's little laundromat business barely running.. But then we see her in a myriad of other versions of herself. She does it all.
Yeoh has already existed in many of these alternate worlds through her previous movie roles. There are not so subtle references to everything from her early Hong Kong crime/action films, to her appearance in the Bond movie Tomorrow Never Dies and classics like Crouching Tiger, Hidden Dragon and even Crazy, Rich Asians.
The Daniels pack their multiverses with so many references to other films, genres and chestnuts that it really is Everything, Everywhere All at Once. It blows by so fast, it's almost impossible to comprehend. This is their second feature after 2016's Swiss Army Man. Here, the Daniels pack this all in at a breakneck pace that gives this feature the feel of one of their music videos. Experiencing this frantic, unrelenting sensory overload for more than 2 hours becomes not only exhausting, but some of the repetitive bits become a bit annoying.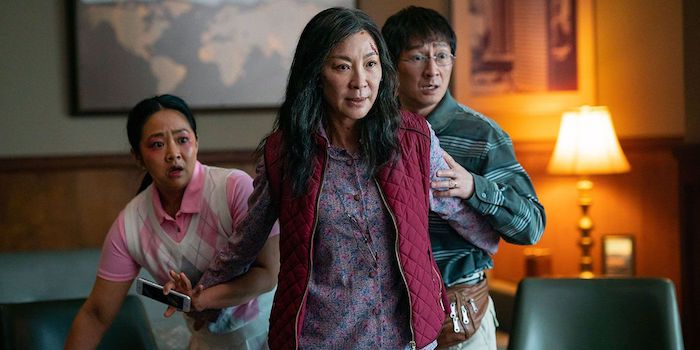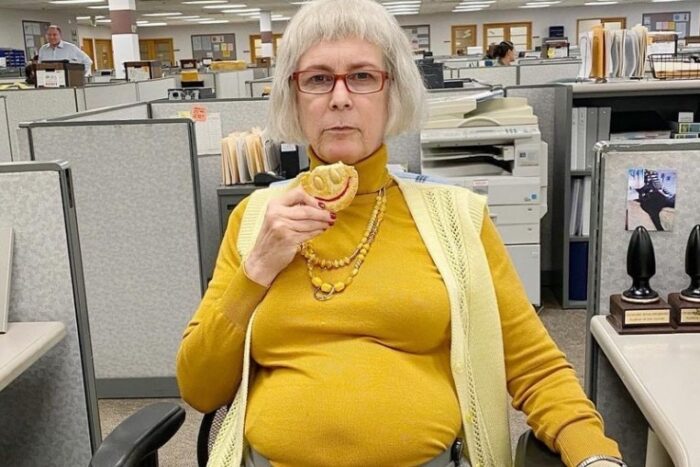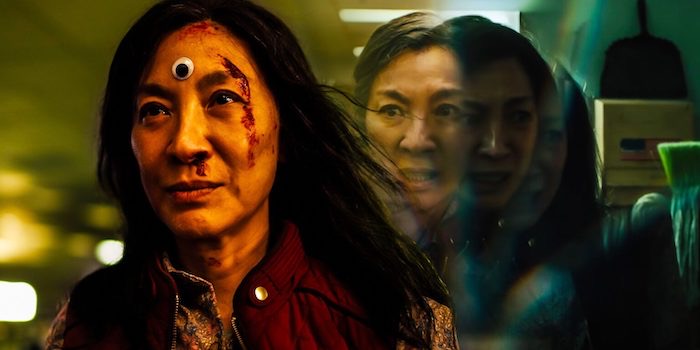 Yeoh's Evelyn exists in a multiverse of herself in different situations, on different paths, having to deal with all the outrageous consequences. Yeoh transforms into an action star in one realm, an international movie actor in another, a skilled teppanyaki chef and even a woman with hot dog fingers! This versatile actress takes on all iterations with total gusto.
The story begins with the family's tax problems and the threat they could lose the laundromat. Evelyn and husband Waymond are in the IRS office. Waymond (Ke Huy Quan) delivers a sensational performance, even thought he hasn't had a significant film role since his child actor days in Indiana Jones. They are joined by Evelyn's father Gong Gong (played by the legendary James Hong) and daughter Joy (Stephanie Hsu) who could care less about the family business. James Hong is so good as the grandfather, we wish he'd been given more to play with in this convoluted tale.
Then comes the fun facing the outrageous Deirdre Beaubeirdra, the IRS agent ready to throw more than the book at them. Jamie Lee Curtis is absolutely fearless showing zero vanity in her portrayal of the vile agent who lets it all hang out. She is mean, unattractive, lethal and comical on every level. While all this is in progress the multiverse opens up and Yeoh is thrust into the battle to save the world from an arch villain named Jobu Tupaki (also played by Stephanie Hsu).
At its heart, this is a movie about family relationships, especially the mother-daughter conflict between Yeoh's Evelyn and her daughter, Joy, (Hsu.) By the film's end we're supposed to become more emotionally involved with these two, but that's another one of the places where the script fails to deliver.
But stay with us, because, to complicate matters, there's another Waymond who is a much braver warrior who shows Evelyn her potential and what she is really capable of. This is where The Daniels show that every decision Evelyn makes in one multiverse affects outcomes in all the others. Unfortunately, some of those decisions end with butt plugs and ball gags. We're just not going to explain further here.
Other choices will direct Evelyn to a more fulfilling, satisfying life and she is constantly tested and pushed to step outside her normal self when faced with each absurd, nonsensical challenge. Yeoh's Evelyn has to fight, sometimes with bloody brutality to survive. And Yeah goes for it every time.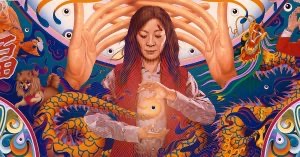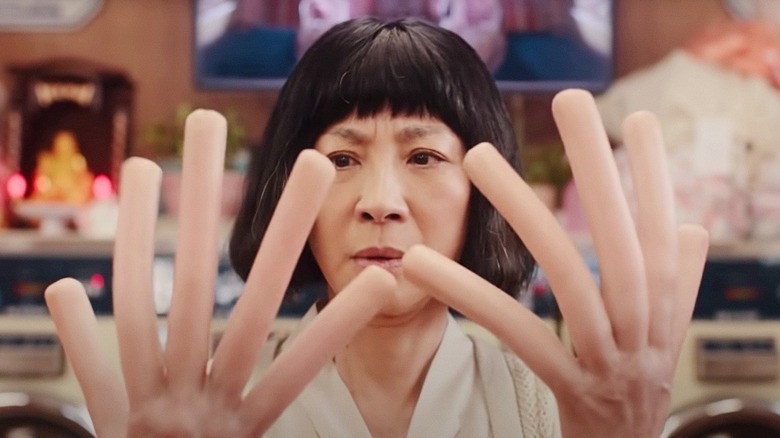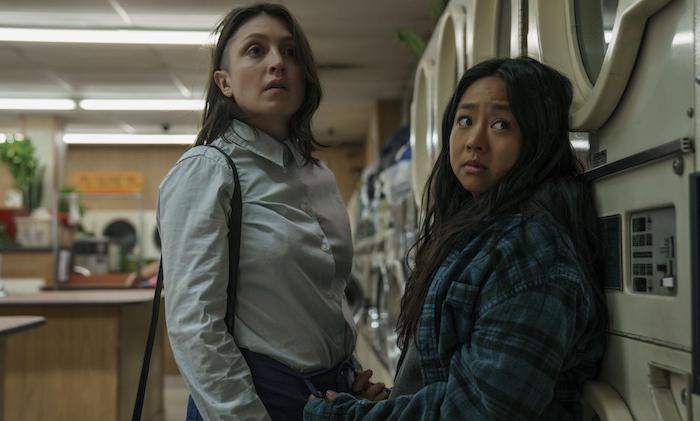 We say this often, but it has never been truer than in this case. Everything Everywhere is just too long. The Daniels tease the audience with a few false endings, but we wish they had carried through with what they tease. All of a sudden, there are more chapters, and added chaos to confuse the issues. And the final act has too many relationships to emotionally re-connect, using a bagel?
Although the violence and physical comedy are all choreographed with great precision, one moment we're in a kung fu training session and the next in a kitchen with a chef who's got a Ratatouille expert under his toque who tuns out to be a raccoon! There are some funny moments and while they bring audience laughs and gasps, there are also plenty of crass, gross episodes of sexual humor that fall flat.
The look and feel of the film is unbelievably frantic. There are so many whirling quick cuts, slo-mo adjustments, and reversals at break neck speed that it may feel like whiplash. Multiply that by the explanations of all the storylines coursing through the multiverse and the result is simply too much of Everything Everywhere All At Once.
A24 2Hours 12 Minutes R
In Theaters Now
The post Everything, Everywhere, All at Once first appeared on Movies and Shakers.
from Movies and Shakers https://ift.tt/AaKzPw9