The Lost City Movies and Shakers March 24, 2022
Sandra Bullock is back on the big screen playing off Channing Tatum in a fun romp that's a silly action adventure most of us need right now. Brad Pitt pops out of nowhere adding action hero antics as icing on the cake. This is definitely a Romancing the Stone wannabe, Bullock admitted in Q & A after seeing the film with she, Radcliffe and directors, Aaron and Adam Nee at SXSW.
Loretta (Bullock) is the author of a series of popular romance, adventure novels, but she hasn't published a word since her husband died. Alan, also known as Dash, (Tatum) is the glorified hunk of a cover model of her books who makes public appearances with her. Despite the urgings of her agent, Da'Vine Joy Randolph, Loretta wants no part of the appearances for her fans, or to be around the supposedly dashing, but dimwitted Dash.
She's kidnapped from the appearance, still wearing her flashy, fuchsia pink sequined jump suit by rich adventurer, Abigail Fairfax (Daniel Radcliffe). Fairfax thinks she can help him find the actual treasure she wrote about in her last book. When Dash/Alan realizes what's happened, he is out to prove he can be a hero in real life. He chases after her in his own totally inept way, with tourist luggage and an inflatable neck pillow to help save the day. And it just gets all the more laughably ludicrous. When he finds her in the jungle, the two city dwellers become a frightened comedy duo who have to tackle all kinds of unknown dangers.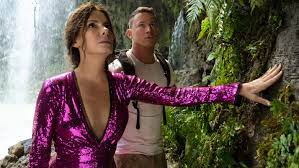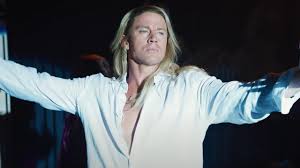 The scenes with them struggling, climbing cliffs with Loretta still wearing that pink sparkling jump suit and Dash driving a tiny car on dirt roads to nowhere, are well shot by cinematographer Jonathan Sela. The pull backs showing the danger they're in, and the closeups where Dash is pushing Loretta straight up cliffs by her butt are pretty hilarious.
The best scene is when, after walking through a swamp to get away from the villainous Fairfax, Dash's whole body becomes a landing pad for leaches. Of course, Tatum gets to shed his shirt and more, showing off his muscular physique, but it's also a fun way to have he and Bullock play off each other as she reluctantly pulls the slimy critters, one-at-a-time, off his amazing body.
Tatum plays scared and she is utterly revolted by having to pick them from his most sacred body parts. Bullock and Directors Nee admitted having to shoot 20 minutes more of takes for that scene because of the wild lines and the actors breaking character that broke them up. Nothing was off limits. It could become a memorable comedy scene.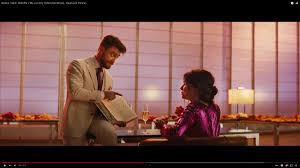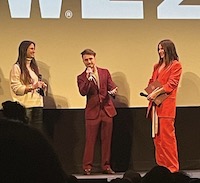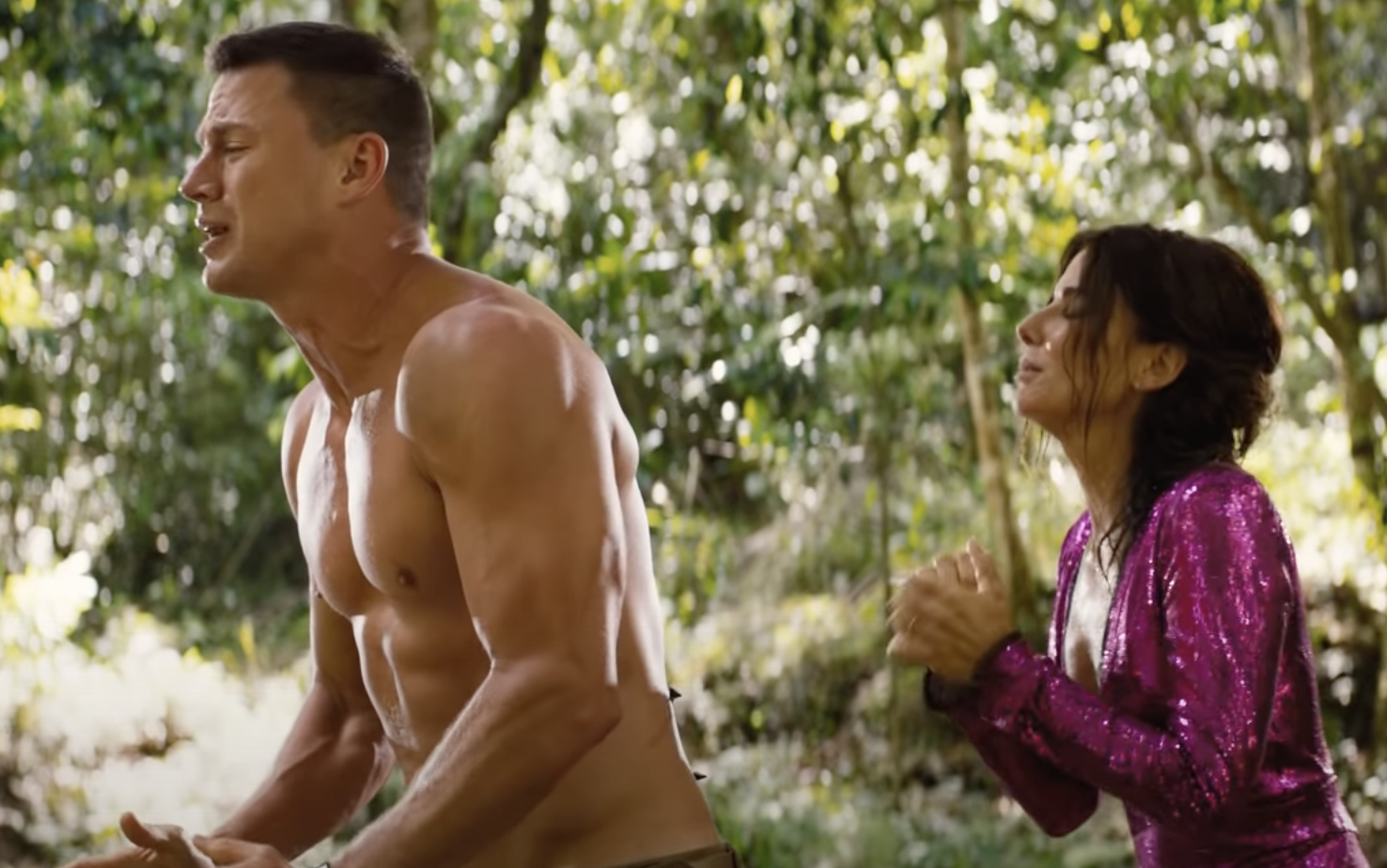 Daniel Radcliffe said he had a lot of fun playing evil for a change as the fortune seeker who gets to zip tie Loretta to a chair in his tent trying to get her to help him find the ancient fortune. That's until Brad Pitt as jungle savvy Jack Trainer, literally jumps in to save her, much to the chagrin of the inept Dash, disappointed he didn't get there first. The dichotomy between Pitt's authentic military acumen and Tatum's lack thereof is astounding.
This is a film we've all seen before in one form or another, but the Nees have fun throwing their cast into absurd situations with lots of fast-paced banter and comebacks. They also give the supporting actors some nice cameo moments, especially Da'Vine Joy Randolph's Beth, who also gets on the trail wearing business attire to the jungle to save the day. But it's Oscar Nunez's deadpan comedy as Oscar, the pilot of the dilapidated plane Beth shares with a goat, that also gets big laughs.
This is yet another pandemic era film that managed to get made in beautiful, exotic locations with a sizable cast and crew. So kudos to the team that kept everyone healthy. And Bullock says it gave 150 jobs to Costa Ricans and left the ability for the people living there to get into filmmaking themselves as a by-product of their fun making this one. And there is a beautiful scene of Bullock and Tatum just dancing to the tune of local village musicians that is a nice break to the franticness of the film.
It's the essential likability that Sandra Bullock brings to her performance and the enjoyment of seeing Bullock and Tatum go at each other, verbally and physically, that makes the film fun. This isn't a groundbreaking comedy or action film, but for audiences it's worth finding The Lost City.
Paramount Pictures 1 hour 52 minutes. PG-13
In Theaters Now
The post The Lost City first appeared on Movies and Shakers.
from Movies and Shakers https://ift.tt/ciPxGye