Uncharted Movies and Shakers February 17, 2022
Don't expect to see Tom Holland and Mark Wahlberg stretch their talents in this action adventure based on a video game. Once the Playstation controller is out of hand and the game player becomes a theatre audience member, the audacious, ridiculous action sequences are just that. Without being in control of the action it just isn't as much fun. This film has been on Sony's radar since 2008 so just getting it made is a minor triumph.
Holland as Nate, is a talking action-ready junkie whose ability as a bartender to juggle bar ware making cocktails is impressive. Wahlberg as Victor "Sully" Sullivan is the snide, sarcastic opportunist. The only positive notes come in the interplay between the two. Their sarcastic back and forth patter is well written by Rare Judkins, Art Marcum and Matt Holloway. The pacing from Director Ruben Fleischer is similar to the patter that worked so well for him in Venom. 
Anyone who plays action-adventure video games expects the characters can do impossible stunts and survive every certain-death challenge. But translating that vibe to the big screen doesn't work here. Cinematographer Chung Chung-hoon's shots at times seem constrained by the COVID production protocols, especially the frequent close-ups of Holland clearly shot in front of a green screen.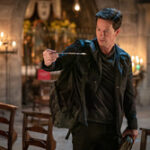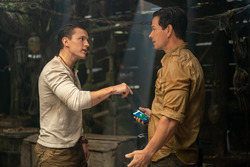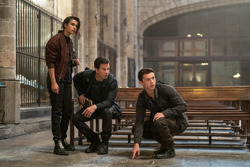 Nate and "Sully" bounce from being selfish rogues to buddies. Nate is the sentimental compatriot, hoping against hope that he can re-unite with his missing brother Sam. Nate and Sam were living in an orphanage together until Sam ran off after a botched burglary. He thinks Sam ran off to follow his dream to find the ships of Magellan filled with gold that were lost 500 years ago. 
Sully is a professional treasure hunter always looking for the ultimate "big score." Thinking Nate may have clues from Sam, he recruits Nate to unlock the mystery surrounding Magellan's lost ships and the billions of gold in the hold.
While Sully is a bit more realistic in his desire to avoid risking life and limb, Nate is all-in, all the time. The big action sequence in the hold of a cargo plane and the battle played out in mid-air without a parachute is just outrageous and outlandish. Tom Holland might as well be an animated character because it's so cartoon-like, yet you have to watch to see how he's get out of it. 
Jo Braddock (Tati Gabrielle) leads the cadre of seems-to-be-good but is really one of bad guys. Braddock is strikingly beautiful, but has a lethal sneer. She's just the kind of diabolical character a movie like this needs. She's single minded in her efforts to steal the vast Magellan gold for her boss, Moncada (Antonio Banderas) who always speaks in a low, gravelly growl, apparently to let us know he's evil, too. Banderas is capable of more. 
Chloe Frazier (Sophia Ali) is a little more complicated, since she's somewhat conflicted about whether to throw in with Nate and Sully, or throw them under the bus. Nate has been given a nicely nuanced relationship with her. It thankfully makes their time on screen more than just gun play and fight scenes.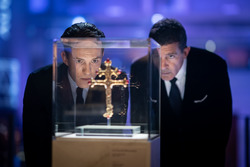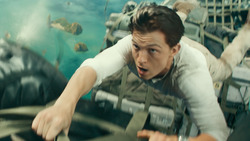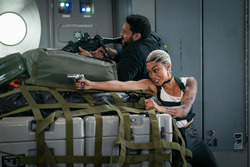 It's worth noting that this film received a PG-13 rating despite the violence and the almost constant profane language. It shows the evolution of what has become acceptable family entertainment. 
The eye-popping CGI stunts and third act air duel featuring 500 year old ships steered by helicopter don't score movie gold. The mid-credit tease clearly indicates the Playstation bosses are hoping for this to start a franchise. But a second installment of will need more than video game gimmicks to make it worth seeing.  While Wahlberg and Holland have star power and on-screen chemistry, this is the kind of film that should have us on the edge of our seats instead of looking at the clock. Unfortunately Uncharted is uninteresting, untenable and unbelievable. 
Columbia Pictures/Sony                 1 Hour 56 Minutes                 PG-13
In Theaters Now 
The post Uncharted first appeared on Movies and Shakers.
from Movies and Shakers https://ift.tt/ZmyMX4v