Marry Me Movies and Shakers February 12, 2022
Just in time for Valentine's Day, Jennifer Lopez pulls out the stops in a rom com about how crazy love can be, but it is so over the top. It looks like  more of a Lopez vanity project with new songs, than a beautiful love story, even though Owen Wilson does a great job keeping it grounded. Lopez is gorgeous and a great performer, and this film is more about her than anything else. 
The script, Directed by Kat Coiro (She-Hulk, Dead to Me, While we Were Here) is an adaptation from the book "Marry Me" by Bobby Crosby. But with all the glitz and glamour, it feels embellished to the max with a sexy, sparkling array of costumes and sets. Lopez' wardrobe throughout the film is so ostentatious and revealing, the 20 and 30 somethings will love it. 
Lopez loves to be in love and is a serial monogamist. It's ironic that she, herself, has been married thrice and engaged even more times to very high profile men. Here, as Katalina "Kat" Valdez, she is a big Latina pop star about to get married to Latino heartthrob, Bastian (Maluma), live, on stage. It's to be a huge televised concert shown on every social media platform in the world. It also is a great way to show off JLo and Maluma's new music in full production, back-up singers, dancers and all to sell an album.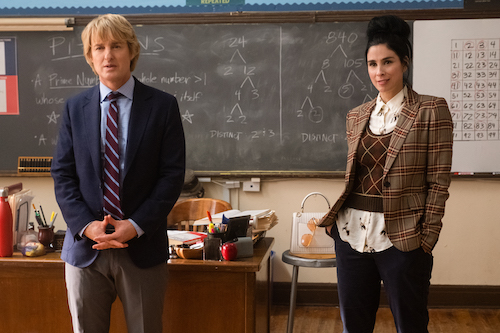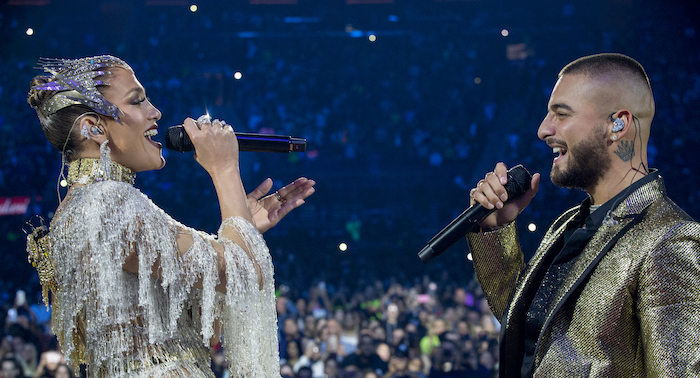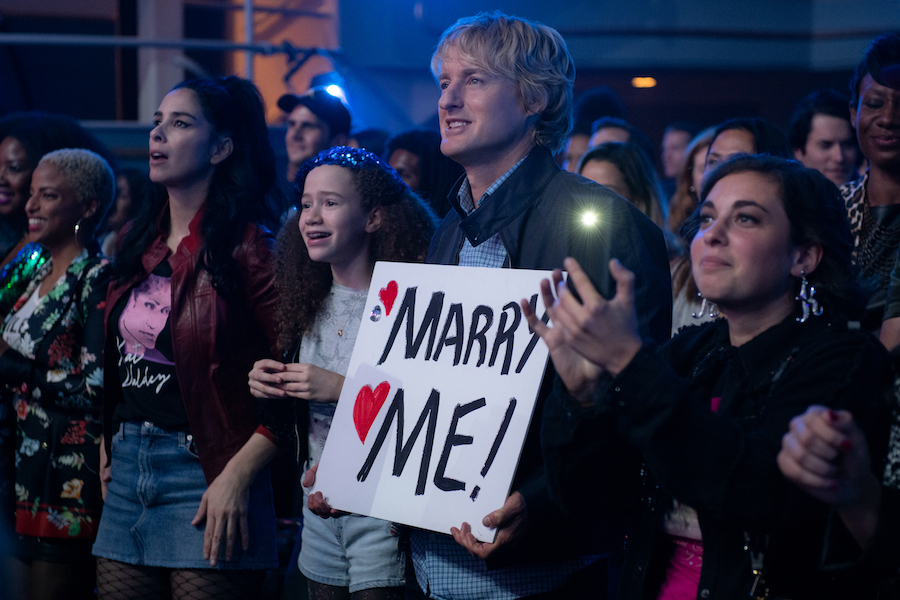 Before the big event, we get background on nice but boring, divorced single Dad, Charlie (Owen Wilson) whose daughter, Lou (Chloe Coleman) consistently rolls her eyes whenever he tries to be a loving Dad. Wilson is cute, and doesn't overplay the role at all. Fellow teacher Parker (Sarah Silverman) is his buddy, trying to get him to loosen up and get with his daughter's program. Silverman is a strong personality we enjoy for her humor, but here, she just tries too hard. When she scores tickets to see "Kat" with Maluma get married in their TV/social media fueled concert/wedding, she prods Charlie to go to help his relationship with Lou who prods prods him to go, too. 
When last minute, damaging news, is delivere on stage Kat by her manager Colin Calloway (John Bradley – Game of Thrones) that Bastian cheated on her, "Kat" picks Charlie from the crowd when Parker puts the "Marry Me" sign in his hands! Really?! No marriage license necessary. Just a flurry of panic and a wedding ceremony. 
The rest of the film is how they get to know each other finding how different their lives are. Kat's life is filled with materialism and the director shows it off with blatant and shameless product placement of everything from designer clothes and purses, to cars and brand name beverages. Several talk show hosts from NBC Universal, including Hoda, Jimmy Fallon and more celebs show up touting Kat. It's all worked into the story. Scores of paparazzi cameras and fans follow Kat everywhere, except when she and Charlie are walking by themselves, talking. Then no one is around to bother them which doesn't make any sense. Why isn't anyone trying to follow the biggest talent in the world to take photos of them together when they are the focus of this big story? Kat starts to develop real feelings for sweet, honest nerd Charlie who don't believe it will last.  Contrived as it is, they bond, intimately.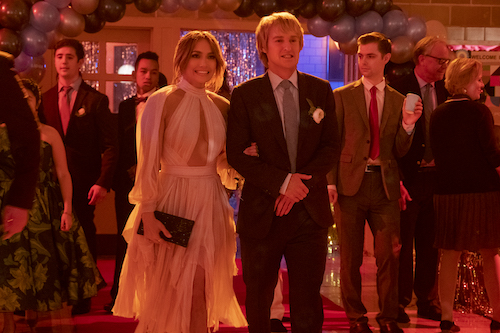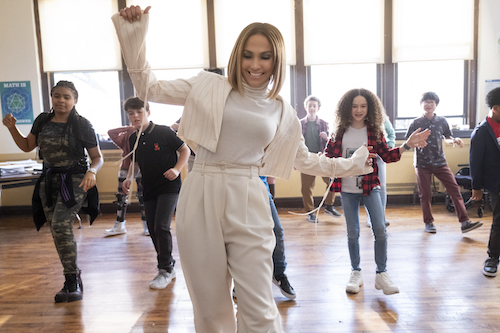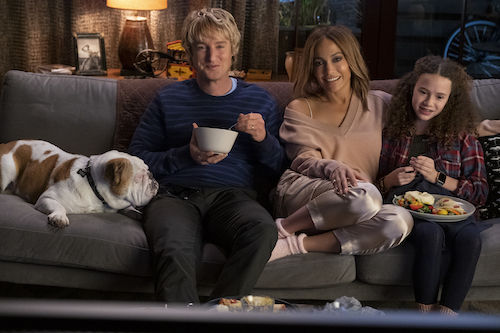 Lopez as Kat makes an effort to show she is open and may enjoy a change in her diva lifestyle after seeing Charlie's more simple life with grounded basics. Charlie is also connecting better with daughter Lou who is also bonding with Kat. She is a hit with the kids when Charlie takes her to the school dance which turns into another concert. The best scenes are Wilson conducting math class and when JLo turns the class into a dance lesson. 
Is it enough to put beautiful, famous performers like JLo in outrageous outfits, singing some original music, reminding us how rich and famous they are, but showing deep down, they are just regular folks like us and call it a movie? From the moment Sarah Silverman hands the "Marry Me" sign to Owen Wilson at the wedding concert, you know, whatever else happens along the way, he and Lopez are  going to end up together. No spoiler here, just look at the trailer. This is not the best rom com, but timed for Valentine's Day, it may set a few hearts on fire if you just let it roll.
Universal Studios   1 hour 52 minutes.  PG-13
In theaters now and Streaming on Peacock. 
The post Marry Me first appeared on Movies and Shakers.
from Movies and Shakers https://ift.tt/y4B5Uqc