Death on the Nile Movies and Shakers February 11, 2022
Kenneth Branagh has another love affair with Agatha Christie, an all-star cast, fabulous trappings, and stunning settings. This ship has sailed before, but this journey takes too long before the story shoves off. 
It starts with a long, dynamic black and white follow shot in a WWI trench leading to the tragic reason for Hercule Poirot's signature mustache. That scene was not a part of Christie's original work. Branagh sports a stashe, not as overpowering as the one in Murder on the Orient Express, but layered like a Christmas tree and very fancy. Poirot shows emotion in the first scenes, and why his demeanor changed being more stoic. Branagh wrote the screenplay with Michael Green (Jungle Cruise, Murder on the Orient Express, Blade Runner 2049).
Poirot was supposed to be on a vacation aboard the Karnak, a passenger ship floating down the Nile. Karnak means "premonition" which is a clue in itself. This ship was actually reconstructed for this film and it's a spic and span beauty, not unlike the main characters in their finely tailored, period frocks.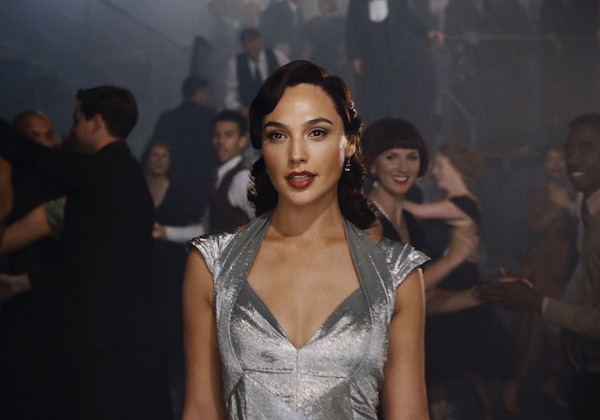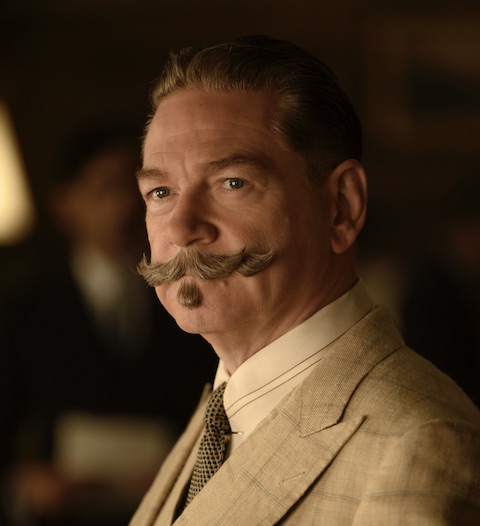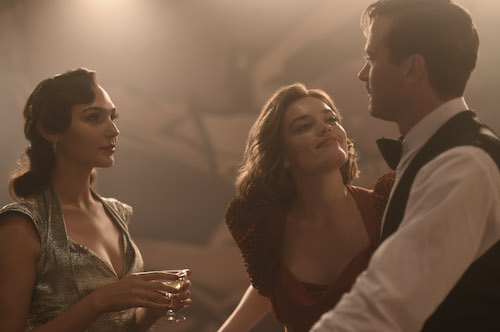 Backstory comes first where Simon Doyle (Armie Hammer) and Jacqueline or Jackie ( British/French actress, Emma Mackey, who bears a striking resemblance to Margot Robbie) generate an overabundance of heat at a club on the dance floor. Their moves are way too sexy for the 1920's. In walks Linnet Ridgeway (Gal Gadot), the epitome of classy, rich high society, gorgeous, and already a friend of Jackie's. So glad to see each other, and so is Doyle. 
Sparks fly when Linnet and Doyle slow dance and something happens. Next thing you know, Linnet and Doyle are getting married, booking their honeymoon on the Karnak. The switch in Simon's affections from Jackie to Linnet is much too quick. But guess who shows up on the ship? Jealous Jackie is there to make their honeymoon less than wonderful. 
First, Hammer's presence in the film is not as much as we expected or thought should be. It seemed as though his part was scaled back. Maybe that was due to the recent attention to Hammer's personal life. Other, lesser character roles, like Windelsham played by Russell Brand, were expanded. Shot in 2019, and in the midst of the pandemic, Branagh had lots of extra edit time.
Rounding out this rogue's gallery is a pair of older ladies who fret over everything. Of course, there's a nurse (Eleanor de Rohan) with no name, a crusty artist named Euphemia (Annette Bening) and her son Bouc(Tom Bateman) who's a friend to Poirot. There's also an attractive Black Blues singer named Rosalie (Letitia Wright) who captivates Poirot with her realistic attitude.
Branagh takes his time giving the backstory of these many extraneous characters. The film only begins to take off when Linnet is found dead throwing those on board to go nuts. Everyone is suspect. Of course, they turn to the famous sleuth, Poirot, for help. There are diversions and clues along the way.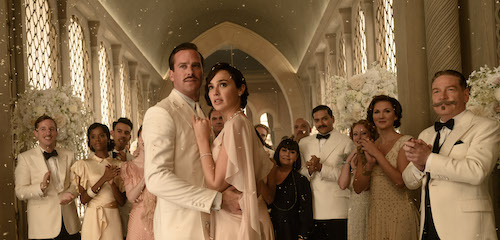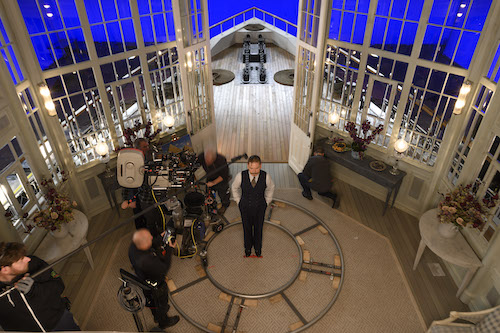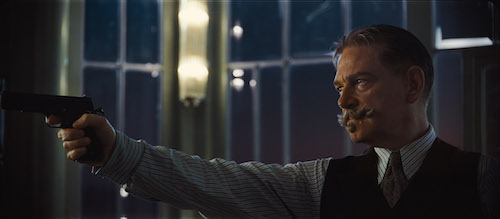 More interesting is the cinematography (Harris Zambarloukos – Belfast, Murder on the Orient Express, Denial, Locke) showing Poirot thinking while walking around the pristine wood deck beautiful wide shots of the boat floating down the Nile with the water glistening in the moonlight. There are many scenic shots of the impressive Egyptian monuments and the luxurious ship. But the pacing and editing starts at a sluggish pace and it just takes too long to get through the introductions of all prospective suspects. Only late in the movie, when the bodies start piling up, is there any excitement. 
Despite the curveballs thrown at Poirot, he, once again, shows off his brilliance solving the case. But Branagh is not as much fun to watch as Poirot in his previous films. Stay for a surprise scene during the credits. Despite the cast, the beauty and detail, this film doesn't flow. With so much death on the Nile, but maybe the last victim is the movie itself.
20th Century Studios      2 hours and 7 minutes.   PG-13
The post Death on the Nile first appeared on Movies and Shakers.
from Movies and Shakers https://ift.tt/bAJ5dSN