The 355 Movies and Shakers January 7, 2022
Having said forever that it's time for a female James Bond style action film, this is a qualified good start. With competent stars Jessica Chastain, Diane Kruger, Lupita Nyong'o and Penelope Cruz as globe trotting spies working together to save the world, there's more to the eyes as just females fighting. Director Simon Kinberg (X-Men) wrote the convoluted spy caper with Theresa Rebeck. The story's thin, and as seen often in action flicks, it's just the threat and thread to get from one battle to another. 
Chastain has been fighting for fair pay for females ever since standing up for Octavia Spencer to get 5 times what she asked for acting in The Help. On a jury at Cannes a couple of years ago, she noticed male actors getting financing for their action films and decided why not do the same. All of the actresses in this film own a piece of it and were all paid the same.
Chastain as Mason "Mace" Brown , is a top notch CIA operative and Kruger as Marie is a bad ass German agent. They play tough with the macho bad guys in the film, but also against each other. Kruger is impressive, not only for her beauty and tenacity, but her command of several languages. And Chastain was so driven to make the fights real, one sent her to the hospital with a pronounced contusion to her head. She and Kruger also put in overtime so they could do their own stunts for one of their more aggressive fight scenes.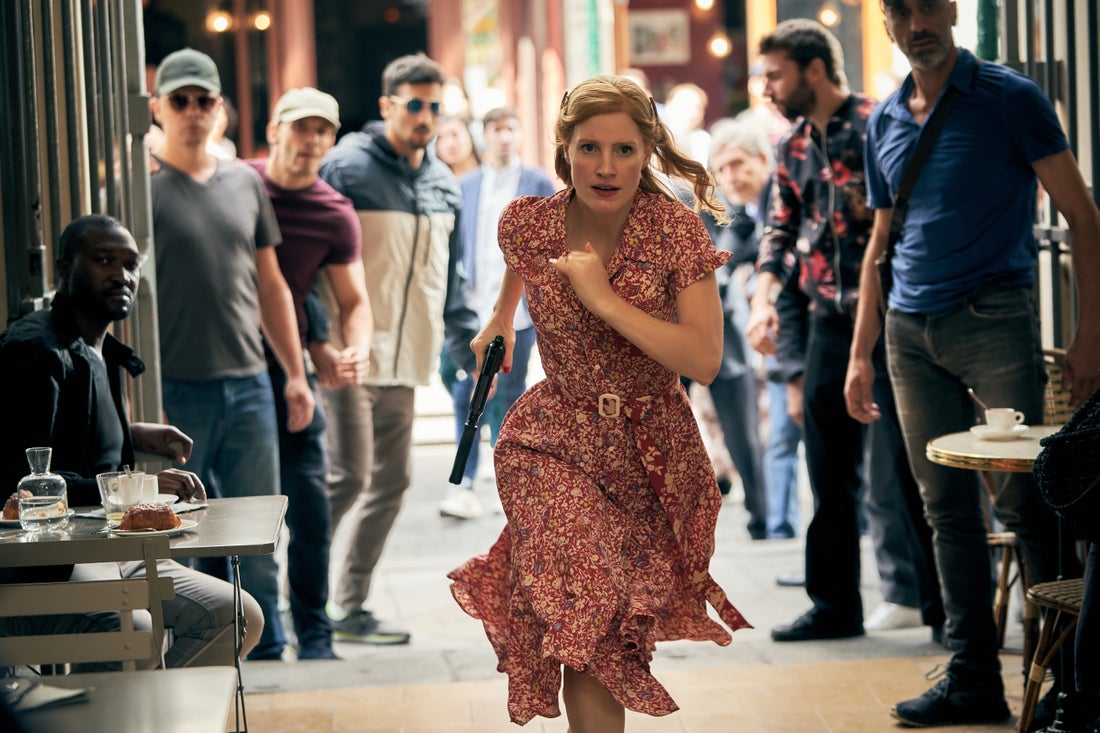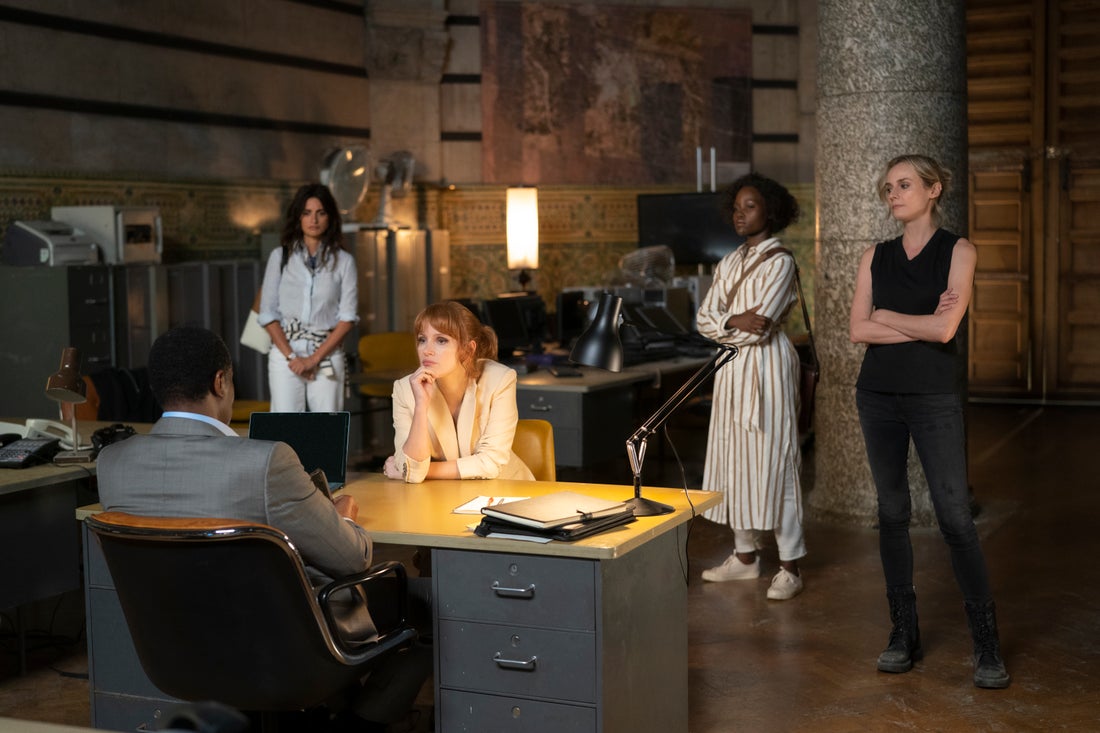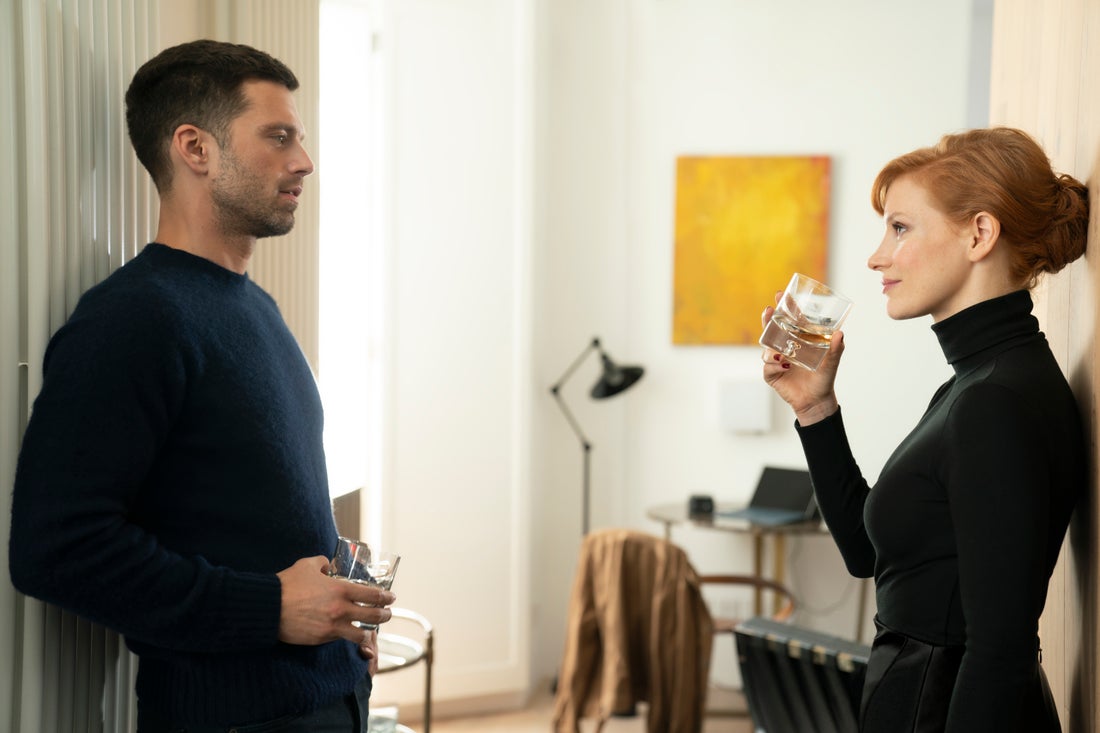 Chastain's partner at the CIA is Nick (Sebastian Stan Captain America: The Winter Soldier) who she calls her best friend, but he wants it to be more. Stan cuts a dashing romantic figure. As Nick, he is the only person she has allowed herself to get close to. He wants more, she wants less, but they have to play a honeymoon couple on their new mission. 
This is a film that telegraphs with obvious clues expected twists. Even though you see them coming, the action scenes in exotic places kept us interested. Mace and Nick go to Paris first, then Mace basically goes from fight to fight, and chase after chase going from Washington DC, Paris, Berlin, Shanghai, and Morocco. These multiple locations are reminiscent of the films with their spinning globes following "Bond….James Bond" around the world. 
Kinberg fills in the story of a top secret, high tech program as a weapon on a device that can hack and control any country's system.  Whoever owns it is the most powerful person on the planet. It becomes like a hot potato changing hands many times throughout the film. 
Penélope Cruz as a naive Colombian Psychologist and mother or two, Graciela, had never handled a gun, but she gets roped into working with these veteran female operatives. She's very good as the forever frightened bunny trying to keep from getting involved with these tough females. She continually calls home to tell her husband and kids she'll be home soon for supper. 
Lupita Nyong'o as Khadijah is an old friend and fellow CIA agent who used to work with Mace but chucked it all to have a life. She's a valuable computer whiz who can magically find the device everybody's looking for, no matter where it lands. She reluctantly gets roped into globe hopping to find it with these driven women. Nyong'o filled the bill as he smartest and most likable, and like Cruz as Graciela, showed softer edges. 
The film did keep our interest with all its twists and turns, even though we always expected constant periodic action. There's the chase through the metro tunnels in Paris, and high flying jumps at the docks in Morocco, along with Mace hanging from a Shanghai balcony fighting with enemies that keep showing up after you think they've already been taken care of. It's one confrontation after another.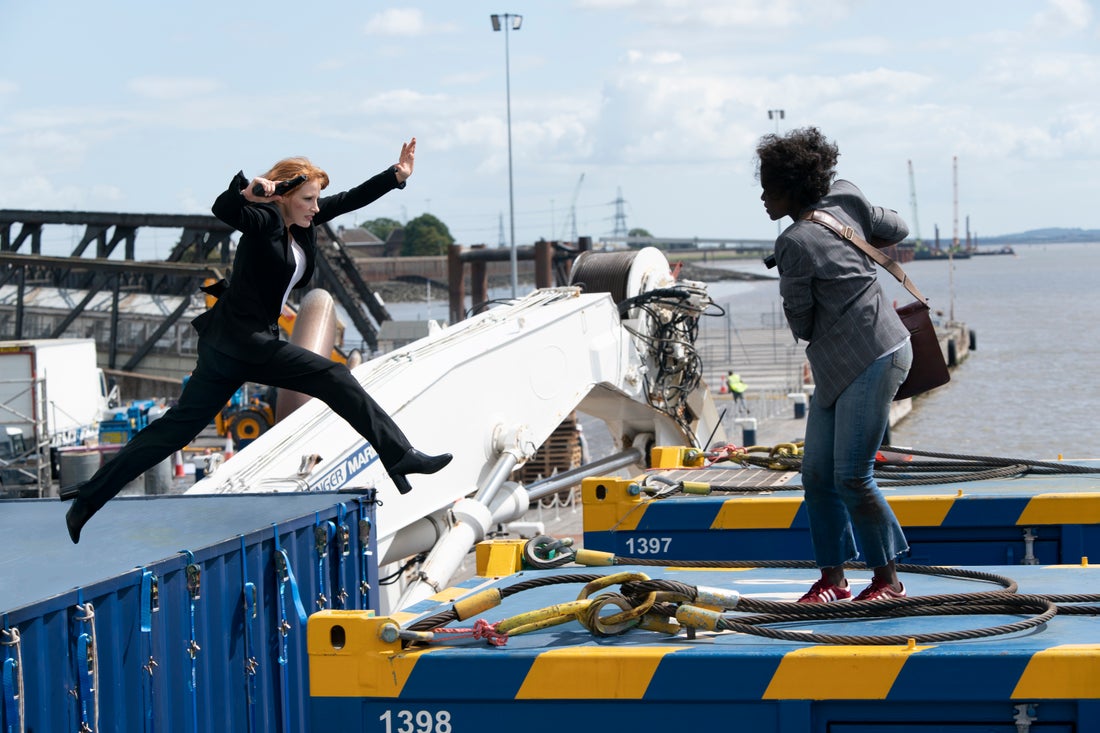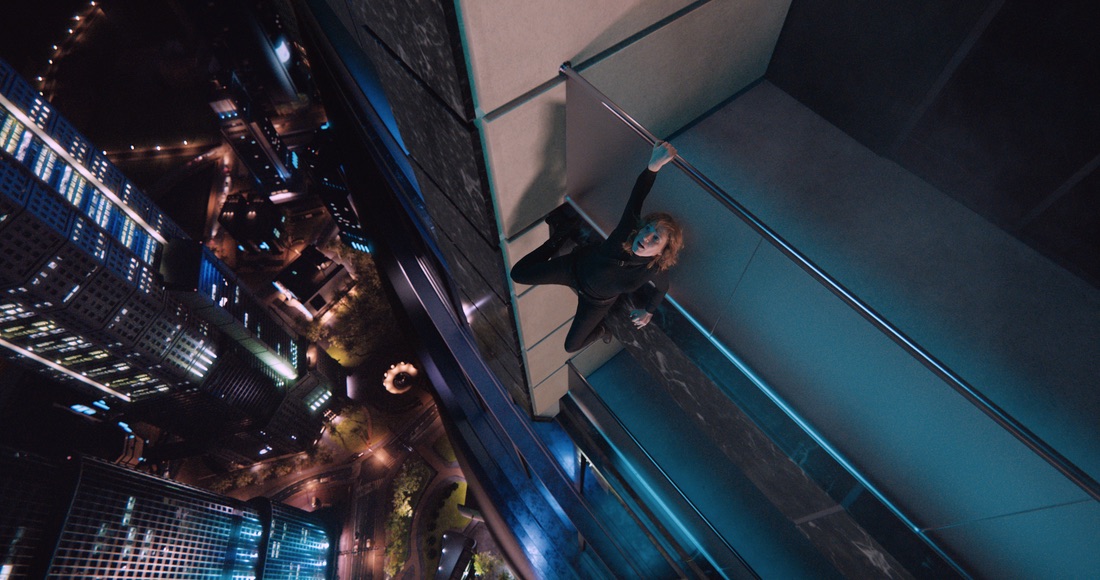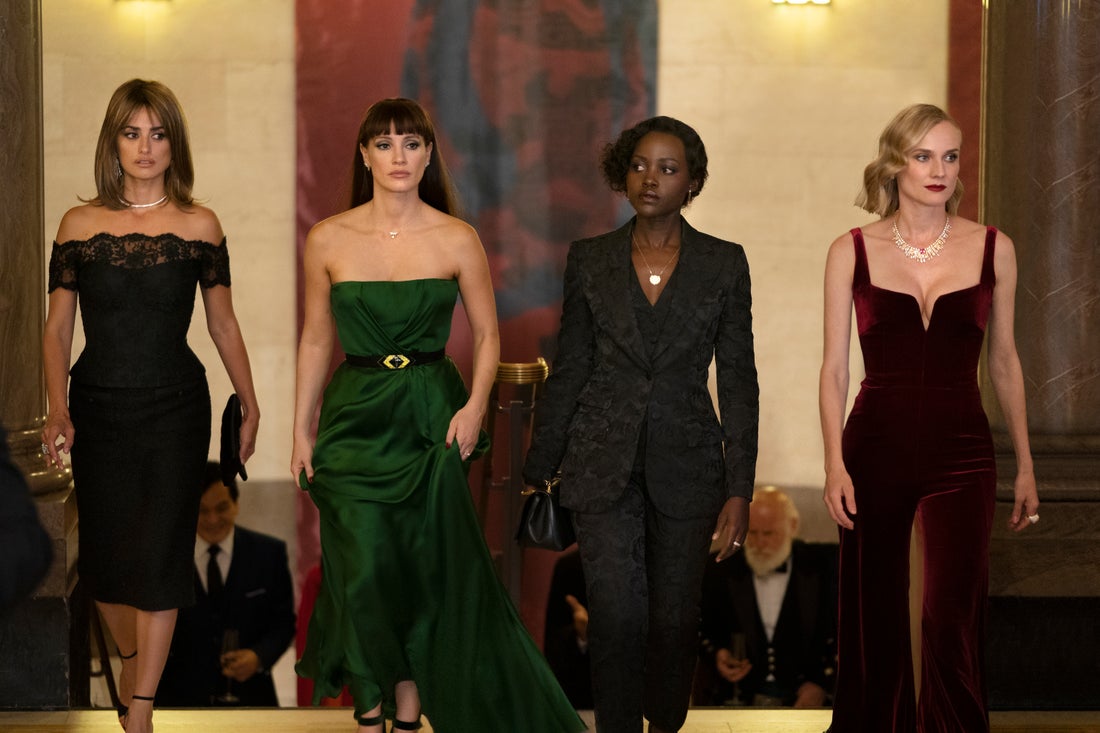 All of the bad guys are men and the women are the strong characters. Add Fan Bingbing (Lin Mi Sheng) as the organizer of the high profile auction where the world's worst villains gather trying to bid on the doomsday weapon so many wanted to get their hands on. It gives Chastain and her posse a chance to dress up to the hilt for a super glamour scene before all hell breaks loose once again. It's amazing how they just show up with all the glamorous trappings. That scene was missing. 
We think there could have been some judicious editing approaching as the 2 hour mark was coming closer, but knew there just had to be one more outrageous surprise. Is this film good?  It's certainly action-packed with gun-fights, hand-to-hand martial combat, stunts up and over buildings, docks, and in high society settings. But without much of a story, it becomes pretty predictable. 
Still, it was great to see these female stars in an action film that broadly hints at the possibility of seeing them again. This film definitely needed a better script to glue the predictable action together, but Chastain, Kruger, Nyong'o and Cruz kick butt together well, proving that besides being easy on the eyes, they're plenty rough around the edges.
Universal Pictures.    2 hours and 2 minutes       PG-13
In Theaters Now
The post The 355 first appeared on Movies and Shakers.
from Movies and Shakers https://ift.tt/3q7Spm8