The Lost Daughter Movies and Shakers December 29, 2021
Maggie Gyllenhaal picked a serious subject we can all relate to for her directorial debut: motherhood. This engrossing, deftly presented story is a difficult watch but Writer/Director Gyllenhaal is not afraid to show the inner conflict between a mother's raising children or pursuing her own life's work. It's based on a novel by Elena Ferrante of a woman's own raw emotions coming to the fore after seeing another mother struggling with her child. Ferrante not only gave Gyllenhaal the rights to use the book, but only on the condition that the actress direct it. 
The film opens with a tragic sight that is instantly forboding. It is of a  woman lying lifeless on a beach in dark of night as water laps up to her body. Curiosity is raised but the tenor changes immediately with Leda (Olivia Colman delivering another remarkable multi-layered performance) being shown her beautiful lodging at a Greek island seaside beach apartment by local expat, Lyle (Ed Harris). 
Leda is an accomplished professor in comparative Italian literature on holiday. Content with lying in the sun reading a book and taking notes. But a loud, rude family shows up and one pregnant member, Callie, (Dagmara Dominczyk – Succession) practically demands Leda to move to give them more space, which she refuses to do. But it opens the door.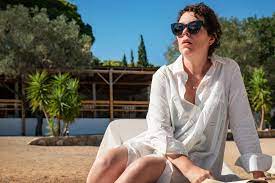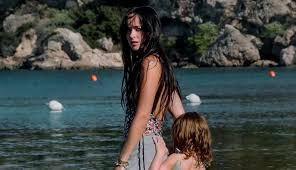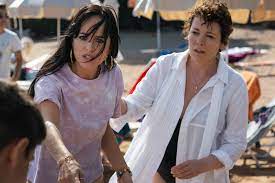 Callie and Leda get into a conversation talking about her being pregnant and about motherhood, asking if Leda has children. Their conversation opens a floodgate of feelings as Leda becomes focused on another member of the family. Nina (Dakota Johnson) is a striking beauty who is reluctantly interacting with her exasperating terror of a young daughter. 
Colman's face becomes a map of restrained emotion throughout the film. Life seems to have numbed her senses and doesn't seem to trust anyone. Colman's facial expression or lack thereof creates a tension that makes you think she could explode at any moment. She is not happy about having to put up with these interlopers. She gets upset watching their family dynamic. It sparks memories of her own behavior as a young mother. 
Gyllenhaal uses flashbacks throughout the film showing Leda's younger self played by Jessie Buckley interacting with her two young daughters and it isn't pretty. You see young Leda trying to work. Her husband isn't supportive and the girls are a demanding handful. This shows an ugly side of Leda who is neither a happy mother nor wife, even though she occasionally tries to have fun with the girls. They think she is magic when she can peel an orange in one fell swoop with a knife creating a snake with orange skin. 
Back on the beach, when Nina's little girl, Elena (Athena Martin Anderson) goes missing, all hell breaks loose. It's any mother's nightmare. Somehow, Leda finds the girl and brings her back, becoming hero of the moment. But Elena is beside herself because her doll is missing. She is totally inconsolably unruly for days. Everyone in the family is fixated on finding the doll so Nina can get some peace. 
It's obvious from the very beginning that Leda holds secrets. We see it in flashbacks and see her hiding things in the present knowing that it puts herself in a precarious situation. She's seems to be constantly wrestling with herself and her self-loathing, much of which stems from guilt as a young mother and Leda's past behavior on a rare trip away from her family for a conference. Intimate scenes with Gyllenhaal's real life husband Peter Sarsgaard as Professor Hardy with Buckley are sensual. But Gyllenhaal has not been phased in interviews talking about it staying very professional. Buckley is exceptional showing all of the frustration as young Leda which has led to her seeming very insecure.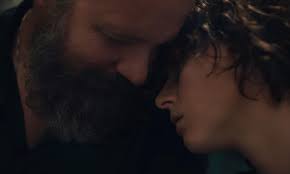 You wonder where this film is going, but Colman's performance is so subtle, yet telling and often terribly disturbing seeing her past as well as present laid out by Director Gyllenhaal with such intricate detail. Leda's relationship with Nina triggers all the emotions she's experienced herself as a conflicted mother. In trying to help Nina's curious behavior, she finally comes to terms with herself and her own past choices. The climax to the movie takes on the feel of a real thriller where life and death hang in the balance. 
As parents, we often admitted to our friends that we made 20 mistakes a day with our kids, and that a decision we made for them would be another thing they'd tell their therapists about it in 20 years. This movie takes that premise to the extreme. Anyone who's ever felt totally frustrated being a parent will be able to empathize with Leda and motherhood. Gyllenhaal, as a first time director, weaves well these different threads and plot points, drawing the knot tighter and tighter to its striking conclusion. 
Netflix      2 hours 1 minute.        R
In Theaters and Streaming on Netflix December 31st
The post The Lost Daughter first appeared on Movies and Shakers.
from Movies and Shakers https://ift.tt/32yTxq8