Licorice Pizza Movies and Shakers December 26, 2021
This film is a refreshing, quirky, coming of age rom-com between a young man and an older woman. He's 15, she's 25 and their mismatched relationship is one of the best movies of the year. 
Writer/Director, Paul Thomas Anderson obviously draws from his own 1970's boyhood in the San Fernando Valley where there was a chain of record stores named Licorice Pizza and his funny boyhood friend. The film is based on the exploits of Gary (Cooper Hoffman) and his hot pursuit to win over Alana Kane (Alana Haim). The overconfident, smart operator Gary falls hard for this young woman with attitude. He first lays eyes on her as she's working with the photographer at Gary's school photo day. 
It becomes a game of cat and mouse, one-upmanship, teamwork, and outrageous situations as these two wrestle with their evolving relationship. He wants to impress Alana with his talents, smarts and big plans. She feigns boredom listening to his constant patter. She keeps walking away,. But he keeps coming back, and she becomes curious to see what he's up to next. 
Cooper, as Gary, comes by his talent rightly, He is the son of the late and great Oscar winning actor, Philip Seymour Hoffman. Thomas Anderson auditioned a number teen boys, but late add, Cooper, had just the right cocky but cute, and energetic attitude to win the role.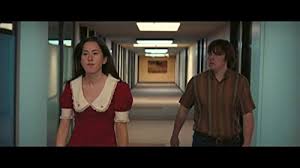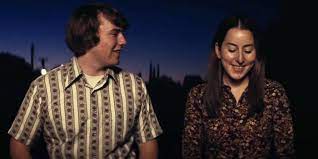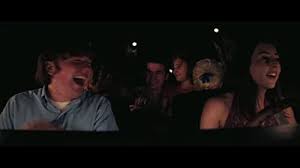 Alana is the lead singer of the popular band Haim which includes her two younger sisters. Anderson has directed several of their music videos and is a close friend of the family. He wrote the script for Alana offering her the lead in 2019, and put the whole family in the film. Both Cooper Hoffman and and Alana have very physical roles, including a lot of running besides running to and away from each other. Besides writing, directing and producing this film, Thomas Anderson also shot it along with Cinematographer Michael Bauman. 
Alana plays it cool, never letting on having any interest in this young huckster. She keeps getting reeling back in. The film is a series of situations ranging from trying to sell petroleum-based waterbeds during the 70's gas crisis, to starting a pinball arcade business, which was the precursor to today's video game craze.  At the same time, Alana gets an eye-opening entree into the world of politics and adult relationships working on the campaign for Los Angeles Mayoral Candidate Joel Wachs (Benny Safdie). 
Sean Penn is involved in one of the most ridiculous stunts trying to restore his character's former reputation as an action star. He's cajoled by film producer, Rex Blau (Tom Waits) to rev up his motorcycle on a golf course and jump over a burning sand trap. Alana's involvement is prime.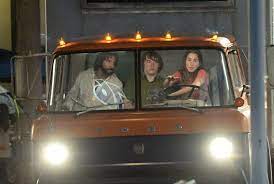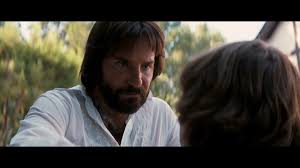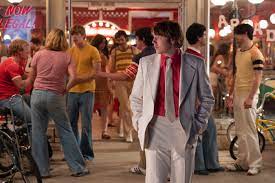 But the most over-the top scenes are with the hardly recognizable Bradley Cooper as famous hairdresser/producer to the stars, Jon Peters. Cooper with a mop head of hair and prominent beard is Mr. "I'm important!" who buys a waterbed from Gary. Bradley Cooper as Peters, incessantly threatens Gary, and his crew (including Alana) with manic screaming. He wants the installation to be done and done with perfection while he goes to see his girlfriend, Barbra Streisand. 
Bradley Cooper has fun with this role being totally outrageous dropping screaming Streisand's name repeatedly into Gary's ear to make sure he realizes who he's talking to. Everything goes wrong and Anderson's scenes of their escape from Peters' mansion with Alana driving their truck without gas, hoping gravity works to take them back down those winding LA hills. It makes for an hilarious, tension building, cleverly shot, action sequence. 
This original story weaves references to real events, capturing the time, place and people of the 1970's. Paul Thomas Anderson clearly likes these engaging characters and makes us care about them despite their hair-brained schemes. Like any great pizza, this film has mouthwatering layers, topped off with new stars, Hoffman and Haim, who make this one fun tasty pie. 
MGM.        2 hours and 13 minutes          R
In Theaters now, including Music Box Theatre, Chicago. 
The post Licorice Pizza first appeared on Movies and Shakers.
from Movies and Shakers https://ift.tt/3z4EujL