Nightmare Alley Movies and Shakers December 23, 2021
Guillermo del Toro puts his stamp updating this film noir as a thriller bordering on horror. This won't be regarded as his best, but it's tone, tension, production design, sets and twisted characters make for a slick presentation.
Bradley Cooper is the guy to watch playing huckster Stanton Carlisle. He's a compelling character whose presence is so dominant, you are afraid to turn away. And when he meets up with Cate Blanchett as Doctor Lilith Ritter, he finds himself up against a psychiatrist who knows how to get exactly what she wants. 
The film is based on the novel of the same name by William Lindsay Gresham. It was first made for the big screen starring Tyrone Power in 1947. It opens with ominous scenes of Cooper as Carlisle setting a house on fire with a man inside which immediately gets your attention. You see him next applying for a job with sleazy Carny operator, Clem Hotly (William Dafoe) who takes him on a tour of this gritty, weird, traveling carnival of misfits and freaks. He sees a man who has been reduced to a most degrading and disgusting state chained up in a cage like an animal. He's there to scare the public grunting and lashing out to thrill them.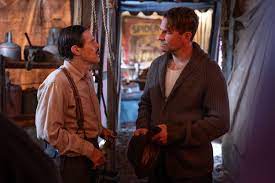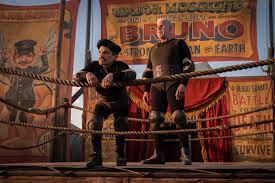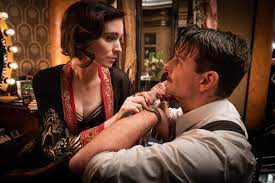 Even though this is a departure from Del Toro's signature works like Pan's Labyrinth, Nightmare Alley, he still carries his horror genre trademark putting his stylistic stamp in the cinematography from Dan Laustsen who also shot The Shape of Water.
Carlisle sets himself on the path of becoming the carny's "seer", the mentalist after meeting Pete Krumbein (David Strathairn),  and his quiet, but lovely daughter, Molly Cahill (Rooney Mara). Carlisle picks Pete's mind, asking him to reveal how his magic and mentalist talents work to astound his audience. Pete makes it seem as if he has the special gift of being able to read the minds of his subjects and even communicate with the dead. But  Pete lets Carlisle know that this is dangerous territory.  
And so does Pete's clairvoyant wife, Zeena (Toni Collette) who reads Tarot cards and lets Carlisle know he's headed for tough times, but the charismatic Carlisle brushes it off. Collette plays the engaging as the ever present truth teller. She's like the chorus in a Greek Tragedy. 
When Pete dies suddenly, the supremely cocky grifter Carlisle takes his place as the carny mentalist, enlisting Molly as his assistant and romantic paramour. 
The mood is darkly lit, with oversaturated browns and reds, looking like a colorized and gloomy film noir. Molly is dedicated to supporting him on stage and off as he engratiates himself performing to high society. Molly thinks she's his partner, but Carlisle's narcissism can't allow him to share the spotlight with anyone.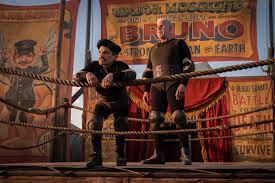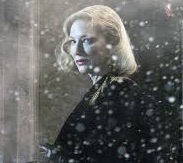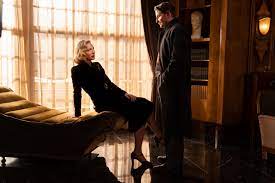 This is a character study of overbearing hubris and greed, which eventually puts him in the cross hairs of psychiatrist Doctor Ritter, (Cate Blanchett.) She is a savvy siren, much like a Lauren Bacall, Veronica Lake, or Hedy Lamar, who starred as mysterious females in the 40's. She projects that sexy sneer of every classic femme fatale and pulls it off. Cooper and Blanchett are supposed to sizzle with sexual tension, but we don't think it quite connects on screen.
The doctor baits him knowing that he's looking to score big money while he begs her to point him to a wealthy mark he can fleece with his talents. Dr. Ritter gets him an audience with a bitter, guilt-ridden millionaire, Ezra Grindle (Richard Jenkins). Jenkins plays his part with venomous glee, daring Carlisle to show him a connection to the other side or pay a terrible price. 
It's in this act that Del Toro loses his footing. His vision of Carlisle is so amoral and without redeeming quality that when it comes time for his final resolution, we simply stop caring. We're always prepared for Del Toro to throw us a curveball, but this one was telegraphed long before the movie's elongated end. Still, Bradley Cooper has crafted and personifies a pencil-mustachioed villainous mastermind. Know that this is a dark, disturbing, violent film which is Del Toro's forte. From Cooper's first encounter with Willem DaFoe's Clem, he's too smart for his own good. Maybe, in this case, Guillermo Del Toro is too. This film may not be up your alley. 
Searchlight Pictures             2 Hours 30 Minutes                 R
In Theaters
The post Nightmare Alley first appeared on Movies and Shakers.
from Movies and Shakers https://ift.tt/3qlA97Y