The Matrix Resurrections Movies and Shakers December 21, 2021
Did The Matrix really need to be resurrected? It's good to see Keanu Reeves back as the popular iconic Neo. But this film is one convoluted mess of minutiae that uses too many scenes and characters from past installments. If Laurence Fishburne was good enough to be in the original and the sequels, why wasn't he invited back to be Morpheus for this one? Even he doesn't know! 
Writer/Director Lana Wachowski wrote this one with novelists David Mitchell and Aleksandar Hemon. She dedicates the film to her parents because they are the reason she decided to go at this again. She woke from a dream that in which they encouraged her to do it. 
If you can stay awake during the slow moving first act and try to catch the chestnuts and Easter eggs, Wachowski then lets Neo return to scenes showing his more exciting trademark martial arts scenes and super power abilities. Sometimes, as earnest as Reeves is trying to act, just holding up his hands just to deflect bullets and throw power pulses seems almost comically fake. Cinematographers Daniele Massaccesi and John Toll play with perspective, use shots from interesting angles reminiscent of the previous Matrix recipe, including the famous bullet shot. It's slow motion with real time intertwined which, once again, plays with reality.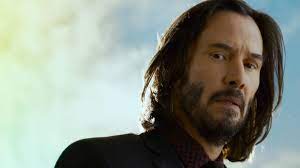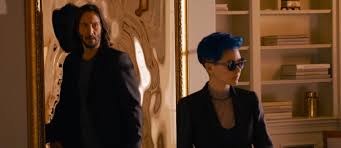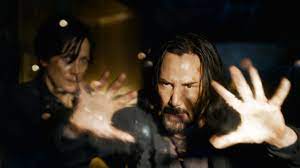 Now Wachowski brings the main characters back 20 years later to jam the past storylines into this mishmash. We find Reeves as Thomas Anderson, the fabulously successful game developer famous for creating The Matrix, now working a mundane job just writing code for more games. The action is put into motion when Anderson spots a woman in his local coffee shop that sparks memories. Her name is Tiffany, but he senses she's someone else. 
Carrie-Anne Moss is the most mysterious and intriguing character of the lot. She makes the most emotional connection, not only with Reeves, but with the audience. Maybe Wachowski did a better job creating this female character than the stock hero and villain ones in this film. Reeves and Moss do show some chemistry and work together well as the central characters. There are significant stunts in this film, and Reeves works hard still wanting to do as many as he can. Moss is right there. Their jumping off the top of a 44 story building is literally breathtaking. 
The Matrix is a digital world, it's a construct that makes Thomas Anderson (Reeves) have to choose between existing in reality or in a virtual world, once again choosing between the red pill or the blue. Now the characters he once battled with, and against, are threatening to erase him forever. This new Morpheus (Yahya Abdul-Mateen II –Candyman, The Trial of the Chicago 7) comes back, not a day older, to enlist Neo (Reeves) to rejoin the resistance to take down The Matrix.
Apparently death is only a suggestion in these films. All of the characters were killed off after the first Matrix trilogy. The original became an instant classic, but the 2003 sequels, (The Matrix Reloaded and The Matrix: Revolutions) never lived up to that first film. 
Bugs, (Jessica Henwick) plays is the boss of a crew of warriors. Her mission is to keep Neo protected and she does a pretty good job of it. She's a sort of androgynous, endearing, committed to Neo and battling The Matrix.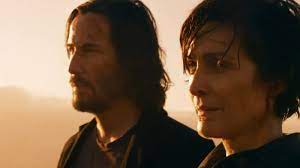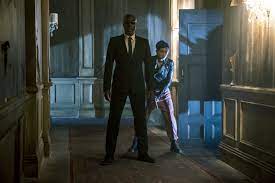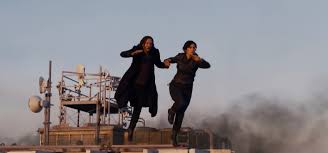 One comical plot point in the film has to do with Smith (Jonathan Groff), as Anderson's boss at the game company. He's demanding another version of The Matrix Game because Warner Bros. (the studio that made this film) is demanding it. Ironic that he plays Smith who was his arch nemesis in the first three films.
Jada Pinkett reprises her role as Niobe, who holds the power of life and death deciding who or when to fight. Now she's a prune-faced bad ass calling the shots in The Resistance. Priyanka Chopra Jonas, plays Sati, the now grown up Sati, who is there to help propel Neo on his path to destiny, which seems very muddled.  Both of these characters are never fully developed and just add to the confusion in between the many action scenes.  
Neil Patrick Harris seemed to really relish playing The Analyst. You can see him calculating in closeups as he plays his cards close to his chest. He's supposedly trying to help Anderson/Neo live in the real world. But is he?
Just as Neo gets to choose his fate with colored pills, we can choose whether or not to spend 2 and a half hours in this perplexing, jumbled alternate reality. Keanu Reeves has already done a better job as an action hero with John Wick than with his tired Neo. If you're a fan, you'll see plenty of flashes reminding you of the Matrix movies  you've already seen. There just may not be enough here to entice a new generation to enter this game. 
Warner Bros. Pictures         2 hours and 28 minutes             R
In Theaters and Streaming on HBO Max December 22nd. 
The post The Matrix Resurrections first appeared on Movies and Shakers.
from Movies and Shakers https://ift.tt/3pqNVXP