Spiderman: No Way Home Movies and Shakers December 16, 2021
What a cool multiverse mashup. Familiar heroes and villains pop up delivering drama, emotion, and awkwardly funny situations in action-packed scenes throughout. This Spiderman entry gets top tier MCU status and high marks, good for anyone as well as true Marvel fans.
Director Jon Watts with writers Chris McKenna and Erik Sommers have plenty of experience working with these characters. They collaborated previously on the Spiderman: Far From Home and Homecoming installments of this franchise. This one starts where Far From Home left off. 
Now that Spiderman's identity has been outed, Internet commentator, J. Jonah Jameson (J.K. Simmons) never misses a chance to keep exposing Spiderman and take unmasked Peter Parker down. Desperate to regain his anonymity, Peter runs to Doctor Strange (Benedict Cumberbatch), begging for help, which the reticent Sorcerer Supreme finally, reluctantly, as if bored,  decides to do. Cumberbatch plays Strange's exasperation with the frantic Parker to the hilt, and it's quite comical.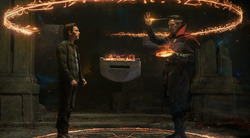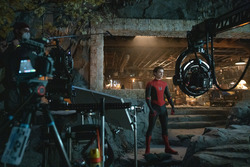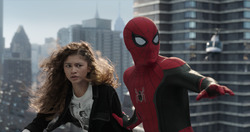 Strange comes up with a powerful spell that doesn't quite solve the problem. In fact, it creates even more chaos opening a portal to the multiverse giving Peter no end contending with the worst villains from the past. Let the fun begin! 
It's entertaining watching Tom Holland as Spiderman play a teenager who hasn't figured it all out yet. He keeps making big decisions and bigger mistakes as he is coming-of-age, trying to be a great superhero and a good friend. Holland plays a most human superhero and you tend to like him, even when he messes up. He is best friends with Ned, (Jacob Batalion), and growing attachment to MJ (Zendaya). Those are the only people he trusts with his secret besides Aunt May (Marisa Tomei). Holland brings a warmth, sensitivity, an earnestness to the role, especially in his touching relationship to Aunt May. And he never lets his powers detract from his humanity.
Parker's trio of friends creates a strong core to this story. Ned is a stalwart friend who "dudes" everyone. He's his own worst enemy but cute when he, too, makes mistakes. It's good to see Zendaya (Dune) as girlfriend MJ develop into a strong, smart heroine who can hold her own. She's right there, ready to go for it, to help Peter. 
Doctor Strange's spell not only opens a portal to the multi-verse but to the multiple Marvel movies that has Electro (Jamie Foxx), Green Goblin (Willem Dafoe), Doctor Octopus (Alfred Molina), Lizard (Rhys Ifans), and Sandman (Thomas Hayden Church) tumbling in to take on Spidey again. All complicated and scary characters, each has their own M.O.
This is where we think this film takes on an Into the Spider-Verse aura with even more characters from the past in their own, recognizable, suits jumping in to create energy, excitement, action and comedy. The action sequences are top rate using weapons, machinery, magic and super powers from the villains as well as the heroes. They are juxtaposed with the sentimentality, heartbreak and tenderness in relationships with those Peter cares about most, which adds depth to the story.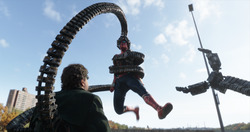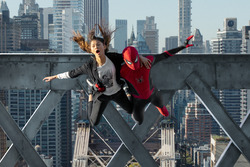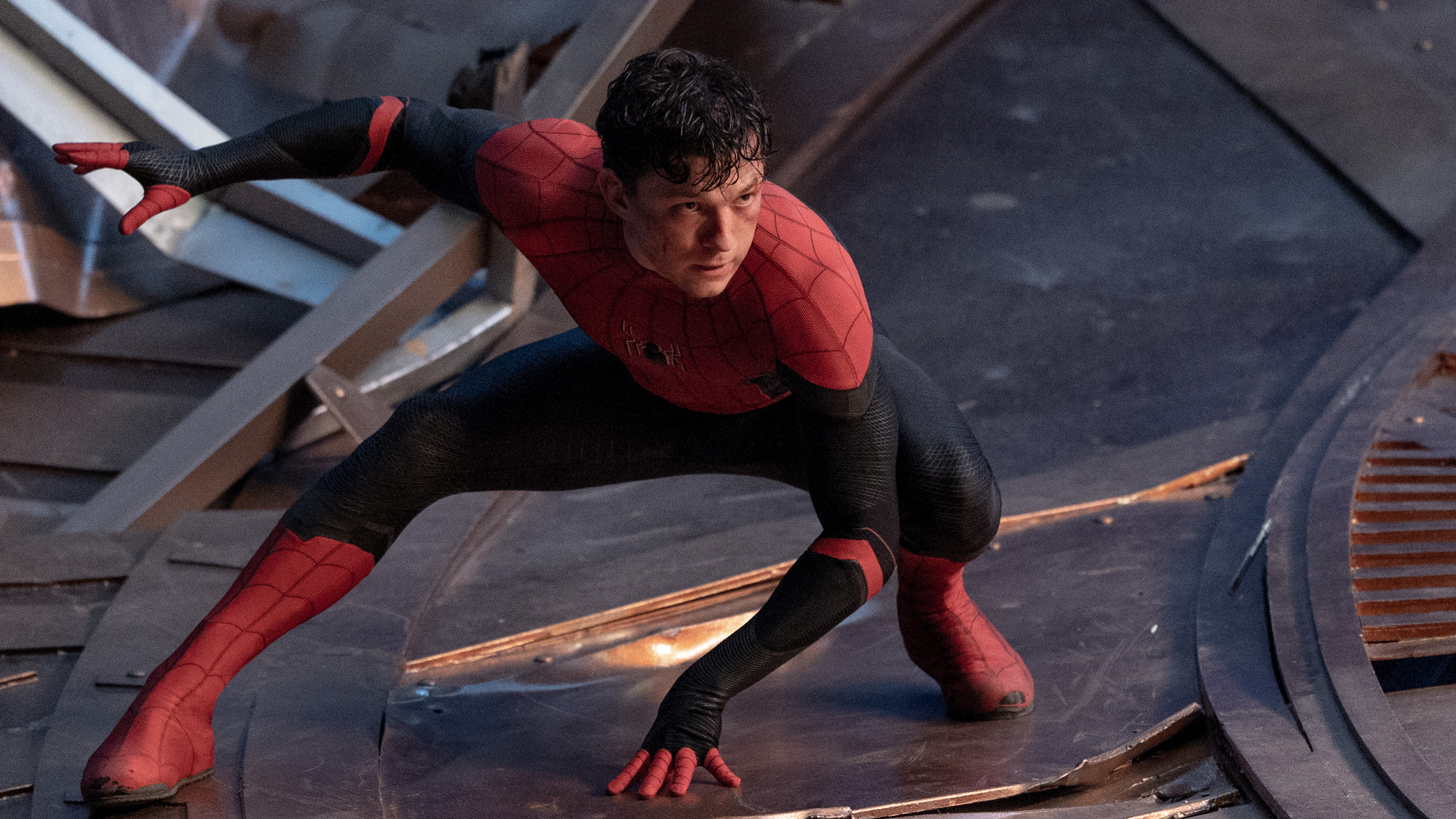 Cinematographer, Mauro Fiore, captures the dynamics as well as emotion in more closeups than you usually get to see in an action flick. The special effects exude visual artistry, especially with Spiderman swinging through the city at Christmastime. Another visual example to look for is a rather odd, but interesting addition of a familiar symbol on the Statue of Liberty. It's one of many MCU chestnuts sprinkled throughout the film. 
Award Winning composer, Michael Giacchino provides rousing orchestration in his score for the action scenes, and for the so very long credits. Don't leave yet. One mid credit scene is a post clip and the other a preview of an upcoming movie. So, as if the film isn't long enough at 2 hours and 28 minutes, we still suggest to stay with it. 
No Way Home succeeds in creating a new standout Spiderman film from a long list of titles. Even if you haven't seen all the films in the franchise, director Watts slings a thrilling web for one of the best Marvel adventures where Tom Holland sticks the landing. 
Sony Pictures         2 hours and 28 minutes.    PG-13
The post Spiderman: No Way Home first appeared on Movies and Shakers.
from Movies and Shakers https://ift.tt/3IWd04r