West Side Story Movies and Shakers December 9, 2021
Steven Spielberg has created a feast for the eyes for a new generation. There is spectacular music and dance throughout with significant differences from the 1961 classic, some good and some not so good dealing with social problems still relevant today. 
Spielberg has wanted to do this story his own way forever. It's probably unfair to compare Steven Spielberg and Tony Kushner's updated version, but we'll point out a few. Interesting that the Jets set the mood out of the box letting off steam walking around what is being torn down to make way for New York City's Lincoln Center. Their rivalry with the Latin Sharks causes friction in yet another take on the Romeo and Juliet tale. 
Spielberg has stepped up this remake with colorful costumes created by Paul Tazewell, The complex choreography by Justin Peck is stellar and difficult in unusual urban settings. Cinematographer Janusz Kaminsky and editors Sarah Broshar and Michael Kahn synchronize intricate dance steps coming right at the camera seeing the twirl of the costume land spot on. 
We didn't get a sense of the individual personalities of the gang members as much as in the original. We miss the thrilling acrobatic choreography and attitude of Russ Tamblyn's Riff and the musicality in Leonard Bernstein and Jerome Robbins' film, hailed as the first rock musical.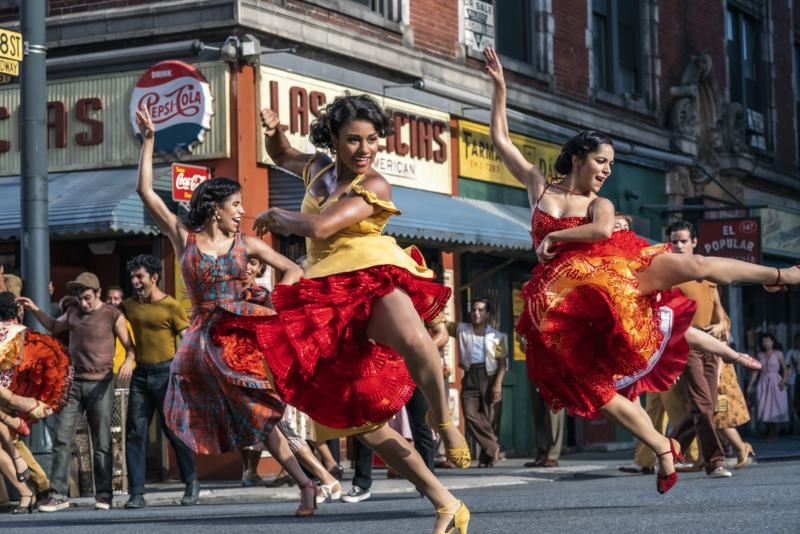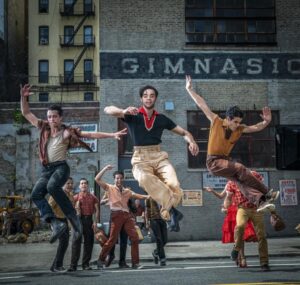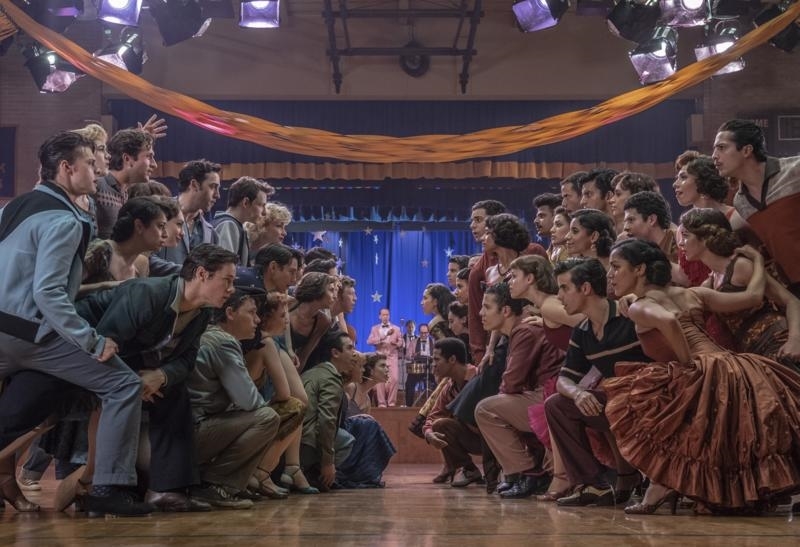 Spielberg went to great lengths to right the the slights of the past by casting all Latin actors in those roles. Spielberg does handle the problems of immigration better in this film. Having the Puerto Ricans speak Spanish without subtitles gives you a sense of what it would be like if you lived in another person's shoes, not being able to understand another language, let alone communicate. This sensitizes you to what it feels like when you are "the other" in America. 
David Alvarez playing Bernardo gets the job done but is not as strong as George Chakiris who became such a heartthrob as the first Bernardo even though he wasn't Latin and wore dark makeup. Natalie Wood wasn't Puerto Rican and didn't even sing her own songs. Richard Beymer did his own singing but wasn't the most romantic lead. As Anita, Rita Moreno won an Oscar. Her timing, attitude and dancing in "I Like to Be In America" was so perfect, it became the standard for the role in any production.
Spielberg has stayed true to the choreography and stepped up the costumes. The female leads are the strongest in this film. Rachel Zegler's mellifluous voice as Maria, working with Ariana DeBose's high-stepping-with-attitude Anita is central. Even if not as sassy as it could have been, DeBose is still a potent triple-threat performer. Rita Moreno is back. This time as Valentina, Drug Store owner and the late Doc's wife. This role lets the multi-talented octogenarian play a more emotional character. But we think her expanded dramatic role makes the last part of the film drag, even though we loved seeing her back in this production. 
We loved Ansel Elgort in The Fault in Our Stars and Baby Driver, but here he just doesn't emotionally embody the Tony character. Sometimes looking like a young Marlon Brando, he's a little laid back. He can definitely sing, but we thought there was a lack of depth singing "Maria," "Something's Coming," and "Tonight." Somewhat clumsy, we noticed the stunt double with darker hair in action scenes when climbing and fighting on Maria's fire escape. And his New York accent was inconsistent, sometimes thick and overdone, and non-existent at other moments. The most disappointing scene is when he and Maria first see each other at the dance in the gym. In the original, Tony and Maria's eyes lock and like magic, the world fades away. Here, not as dramatic, nor romantic.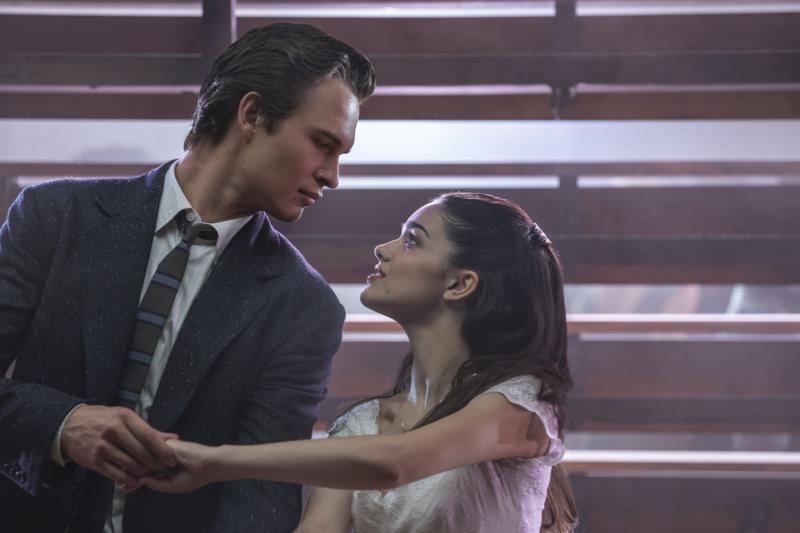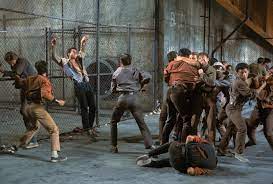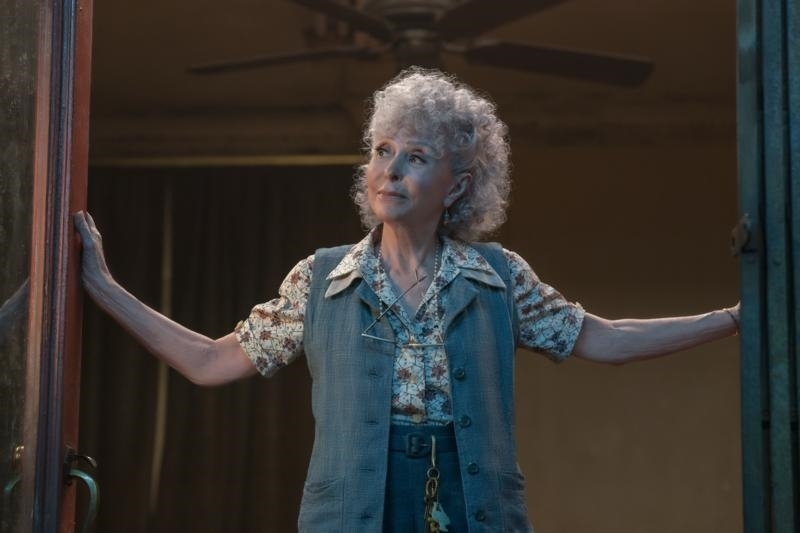 We were really looking forward to what Spielberg would do with "Officer Krupke," and so disappointed. Krupke (Brian d'Army James) and Lieutenant Schrank (Corey Stoll) are cast well, but Kushner doesn't give them much to do. The Jets mocking them in song has neither the comedy nor the impact in what should have been hilarious and a show-stopper. 
We weren't thrilled with how Spielberg and Kushner shuffled some of the songs, changing where they came up in the movie. They didn't seem to follow as well. One glaring change was having Zegler sing "I Feel Pretty" as a full-out, upbeat production number late in the film after a very tragic scene. And Anita was already grieving when she went to the morgue. That scene seemed gruesome and unnecessary. Spielberg and Kushner didn't shy away from the most disturbing scene confronting the issue of misogyny and rape. It's unnerving but doesn't produce as emotional an impact as Rita Moreno did as Anita in the original version. 
The committed performances, production design and colorful costumes are first rate and take us back to a time and place both recognizable yet dangerous. Spielberg gives us a vision of America that refuses to become a melting pot, which is even more the case today. But one embellished with familiar songs and exciting choreography in an engaging production of a West Side Story that plays well all over town. 
20th Century Studios.     2 hours and 36 minutes.       PG-13
In Theaters Only
The post West Side Story first appeared on Movies and Shakers.
from Movies and Shakers https://ift.tt/3dAllfG