Encanto Movies and Shakers November 28, 2021
With the music from Lin Manuel-Miranda and the emotional punch from a new kind of hero Encanto, meaning charm, earns its moniker. This 60th Disney animated feature doesn't break much new ground, but it still has charm, wit and the colorful magic we expect from Disney's animation team.
By saying this film doesn't explore new territory, the plot from do-directors  Jared Bush and Byron Howard and the writing team of Bush and Charisse Castro Smith hits the all-too familiar notes of the formulaic, predictable story arc. But they do introduce a new elements reverberate with these times. Family love and exclusion, welcoming the outsider and forgiveness are all introduced in a relatable way to a younger audience.
Lin Manuel-Miranda seems to be everywhere these days. This is his return to writing music for Disney as chief songwriter. He wrote music for 2016's Moana. But also notable is the work provided by composer Germaine Franco, the first female-identifying composer to score a Disney animated feature-length film.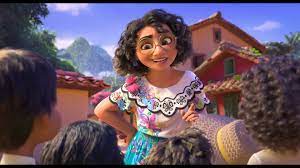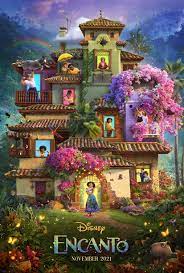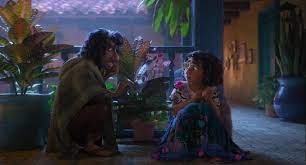 Whether you see Encanto in a theatre or wait til Christmas to see it streaming on Disney+ this is an example of Disney animators doing striking work, especially with vivid colors, saturation and the amazing use of light. The shimmering quality of the animation creates joy, and we noticed the flow of the skirts and movement of the clothes as the characters are dancing to the Latin music. ("FamilyMadrigal," "Waiting on a Miracle,") The animation artists use light differently and also effectively to create apprehension, especially in scenes behind the walls of the house. 
This tale takes us to Central America, Columbia, where the Madrigal family happily lives. Each member has been bestowed with a magical power, except for the bespectacled Mirabel, voiced with a quick, smart delivery by Stephanie Beatriz. She's the first lead character to wear glasses in a Disney animated project. Other family members can talk to animals, or possess super strength or hearing. Some can control the weather or heal the sick and injured. Mirabel loves her family deeply and despite disappointment at not having a special power she stays positive and supportive wanting nothing more than to make her family proud of her.
The Madrigal family's history begins with the grandparents fleeing a band of marauders and, of course, the grandfather is killed during the escape. But magic enters when the grandmother is unexplainably given powers that save her family and the townspeople. This story picks up a generation later in a now safe town. The Madrigals live in a home that is also filled with magic, from floor tiles that flip from steps becoming smooth slides, and with remarkable rooms that reflect each super power the family member that resides within. This house is given a personality of its own and takes on the role of the traditional sidekick which we've seen before in Disney history, much like in Cinderella or Beauty and the Beast. It works here, too.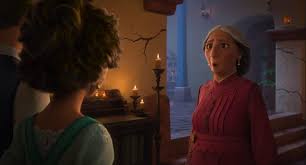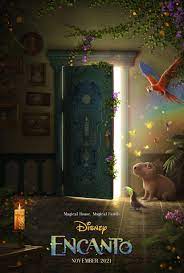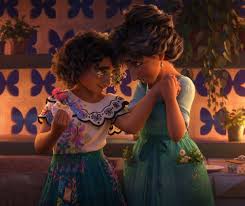 When the family the house itself begins losing those powers, it's Mirabel who steps up, realizing that she has the qualities the family needs at the crucial moment. She also learns some painful facts about her own family and that dealing with the truth may be the only way to save everyone. This new theme brings into focus what makes this film a little more thoughtful than the standard Disney animated feature. 
Rejection, inclusion and how families can hurt each other is a theme here. When Grandmother Abuela Alma (Maria Cecilia Bolero) exclaims, "We don't talk about Bruno," the film brings attention to starting a conversation about Bruno, (voiced by John Leguizamo) prompting Mirabel to ask, "Why?" The answer to her question might mean whether or not the family magic survives. 
So see Encanto for the splendid visual and musical experience with a heartfelt message and something to talk about. it's the Holidays and we all love having warm, familiar family traditions. Mirabel Madrigal and her family could be one to consider as an annual holiday treat.
Walt Disney Animation Studios             1 Hour 39 Minutes.              PG
In Theaters Now         Streaming on Disney+ December 24th
The post Encanto first appeared on Movies and Shakers.
from Movies and Shakers https://ift.tt/3rhDFCh