tick, tick…BOOM! Movies and Shakers November 24, 2021
This film is a gift that keeps on giving. It not only showcases the enormous talent of composer, Jonathan Larson, it's the directorial debut of Lin Manuel-Miranda and Andrew Garfield can sing! To say that this film is entertaining is an understatement. Based on the true story of Larson, who struggled for years to get his work noticed, Garfield plays the gregarious Larson. And even he says he didn't know he could sing. He studied voice and piano for a year. 
This is a high-powered, energetic, production filled with more than a dozen songs. It's the story of Larson whose clock was ticking down to his 30th birthday. After working on creating a musical worthy of being on Broadway for more than 10 years, he worried that he would never be able to fulfill his dream on his projected time frame. Jon was jealous that Stephen Sondheim had his first hit at the age of 27. Larson's dream did come true, but too late. He died of a misdiagnosed aortic aneurysm the night that his show, Rent, premiered in a workshop performance. It went on to win three posthumous Tony Awards and a Pulitzer prize for his work humanizing the AIDS pandemic of the 1980's. 
This film seamlessly incorporates more than 14 songs. If anybody knows how to capture music on stage, it's Lin Manuel-Miranda. These songs are not a big productions as those seen with a cast of thousands in In the Heights. There, there were production numbers that spotlit each of the characters. Here, the story and the songs are all about Larson and his artistic struggle. That helps us have laser focus on Jon and helps empathize with his artistic struggle.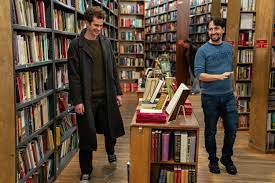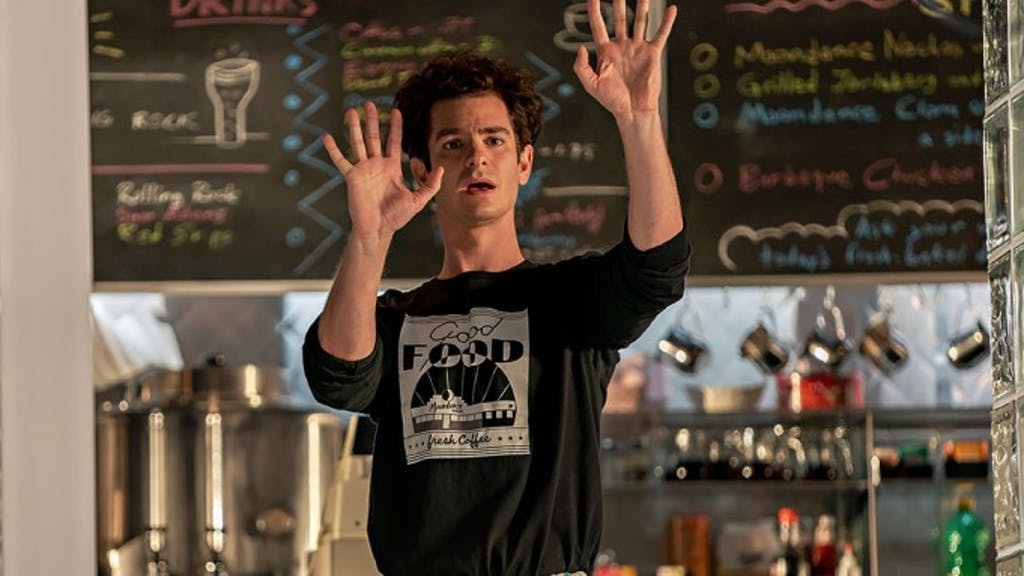 It opens with Garfield as Larson complaining in a rap song (30/90) about his long-term trials and tribulations for success. The camera follows him through a party in a friend's apartment as he keeps rapping. He's gone through countless roommates while working at a diner that's famous for its busy brunch. It's all just to make enough money so he can keep working on his show, Superbia. 
There are several knock out musical numbers in this film and the one with Garfield bouncing all over the place with the Moondance Diners is so well choreographed with cutaways of Sunday diners that include a potpourri of Broadway who frequent the place. They include Hamilton stars Reneé Elise Goldsberry and Phillipa Soo, but also Broadway's luminaries including  Bebe Neuwirth, André De Shields, Chita Rivera, Joel Grey, even Bernadette Peters. Rent stars too,  Adam Pascal, Daphne Rubin Vega, and Wilson Jermaine Heredia. Lin Manuel-Miranda makes Sunday brunch a high point in the film. 
Jon's best-friend, Michael, (Robin de Jesús), wanted to be a great Broadway star, but sold out to work in advertising so he could live an affluent life. Their duet, "No More," is a fun romp around Michael's apartment to show how upscale life could be if Jon sold out, too. 
Jon's beautiful and supportive girlfriend, Susan, (Alexandra Shipp – Straight Outta Compton) rides along with his roller coaster emotions and depressions trying to keep him realistic as well. He begs his somewhat non-supportive agent, crusty New Yorker  Rosa, (Judith Light) to get him a chance to show what he could do to impress his idol, Stephen Sondheim (Bradley Whitford).



The supporting cast of incredible voices who present Jon's work for the young artist's chance at a break sing their hearts out. The sound design captures the best of their voices in that cavernous rehearsal hall. But, of course, Manuel-Miranda knows what that's supposed to sound like. Vanessa Hudgens has come a long way since High School Musical. 
The love story between Jon and Susan is frustrating. The song "Come to Your Senses" shows how they not on the same wave length even though they love each other. Vanessa Hudgens as Karessa is joined by Susan in an emotional duet. Hudgens never sounded better and does not sound as if she has an iconic Broadway voice, but a sound of her own. 
Stay for the credits to see videos of the real Jonathan Larson and his explosive personality. What a shame he never got to enjoy the accolades and applause for his work in person. Lin Manuel-Miranda and Andrew Garfield successfully create a touching musical tribute to the indefatigable talent of Jonathan Larson. Let Tick, Tick…Boom explode on your screen. 
Netflix                    1 Hour 55 Minutes                PG-13
The post tick, tick…BOOM! first appeared on Movies and Shakers.
from Movies and Shakers https://ift.tt/3FKVVb9