Hawkeye Movies and Shakers November 23, 2021
Holiday time with Hawkeye. The least powerful, least charismatic Avenger has his own Disney+ series with Jeremy Renner as the reluctant mentor to hero wannabe, Hailee Stanfield. Despite the grouchy mood displayed by Renner's Clint Barton, there's some nice humor, martial arts, arrows flying  and fast dialogue between Hawkeye and Hailee's Kate Bishop. 
This feels like a bit of a respite from the complicated Marvel blockbusters.
In a year that's been loaded with Marvel content, this television piece is not over-packed with magical, mystical, time travel heaviness as in WandaVision or Loki. This series is a chance for Marvel aficionados to take a breath and not have to digest too many new heroes like Shang-Chi or all those characters introduced in Eternals.
Clint takes his kids on a trip to New York City shortly before Christmas. Instead of seeing the Rockettes at Radio City, he takes them to a Broadway musical spectacular all about Captain America and the Avengers. Fun seeing a mock Broadway version of Dad singing and shooting arrows on-stage in a large scale musical production in a made for TV series. Kudos to Kevin Feige, Director Rhys Thomas and the Marvel Team for putting resources filling a stage to create a three-minute-musical.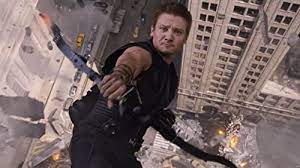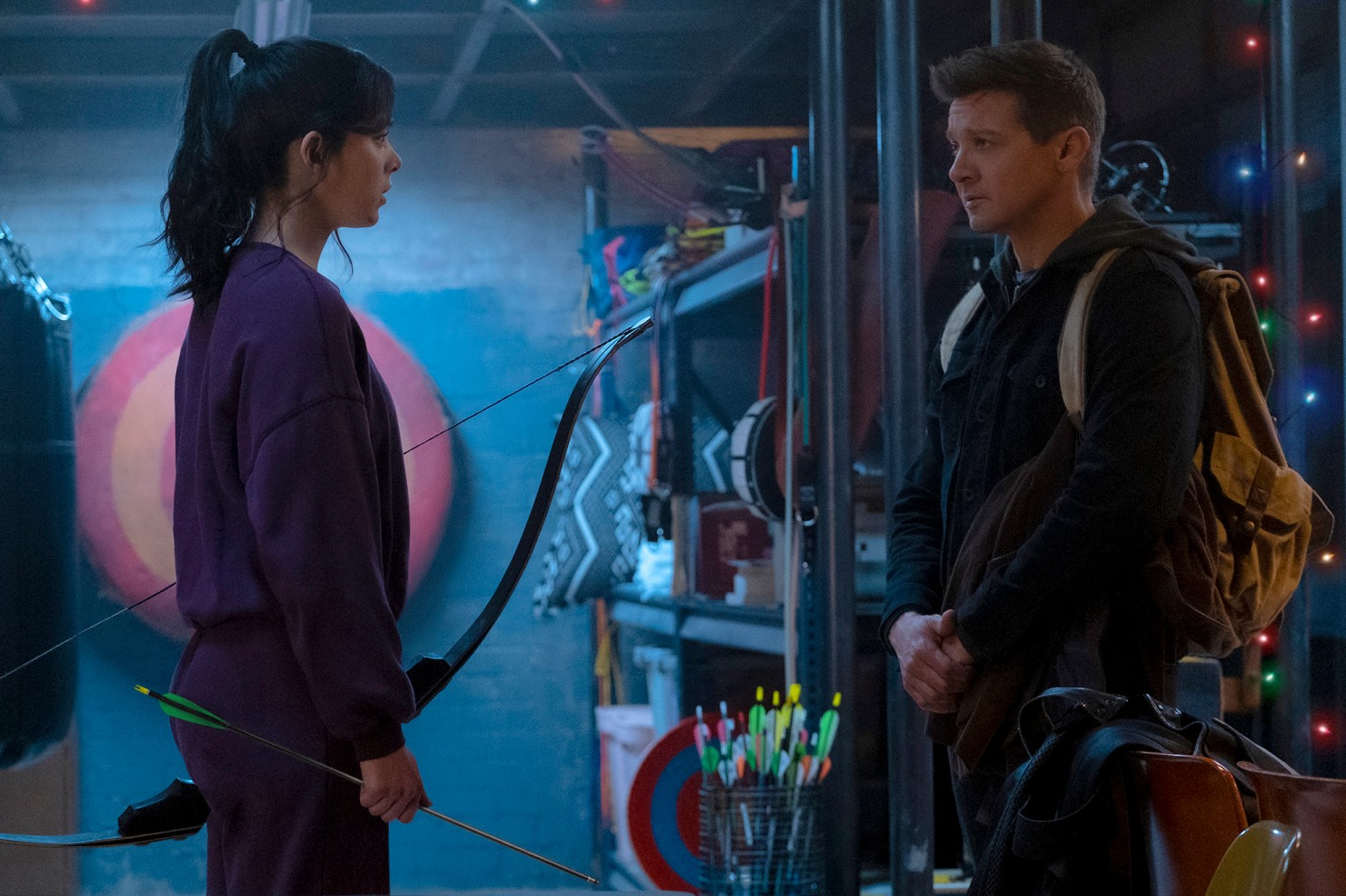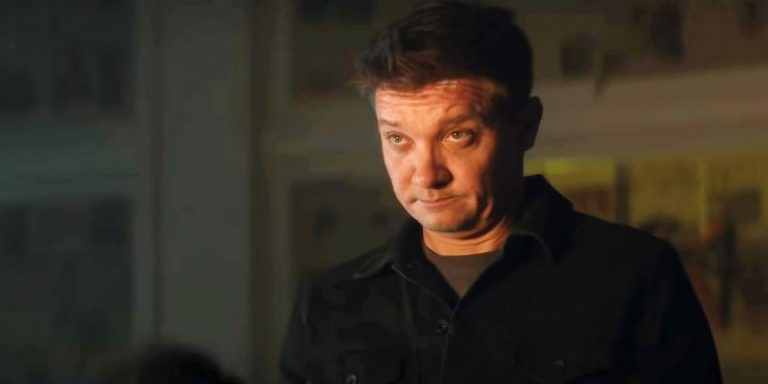 The main concern for Hawkeye is not saving the world so much as helping Kate fight a band of Russians looking for an item she's procured at a secret high-end auction. Hawkeye comes to the rescue but his main goal is to get home to his own family for Christmas (wife and 3 kids), all the while keeping Kate alive as they fight crime in the Big Apple.
He forms a reluctant partnership with the one new face in this story, Kate Bishop. Hailee Stanfield adds spunk and sass to go along with her martial arts and archery skills. Turns out Hawkeye is the Avenger she most admires, what a surprise!
You get caught up watching the relationship develop between Clint and Kate, imagining where and how she will fit into this episodic version of the MCU. Will Kate become the next Hawkeye and let Clint retire his bow or will she find a way to fit into another storyline like Shang-Chi's or the Eternals? Clearly, this series serves as her origin story as much as anything else. She also has backstory with her stern Mother (Vera Famiga) and unexpectedly meeting her Mom's fiancé (Tony Dalton) for the first time. Could they somehow be connected or involved in what Kate gets herself into?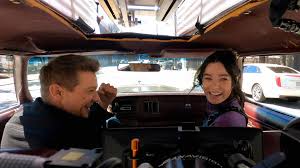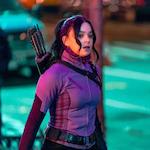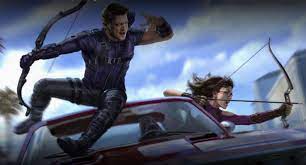 But Jeremy Renner is finally being given more screen time than in any of his previous outings. In addition, he's allowed to show his comedic abilities, while showing a bit of tenderness, not only with his kids, but in the evolving mentorship with Kate.
The series is introduced with the first two episodes which is a good decision. The opening installment ends in some confusion which is cleared up fairly quickly in the next chapter. Having to wait a week to get those questions answered might deter some viewers from sticking with it. This is a project that has some simple, uncomplicated premises and we hope the writers stick with that. There are also a dizzying number of bad guys in the first two episodes, mostly with Eastern European accents. We hope that number gets whittled down to a Big Boss in upcoming shows.
Hawkeye is the kind of entertainment that's just right for this Holiday Season. It's fun action with some laughs provided by good-hearted characters in a plot that's simple and uncomplicated. This is a show that goes down easy after a big holiday meal. Enjoy.
Disney+.   Episodic 
The post Hawkeye first appeared on Movies and Shakers.
from Movies and Shakers https://ift.tt/3nKjCu4