King Richard Movies and Shakers November 18, 2021
Will Smith is convincing as Richard Williams, the pushy father with a plan who shook up the predominately White sport of professional tennis coaching daughters, Venus and Serena. They became the first Black female pros to win Grand Slam tournaments. Reinaldo Marcus Green (Joe Bell, Monsters and Men) directs Smith well, making Richard tough but tender, stern but serious, strict but loving.
The film details racism and economic inequality in the 1990's that kept tennis mainly a Country Club sport. But Richard proved that desire, determination, and extraordinary talent can win the day. Smith shows good comedic timing with Richard's asides and quips. They are perfectly played by Smith as this gritty guy so rough-around-the-edges.
Even though you are fully aware that it's Will Smith on the screen, he fully embodies the headstrong-with-a-heart Richard. He is determined to succeed in the business of tennis, despite being from Compton, culturally the wrong side of town. And because he's Black, he is not taken seriously, even though he's got the gift of gab and won't take no for an answer.
Richard came from humble beginnings, raising his family of 5 girls in Compton, California. But he was so determined to make something of himself by teaching and showcasing his daughters in a sport not welcoming to people that looked like him. Although stern and driven, he was also playful, loving and funny, ready to do anything to make his plan work for his family and, of course, for himself. His ego was as big as a house and so was his chutzpah.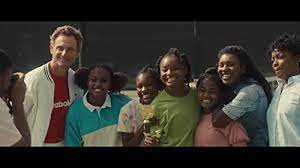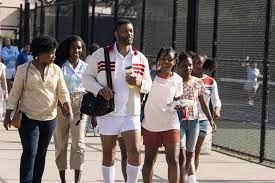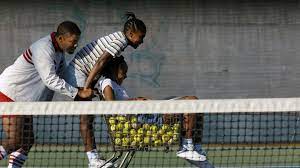 Richard ran the operation like a military mission to make his girls tennis champions. He put them through rigorous training with long practices on deserted tennis courts in the hood often being ogled and heckled by the gang members who hung out there. There was a lot of trepidation seeing Black girls playing tennis which was not seen every day. Green shows the tension and fear. Richard got beat up more than once by the gangs.
Aunjanue Ellis is a standout at Richard's wife, Oracene Brandi Williams, who had to fight for equal standing and the right to an opinion taking an equal place beside her domineering husband. He was adamant about sticking to his plan saying it was right for everybody. He was a vain, self-centered dictator, but the film shows that he really loved his family. He only changed being overbearing at times when his wife stood up to him. He worked as a overnight watchman but she earned more as a nurse. It was her money that helped them get through in the beginning and she had to swallow a lot from him following his orders. Still, they worked together to instill values in their blended family of 5 girls.
Saniyya Sidney as Venus and Demi Singleton as Serena are another example of exceptional young actors. So are the girls who played their step-sisters (Mikayla Lashae Bartholomew, Layla Crawford, and Daniele Lawson). They are really fun to watch playing off each other on screen.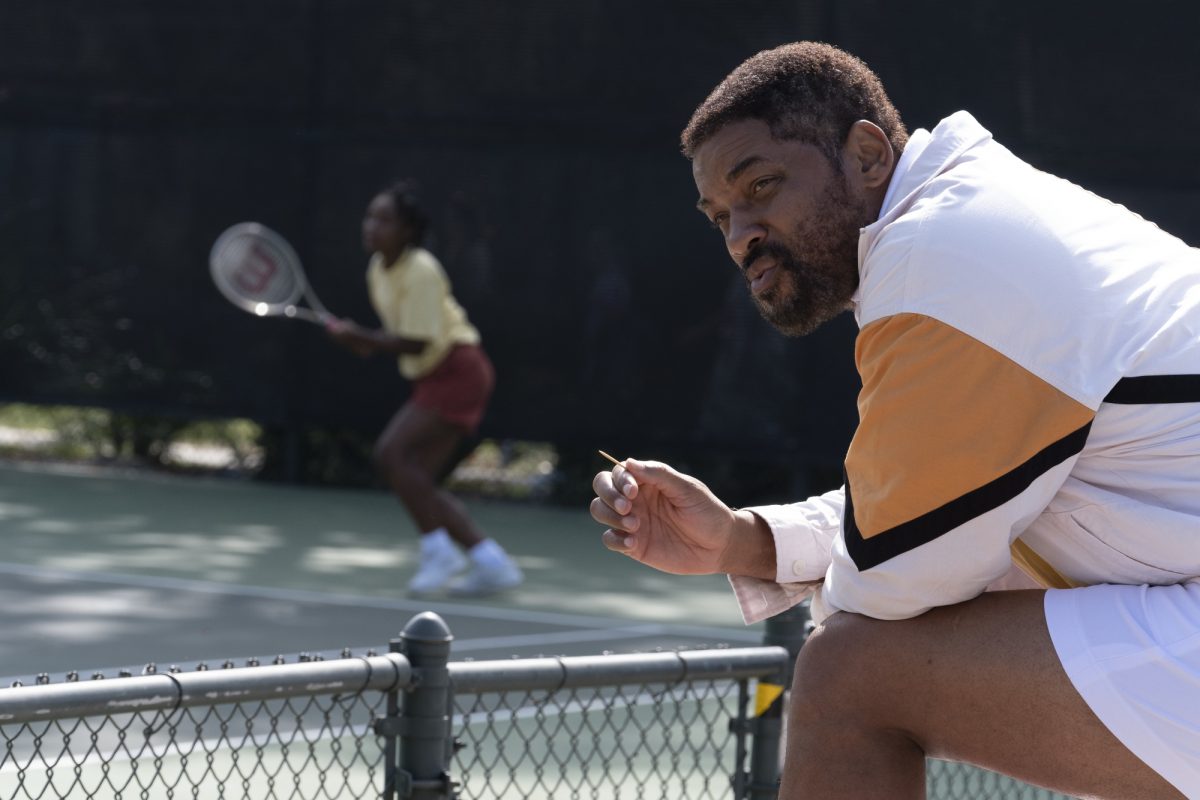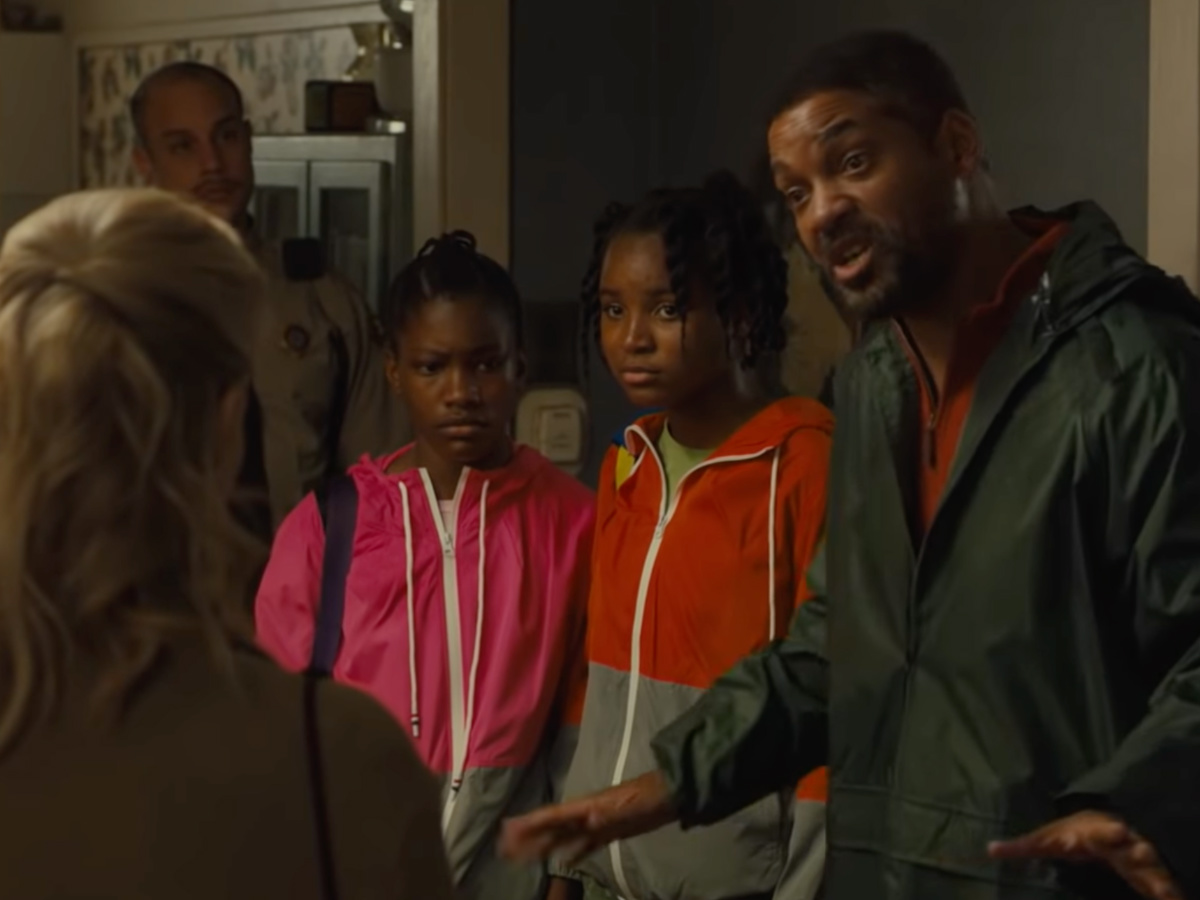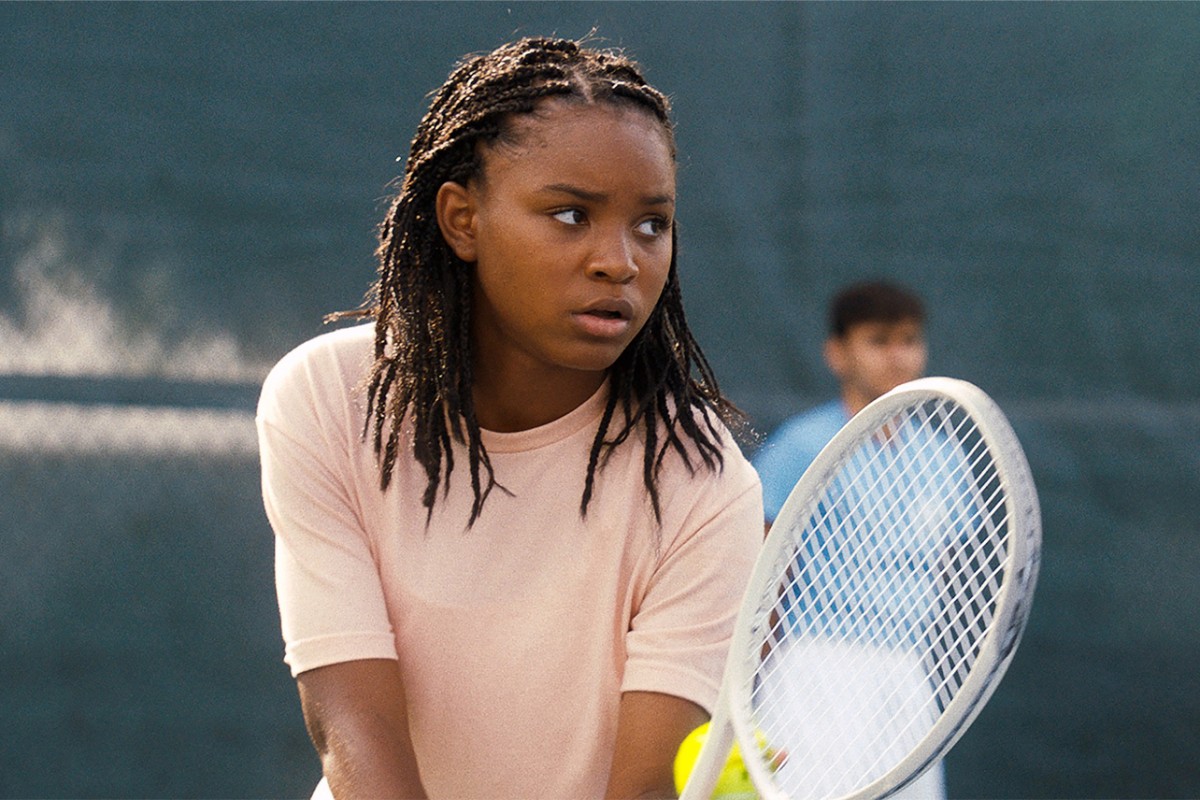 Saniyya and Demi trained taking tennis lessons for about a year and so did Aunjanue Ellis. Brandi was as much a coach as she was their mother, even calling out Richard when he was working them all too hard and getting caught up with his ego.
By watching the tennis matches recreated in the film, you get to understand the strategy and technique that made Serena and Venus tennis stars. We don't think it was completely necessary to show as much of the tennis matches as they did. Sometimes we felt it went on too long, even though we know it was to make a point showing how they overcame setbacks. It just wasn't essential to the story and could have cut down on the film's 2 hour and 18 minute running time.
The actors who played the male managers and coaches help you understand what was going on at the time and what Richard was trying to overcome and accomplish for his girls. Famous Coach, Paul Cohen (Tony Goldwyn) had to be cajoled into seeing what the girls could do. It's fun to see Smith pull little stunts to get his girls seen by the pros to get them noticed.
Rick Macci (Jon Bernthal) became part of the family, looking out for the girls but also looking to get a big payday. Bernthal holds his own opposite Smith in this film.
There is a lot of back and forth in this film, just like in a tennis match or in any family. No slam here. Smith is a fun character in this film, and he with Ellis make a believable couple. But it's the girls who ace their roles with a lot of love. Not too sappy. Stick around for credit shots showing the real Serena and Venus in action. This film could be a gift to serve up for the family for the holidays.
Warner Bros. 2 hours 18 minutes PG-13
In Theaters and HBO Max
The post King Richard first appeared on Movies and Shakers.
from Movies and Shakers https://ift.tt/3kLc88n